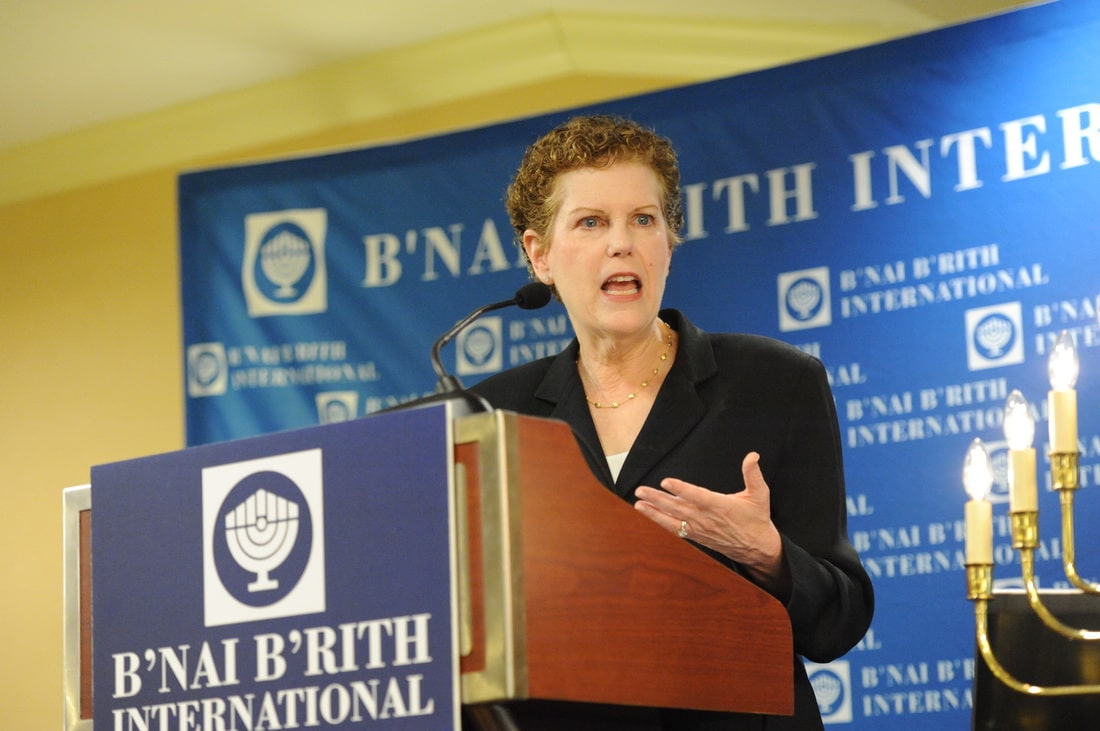 At the Leadership Forum, American University Professor Pamela Nadell discussed women's role in early American politics.
By Rachel Chasin
"Jewish women entered politics in the United States even before they were allowed to vote, [and] they have made their mark fighting for many causes, among them equality for all," an American University professor and historian of the American Jewish experience told B'nai B'rith's annual Leadership Forum in Washington, D.C.
Pamela Nadell, history department chair and director of the Jewish Studies Program at American University, cited the histories of Hannah Greeenebaum Solomon, orchestrator of the Jewish Women's Congress, labor activist Bessie Abramowitz Hillman and U.S. Rep. Bella Abzug (D-N.Y.).
"If we define politics as activities undertaken to influence a community or a nation, activities that naturally lead to struggles for power and authority, then from the get-go [women in] American Jewish organizations were involved in politics," Nadell said.
Nadell spoke on the opening night of the Leadership Forum, an annual event that also covered such topics as the rise of global anti-Semitism, immigration, Israel-Spain relations and social security.
She thanked B'nai B'rith for preserving and archiving our historic records: "When B'nai B'rith is 200 years old, and when it is 250 years old, the scholars who followed me will be reading your words and writing your accomplishments because of this effort to preserve your records. That's an extraordinary historical legacy, that you, the leaders of B'nai B'rith take credit for that. As a historian, I am deeply grateful."
Nadell said that the pivotal point for Jewish women in politics came during the 1893 World's Columbian Exposition (also known as the Chicago World's Fair) held to mark the 400th anniversary of Christopher Columbus' expedition to the New World. The exposition included more than 400 "congresses" on various subjects, including religion. The Fair's Board of Lady Managers wanted to make certain that women from every religious denomination were represented throughout the congresses.
Nadell spoke of Hannah Greenebaum Solomon, who took charge of reaching out to different congregations all across the United States, asking for women to participate in the fair. Solomon and her delegation were invited to join the men who were organizing the Jewish Denominational Congress. Solomon agreed only if she and the other women could actively engage in the congress' sessions.
According to the Jewish Women's Archive, Solomon said, "The only part of the program they wished us to fill was the chairs."
After realizing that the men wouldn't allow her to fully participate in the Jewish Denominational Congress, Solomon decided to create her own congress, and about two dozen Jewish women, over the course of four days, spoke at the exposition. "These women showed that they were experts on Judaism. They were special experts on the history of Jewish women, but they were also discussing contemporary Jewish affairs," said Nadell. They also "talked about the influx of immigrants," because of the pogroms in Europe of the early 1880s and "the worldwide specter of anti-Semitism."
Solomon and the delegation's involvement with the exposition led to the creation of the National Council of Jewish Women (NCJW), which advocates for social justice and other rights pertaining to women.
In 1910, 20-year-old Bessie Abramowitz worked for nearly 60 hours a week sewing on buttons during the day and threading needles at night. She made about $3 a week. Her bosses at Hart Schaffner & Marx cut workers' wages a quarter of a cent per garment. She led a walkout of 16 workers, and her small protest soon turned into a strike that lasted for four months, with 8,000 workers joining her. Her future husband, Sidney Hillman, worked in that same factory and joined the strike three weeks after it began. Sidney Hillman later led the Amalgamated Clothing Workers of America labor union. Political and women's rights activist Jane Addams supported Bessie Hillman (then Abramowitz) and her strike and hired her as an organizer for the Women's Trade Union League. These events were a turning point for Hillman, and they began her lifelong fight for union worker rights in the United States.
"Exercised their political voice by banding together to take care of their own, and also for other causes … like Zionism," said Nadell.
"Part of the reason I think Jewish women have done that … is because Jews and Jewish women among them have a strong commitment to improving the world that we live in, and one venue for doing that is through political activism," she added.
While Bella Abzug wasn't the first Jewish woman in Congress—Florence Prag Kahn was elected to a seat in Congress after her husband's death in 1924 and held that position until 1937—she was, perhaps, the most outspoken.
"Women have been trained to speak softly and carry a lipstick. Those days are over," Abzug once said.
Abzug obtained a law degree from Columbia University in 1947 and served on its law review as an editor. She practiced law for the next 20 years, and some of her clients were accused by U.S. Sen. Joseph McCarthy (R-Wis.) of supporting the Communist Party.
She was 50 years old, when, in 1970, she decided to run for a seat in the U.S. House of Representatives. Her campaign slogan was "This woman's place is in the House … the House of Representatives!" She began her first term in 1971 and was elected two more times, representing Manhattan's Upper West Side until 1977. Since the days of Hannah Greenebaum Solomon and the Jewish Women's Congress, the number of Jewish women involved in political or activist organizations has steadily increased.
There are a number of Jewish women's organizations like Hadassah, Jewish Women International, the NCJW and, of course, B'nai B'rith Women that have joined to make sure that Jewish women are represented in politics. During the 114th Congress there were two Jewish women in the senate, Barbara Boxer (D-Calif.) and Dianne Feinstein (D-Calif.). Five Jewish women served in the House of Representatives: Susan Davis (D-Calif.), Lois Frankel (D-Fla.), Nita Lowey (D-N.Y.), Jan Schakowsky (D-Ill.) and Debbie Wasserman Schultz (D-Fla.).
Nadell is currently writing a book on the history of Jewish women, starting with their arrival in America to present day.
---