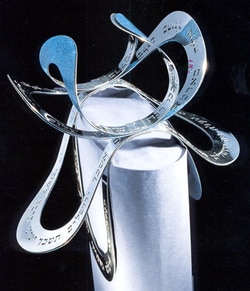 Made of silver and blue patinated copper, this
unique combination Torah crown and
breastplate created by contemporary Israeli artist
Ori Resheff is engraved with passages from the Psalms.
B'nai B'rith International and Hebrew Union College-Jewish Institute of Religion (HUC-JIR) are pleased to announce a partnership to acquire, preserve and display the art and artifacts of the B'nai B'rith Klutznick National Jewish Museum at HUC-JIR's Skirball Museum, a vital cultural and educational outreach venue of its historic campus in Cincinnati, Ohio.
Significantly augmenting the Skirball's holdings, the Klutznick's sacred and secular fine and decorative arts and social documents will be exhibited in designated galleries as the "B'nai B'rith Klutznick Collection." In addition, a select group of Klutznick artifacts will be loaned to the Jewish Historical Society of Greater Washington to be displayed in its new building, slated for opening in 2020.
With its call for the furthering of innovation for Jewish life and learning, HUC-JIR's Skirball Museum is an optimal partner to showcase this distinctive collection. As America's first officially established Jewish Museum, originally named the Union Museum, the Skirball will join forces with B'nai B'rith through online exhibitions and links disseminating information about the collection with other organizations, and the sponsoring of special programs and lectures, ensuring global access to the collection.
B'nai B'rith International President Allan J. Jacobs noted that the Klutznick was "cherished by Washingtonians and visitors alike, achieving its reputation as a leading Jewish museum through its innovative programs, quality core collection and cutting edge exhibits devoted to Jewish history and culture. Our new venture with the Skirball is a cause for celebration intended to invigorate the Klutznick tradition, and launch new pathways to understanding Judaism through the visual arts."
The successful 2012 transfer and processing of B'nai B'rith's own archives to The Jacob Rader Marcus Center of the American Jewish Archives, situated on the Cincinnati campus of HUC-JIR, motivated the continuing development of the partnership between the two venerable organizations.

B'nai B'rith itself has a Cincinnati heritage—it was the site of the organization's national headquarters during the tenure of B'nai B'rith President Alfred Cohen from 1925-1936.

Some years after the 2002 move of B'nai B'rith International from its Rhode Island Avenue headquarters, which necessitated the closure of the museum space, B'nai B'rith surveyed potential venues suitable for the transfer of its collection, assessing factors including location, mission, dedication to Jewish values and demonstrated commitment to the highest custodial standards.

"The treasured holdings of the Klutznick collection have found an ideal home at HUC-JIR's Skirball Museum, which is well equipped to process, conserve, study, interpret and display these artifacts that represent the history of Jewish life and culture. We also welcome the partnership with the Jewish Historical Society of Greater Washington, ensuring that cultural items unique to the greater Washington region will be on display locally," B'nai B'rith International Executive Vice President Daniel S. Mariaschin said.

The B'nai B'rith Klutznick Collection will augment and enhance HUC-JIR's Skirball Museum and its permanent collection significantly, rendering it among the most prominent Jewish museums between the Alleghenies and the Rockies.

"The acquisition of this historic collection creates unprecedented opportunities for community engagement on local, regional, national and international platforms. Integrating this collection and making it accessible through digital technology will be a priority, as the Skirball positions itself as a center of Jewish art and culture," Skirball Museum Director Abby Schwartz said.

Rabbi Aaron D. Panken, HUC-JIR President, added, "Through this wonderful partnership with B'nai B'rith International, the enhanced capacity of our Skirball Museum, together with the global reach of our HUC-JIR Museum in New York's international traveling exhibition program, our Skirball Museum of Biblical Archaeology in Jerusalem, and exhibitions on our Los Angeles campus, reinforces our commitment to the many ways in which the visual arts, illuminating Jewish history, identity, values and experience, can serve as a vital educational and cultural resource for our students, faculty, and the larger public."

Rabbi Jonathan Cohen, Dean of HUC-JIR's Cincinnati campus, states, "The partnership between B'nai B'rith International and HUC-JIR represents a shared vision and mission to work together on behalf of Jewish cultural, educational and spiritual continuity."

---