HUD Section 202 Rally at U.S. Capitol Features Seniors, Senators, House Members

B'nai B'rith International President Gary P. Saltzman and CEO Daniel S. Mariaschin have issued the following statement:
At a rally on Capitol Hill today, B'nai B'rith International and its co-hosts called attention to the devastating impact that the proposed government budget cuts would have on low-income seniors and the need for more affordable housing.
B'nai B'rith co-hosted, with LeadingAge, a Save HUD 202 rally, organized to call attention to the vital need for funding for Section 202 housing, which provides housing assistance for seniors of limited means. This type of housing is essential to low-income seniors who might not receive fully funded rental subsidies in the federal government's 2018 budget. This is a direct threat to the housing needs of our most vulnerable seniors.
B'nai B'rith's long history with the Department of Housing and Urban Development (HUD) Section 202 housing program started in 1971 when we formed a partnership with HUD to sponsor housing for seniors of limited means. The B'nai B'rith Senior Housing Network in the United States comprises 38 buildings and serves more than 8,000 people. B'nai B'rith is the largest national Jewish sponsor of low-income housing for seniors in the country.
---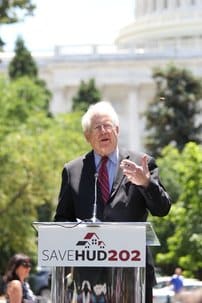 Rep. David Price
// photo by Rachel Chasin
"We long ago recognized the link between safe, affordable housing and healthy aging," said Mark D. Olshan, director of the B'nai B'rith International Center for Senior Services. "With 12 older Americans on the waiting list for every available apartment for low-income folks across the nation, now is not the time for drastic cuts to the program. It's really the time to make drastic changes to
increase
federal support."

Some lawmakers agreed.
​
"I look forward to the day we're we are no longer just maintaining 202, but constructing new houses," Rep. David Price (D-N.C.) said at the rally, attended by nearly 400 people including B'nai B'rith leaders and staff.
"I am proud to stand with you today and every day to fight to protect and expand affordable housing for seniors," Sen. Robert Menendez (D-N.J.) told the crowd.
B'nai B'rith strongly urges the administration to rethink its budget and provide more funding to this vital program.
---
Watch Our Video Recap of the #SaveHUD202 Rally
Photos from the
#SaveHUD202 Rally

Photos from Senior Housing Residents Across the Country Rallying to #SaveHUD202
B'nai B'rith Senior Housing Resident Carole Ross on HUD 202