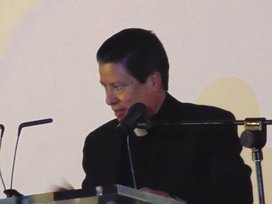 José Rafael Quiros,
Archbishop of San Jose
B'nai B'rith International remembers Kristallnacht, the Night of Broken Glass, and throughout November, B'nai B'rith Argentina, Costa Rica, Uruguay, Cuba, Panama, Chile and Paraguay held remembrance programs marking the anniversary.

For 21 years B'nai B'rith Argentina has organized Kristallnacht commemoration ceremonies in cooperation with the Ecumenical Commission of the Archdiocese of Buenos Aires and, this year, worked together with the Protestant community. The event was held at Parroquia de la Sagrada Eucaristia, in the populous Santa Fe Avenue neighborhood of Buenos Aires. Reverend Perez del Viso and Rabbi Alejandro Avruj led the ceremony and read various texts linked with the Shoah.

B'nai B'rith Costa Rica held a Kristallnacht commemoration ceremony at the synagogue of Centro Israelita Sionista, the largest Jewish communal institution in Costa Rica. More than 600 people attended, including members of the legislature, judges and ambassadors from different countries. The keynote speaker was the Archbishop of San Jose, Monseñor José Rafael Quiros, who discussed the 50 years of Nosta Aetate and Catholic-Jewish relations.
---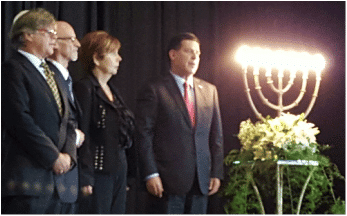 From left to right: Jack Fleischman, Jewish community president; Ricardo Abraham, B'nai B'rith Paraguay president; Ana Wilenski, District 28 (Uruguay and Paraguay) president; Paraguayan President Horacio Cartes
B'nai B'rith Uruguay hosted nearly 600 people in Montevideo at the organization's building. Among those in attendance, Vice President Raul Sendic, as were former presidents, ministers, political leaders, congressmen and diplomats. The Kristallnacht commemoration ceremony was broadcast live by seven television stations. The keynote speaker at the ceremony was Emilio Cárdenas, a former Argentinian ambassador to the United Nations, international law professor, columnist for the largest daily in Argentina, La Nación, as well as a 2011 B'nai B'rith Policy Forum guest speaker. Cárdenas dove deep on the role of dehumanization in Nazism, and touched on anti-Semitism in Europe as seen in the labeling of Israeli products and the lack of response to Palestinian terrorism.
In Cuba, the Maimonides Lodge held a remembrance ceremony with more than 150 people in attendance. The vice president of the Hebrew community in Cuba, David Prinstein, joined the ceremony, as did leadership and staff members of other Jewish organizations from Havana. Among them was Ram Tapia Adler, representative of the American Jewish Joint Distribution Committee, B'nai B'rith Chile member and former B'nai B'rith International staff member. The keynote speaker was B'nai B'rith Cuba President Samuel Zagovalov.
Panama City, Panama's Beth El synagogue hosted a crowded event commemorating Kristallnacht with Israeli Ambassador Gil Artzyeli and German Ambassador Karl Otto Konig serving as keynote speakers.
B'nai B'rith Chile organized a ceremony at the Lutheran church, The Reconciliation in Santiago. The keynote speakers were professor Joaquín Garcia Huidobro and the Pastor Johannes Merkel.
B'nai B'rith Paraguay hosted a ceremony Nov. 24 with current Uruguayan Minister of Economics and Finance and former Uruguayan Vice President Danilo Astori serving as the keynote speaker. Paraguay President Horacio Cartes attended the commemoration with almost 500 others, including high-ranking officials and diplomats. The event was extensively covered by the media. Astori used harsh language to condemn "any kind of terrorism" and called Nazism "the worst evil in history."
---