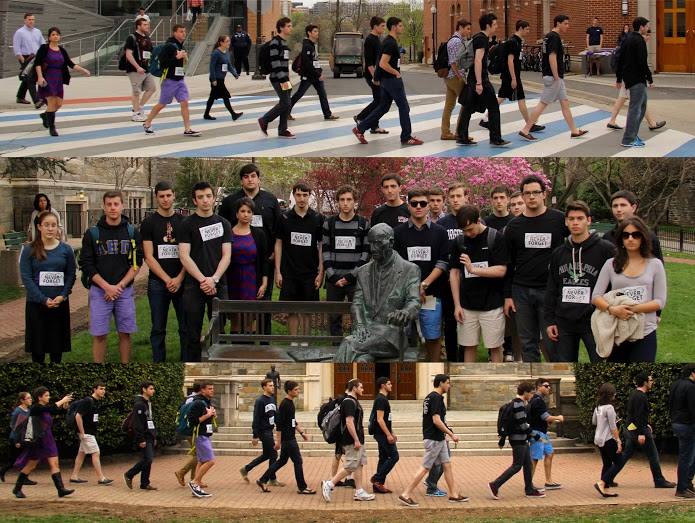 B'nai B'rith Interntional and Alpha Epsilon Pi participate in "Unto Every Person There is a Name" and "We Walk to Remember" Yom Hashoah programming at Georgetown University on April 15. In the center photo, attendees pose around the statue of Polish Underground member and Georgetown history professor Jan Karski.
B'nai B'rith International has proudly been the official North American sponsor of the Yom Hashoah program "Unto Every Person There is a Name" for 26 years. In 2015, we once again carried that mantle, along with a combination of other programming to make for an inspiring Holocaust Remembrance Day.
Communities across the continent came together on or before Yom Hashoah, the 27th day of the month of Nissan on the Jewish calendar. Programs started on April 12 and will run through April 28, reading the names of the victims of the Shoah and where and when they were born and died. These observances honor more victims each year, as the Shoah Victim's Names Recovery Project seeks and uncovers additional information.
The program is a worldwide memorial project that began in 1989 and is coordinated by Yad Vashem, the Holocaust Martyrs' and Heroes' Remembrance Authority, in consultation with the Israel Ministry of Foreign Affairs and enjoys the official auspices of the President of the State of Israel, the Hon. Reuven Rivlin. This year's theme was "Seventy Years Since the End of WWII: The Anguish of Liberation and the Return to Life." The program, including thematic materials is developed by an international committee and B'nai B'rith International is represented by the B'nai B'rith World Center Director Alan Schneider, giving B'nai B'rith not only the honor of implementing the program, but having a hand in the planning stages as well.
The program has become an integral part of community observances across the country. These observances are generally held in public spaces such as shopping malls or downtown office plazas during the lunch hour, to be especially visible for the entire community. Often, people will stop to see what is happening and ask if they can read names too. Teachers bring students as part of their learning experience about the Holocaust.
"B'nai B'rith International is proud to have such strong Yom Hashoah programming. It's important work to ensure we always remember, and for 26 years now, we've done an excellent job with 'Unto Every Person There is a Name,'" B'nai B'rith International President Allan J. Jacobs said.
In addition to community observances, for the seventh consecutive year, B'nai B'rith partnered with the Alpha Epsilon Pi (AEPi) fraternity for its "We Walk to Remember" campaign held on more than 130 campuses throughout the United States, Canada, Israel and the United Kingdom. AEPi members walk silently across campus wearing a "Never Forget" sticker and also participate in "Unto Every Person There is a Name" programming. At many campuses, the ceremonies extended beyond B'nai B'rith and AEPi with numerous Jewish student groups participating.

A particularly poignant iteration of "We Walk to Remember" was held on Vanderbilt University's campus in Nashville, Tenn., where AEPi's fraternity house was vandalized with swastikas spray-painted in the basement and elevator in March. Hundreds gathered not only to remember those lost in the Holocaust, but also to directly respond to the face of bigotry on campus.

"We came here together to prevent anything similar to this from happening again. And to educate everyone in Vanderbilt, the Nashville neighboring community, and the people that this reaches across the country and internationally that us as AEPi members, [we] as Vanderbilt students and Jews will not stand for things like this," AEPi Chapter President Joshua Hyman said before the program commenced.
The combination of the two powerful programs has created a lasting impact on campuses across the globe. It demonstrates that young people on campus understand the importance of remembering and have taken on the responsibility to tell the story of the victims of the Holocaust.

Another example of the two programs coming together to create an atmosphere of solidarity and remembrance occurred on Georgetown University's campus in Washington, D.C. Participants walked silently around campus, ending at the statue of Jan Karski. Karski was a Georgetown history professor and member of the Polish Underground during World War II who was among the first people to alert the Western world of Nazi atrocities against Jews.

"It was a really powerful moment with the walk ending in front of the Karski statue," B'nai B'rith Assistant Director of the International Center for Human Rights and Public Policy Sienna Girgenti said. "To have everyone joining in reciting names, poems and prayers—it was a true embodiment of what 'Unto Every Person There is a Name' and 'We Walk to Remember' strive to create on campuses and communities around the country."

Greek Orthodox Patriarch Theophilos III addresses the one thousand attendees
at a Yom Hashoah commemoration ceremony honoring the late-Rabbi Shimon
Pessach (1869-1955) for his work in saving the Jews of Volos, Greece.
B'nai B'rith provides programming materials and support with the generous sponsorship of Kurt and Tessye Simon, of blessed memory.
"It's a big responsibility sponsoring such a meaningful program as 'Unto Every Person There is a Name' for an entire continent," B'nai B'rith International Executive Vice President Daniel S. Mariaschin said. "It's serious responsibility to remember those who were lost in the Holocaust. Between 'Unto Every Person There is a Name' and our yearly efforts honoring Jews who rescued fellow Jews during the Shoah, B'nai B'rith diligently works to ensure those lost are not forgotten."
On the morning of April 16, the B'nai B'rith World Center in Jerusalem and the Keren Kayemeth LeIsrael (KKL-JNF) held a unique joint Holocaust commemoration ceremony dedicated to the heroism of Jews who rescued fellow Jews during the Holocaust. Taking place at the Martyrs' Forest "Scroll of Fire" Plaza with about one thousand people in attendance, the program memorialized Rabbi Moshe Shimon Pessach (1869-1955), an outstanding rabbinic and communal figure who served for 63 years as rabbi, including later in life as chief rabbi of Greece. Pessach initiated and orchestrated the rescue of his community during the German occupation, efforts that led to the survival of 74 percent of the Volos Jews—an extraordinary achievement in a country where 85 percent of Jews were murdered in the Holocaust—and led a partisan unit against the Germans. The program saw its highest attendance in its 13-year history and was reported on in dozens of print, broadcast and digital media outlets in Hebrew, English, Greek and Spanish.
---