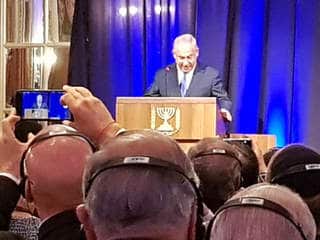 Israeli Prime Minister Benjamin Netanyahu
​B'nai B'rith International President Gary P. Saltzman and CEO Daniel S. Mariaschin have issued the following statement:

B'nai B'rith International commends Israeli Prime Minister Benjamin Netanyahu's historic visit to Argentina. Netanyahu is the first sitting Israeli prime minister to visit the country, where he stopped at the Israeli embassy, the site of the 1994 Argentine Israelite Mutual Association (AMIA) building bombing and met with Jewish leaders and other Latin America government officials, including Argentine President Mauricio Macri.

The Israeli and Argentine leaders have demonstrated a solid partnership, with economic and technological agreements signed by both, as well as making joint forceful public statements against terrorism.

The Argentine government delivered to Israel more than 100,000 documents and digital images that show the role Argentina played in the Holocaust. This was a remarkable addition to the public record of the atrocities of the Holocaust as well as a demonstration that Argentina wants to confront the dark years of its past at the time of the Nazi and post-Nazi era.

In 1992 and 1994, Argentina suffered two horrific terrorist attacks. To this day, no one has been brought to justice for either. Netanyahu's visit has marked a difference in the long process of impunity about these unresolved bombings. During a speech on terrorism, Netanyahu said, "We are determined to fight Iran's terrorism, and we are determined to prevent it from establishing itself near our border. It was Iran who in the 1990s was behind the major terrorist attacks in Buenos Aires. Iran's terrorist octopus, from the Middle East, along with its proxy Hezbollah, continues to send arms to all parts of the world, and also to Latin America."

For the Argentine-Jewish community, Netanyahu's visit is deeply significant. The tribute at the AMIA building and the site where the Israeli Embassy was destroyed were very important messages to Jewish communities around the world about their connections to Israel.

During his visit, Netanyahu delivered a speech in front of 500 Jewish leaders and thanked Macri for continuing the AMIA investigation and for fighting against all forms of terrorism and discrimination. B'nai B'rith Argentina President David Petliuk and B'nai B'rith International Director of Latin American Affairs Eduardo Kohn attended the event. Petliuk and Kohn met with Israeli Ambassador to Argentina Ilan Sztulman, Argentine Secretary of Human Rights Claudio Avruj and Israel's Ministry of Foreign Affairs Latin America Director Modi Ephraim.

This visit is demonstrating Israel's commitment to the Jewish community in Latin America. We are hopeful that the countries of Latin America will reverse its United Nations voting record, and gain a better understanding of the conflict in the Middle East.
---