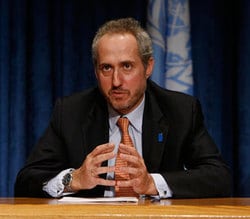 U.N. spokesperson Stéphane Dujarric
B'nai B'rith International has issued the following statement:

B'nai B'rith condemns the outrageous statement by U.N. spokesperson Stéphane Dujarric characterizing Israel's utterly restrained response to the current wave of Palestinian terrorism as an "apparent excessive use of force" and indicating that Secretary-General Ban Ki-moon would want a "serious review" of Israeli defensive measures on a day when three more innocent Israelis were murdered in Jerusalem. Referencing the "acts of terror we've seen in Israel and in Palestine," the U.N. spokesperson overtly and unforgivably misrepresented a situation in which only one population is being attacked by knives, vehicles and attempted suicide-bombings: Israeli civilians.

Dujarric stated that the "apparent excessive use of force by Israeli security forces is also troubling and demands serious review, as it only serves to exacerbate the situation, leading to a vicious cycle of needless bloodshed." He attributed the violence to frustrations "sewn by the longstanding occupation" and "the lack of a political horizon." No mention was made, however, of the open incitement of Palestinian officials that has directly correlated with the increase in hostilities. Palestinian Authority President Mahmoud Abbas has personally been inciting the Palestinian population by spreading lies about Israeli intentions on the Temple Mount in Jerusalem.

The warped U.N. perspective on the crisis speaks to a grave disconnect from reality and from any opportunity to play a stabilizing role in the region. If this is the international response now, while Israeli civilians are maimed and slaughtered unprovoked on a daily basis, we can only imagine how predictably unjust it will be once Israel is again forced to more assertively engage in counterterrorism efforts the way any other country would under such deplorable circumstances.
---