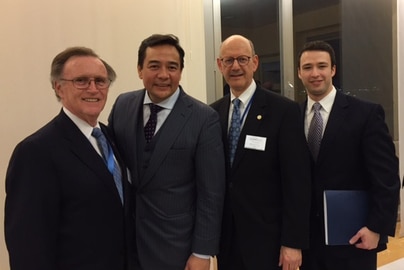 (Left to right) B'nai B'rith President Allan J. Jacobs, U.S. Ambassador Keith
Harper, Executive Vice President Daniel S. Mariaschin, Director of United
Nations and Intercommunal Affairs David Michaels
B'nai B'rith International sent its annual leadership delegation to Geneva to advocate on urgent issues facing the United Nations Human Rights Council (UNHRC), including the body's just deferred "Commission of Inquiry" report on the Israel's conflict with Hamas during the summer of 2014,
the continuing abuse of the Jewish state more generally at
the council
, Iran's destructive domestic and regional policies
, and the widespread unrest in the Middle East.
Some two-dozen B'nai B'rith International leaders and supporters, including with three representatives from the national Jewish fraternity Alpha Epsilon Pi (AEPi), met with senior representatives from more than 40 countries.
B'nai B'rith International President Allan J. Jacobs
and Executive Vice President Daniel S. Mariaschin led the delegation.
The B'nai B'rith delegation expressed deep concern over the council's "independent, international commission of inquiry" into Israel's defensive operations in Gaza during the summer of 2014. Under the chairmanship of Canadian academic William Schabas there was a sense this report would highly biased against Israel. Schabas had previously suggested that Israeli Prime Minister Benjamin Netanyahu and former President Shimon Peres (a Nobel peace prize laureate) should be brought before the International Criminal Court. Eight months into the commission's "inquiry" it was revealed Schabas had served as a consultant to the
Palestine Liberation Organization.
Schabas resigned last month in the wake of that revelation and has since been replaced by former-U.S. judge Mary McGowan Davis.
This week the council announced the report's delay until the June session, but most of the "evidence" had already been compiled under Schabas' chairmanship. We urged diplomats in Geneva to carefully scrutinize the report that is issued in June for any one-sidedness against Israel.

"Every year B'nai B'rith leaders from around the world come to the Human Rights Council, and every year, sadly, it's the same: an obsessive and outrageous focus on Israel that even the most deplorable regimes on Earth don't receive," Jacobs said. "It is our job to hold the U.N. accountable for this discrimination and hypocrisy."

More broadly, the delegation focused on "Item 7," the standing agenda item scrutinizing Israel apart from all other countries, and how the actions of the United Nations and its agencies dampen prospects for peace by encouraging Palestinian unilateralism. The international community's too-frequent disregard for terrorism against Israel —whether it be car attacks on light rail stations or rockets raining down from Gaza—was also emphasized in the meetings.

"B'nai B'rith has been extremely vocal about the Human Rights Council's "Commission of Inquiry" and especially about the chairmanship of William Schabas because of his record and that of the Human Rights Council on Israel," Mariaschin said. "The deferral of the report until June bears watching, but we still remain wary of the outcome. In Geneva B'nai B'rith made sure to inform the international community that anything released that unfairly attacks the Jewish state is an unambiguous politicization of the council by Israel's non-democratic adversaries and should be rejected."

U.S. Ambassador, Officials Address B'nai B'rith Diplomatic Reception
On March 11, B'nai B'rith leadership held its annual reception at the Palais des Nations in Geneva, hosting numerous ambassadors and other diplomatic officials. Highlights of the evening included remarks from U.S. Ambassador to the Human Rights Council Keith Harper, Israeli Deputy Permanent Representative Omer Caspi and Chief of Cabinet of the Director-General of the U.N. Offices in Geneva David Chikvaidze.

On March 10, Jacobs and Mariaschin attended at dinner hosted by Harper in honor of Israeli Ambassador Eviatar Manor.

In addition to Jacobs and Mariaschin, B'nai B'rith was represented by: Chair of the Executive Board of Directors Gary Saltzman of Denver, Colo.; Senior Vice President Ira Bartfield of Arlington, Va.; Senior Vice President Daniel Citone of Rome; B'nai B'rith Europe President Erika van Gelder of Amsterdam; Helene Briskman of London; Menahem Briskman of London; Eric Engelmayer of Luxembourg City, Luxembourg; Mike Gellman of Washington, D.C.; Jacques Jacubert of Paris; David Matas of Winnipeg, Canada; Irving Silver of Mobile, Ala.; Dan Tartakovski of Mexico City; and Stéphane Teicher of Paris.
B'nai B'rith International's Director of United Nations and Intercommunal Affairs David Michaels coordinated the visit in Geneva together with U.N. Affairs Program Officer Oren Drori, from New York.

Supporting B'nai B'rith on the ground before and after the arrival of the delegation in Geneva were local B'nai B'rith representatives to the U.N. Klaus Netter, Armand Azoulai, Richard Sadoune, Zary Acher, and Anita Winter from Zurich.
AEPi Executive Director and B'nai B'rith Board of Governors Member Andy Borans of Indianapolis, Ind., represented the fraternity, along with Civic Engagement Coordinator David Marias of Indianapolis and UC-Santa Cruz student Anthony Milgram.

---