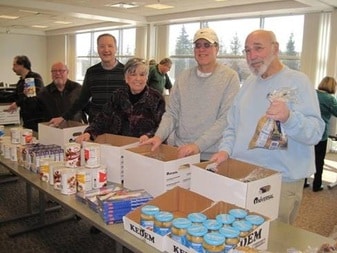 Filling baskets: Bill Braun, Joel Marwil, Bobbie Levine,
Sid Roth and Steve Zorn
Do we have a final head count for the Seder? Can you pull the folding table and chairs out of the basement? Who's bringing the gefilte fish? Do we have enough matzah? These are typical questions cropping up this time of year as the preparation for Passover is underway. And while these conversations are being held in many households across America and the world, not everyone is so fortunate.

For the poor and elderly, Passover may be a difficult time. It can be a time that conjures thoughts about family that moved far away or passed on. It could bring to light an illness preventing someone from attending a Seder or the fact that there is no supermarket filled with kosher specialty items for Passover nearby. Some are living on a fixed income so the extra cost for the kosher-for-Passover product stymies them from setting up a Seder of their own.

B'nai B'rith leaders saw this happening in the late 1960s and created a program called Project H.O.P.E. (Help Our People Everywhere) as a means to help those who are unable to obtain and prepare the necessary holiday fare.

The program evolved over time, but continues to include the essentials of food for the holiday such as matzah, eggs, grape juice, canned goods, jam, cookies, oil, gefilte fish and horseradish for their Passover table. In some communities, there is fresh or cooked chicken included.

This year B'nai B'rith will distribute more than 2,600 kosher-for-Passover packages.

"Project H.O.P.E. is one of the most impactful programs that B'nai B'rith has to offer," B'nai B'rith International President Allan J. Jacobs said. "The genesis of it is uniquely B'nai B'rith. There was an unmet need with those unable to have a Passover meal and B'nai B'rith members rose up to fill that need, to help their neighbors, and eventually expanded the program to communities across the country."

The program is currently underway with hundreds of volunteers already having turned out to buy, store, pack and deliver the food to those in need up and down the east coast. And these volunteers are not only B'nai B'rith members. Project H.O.P.E. works with community family service agencies, local Jewish social services and local synagogues to organize the people power it takes to perform a project of this scope. It also requires funding and B'nai B'rith is grateful to those who support this project each year. Donations are always welcome to ensure this project and allow for expansion.

---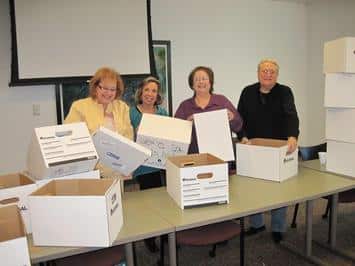 Assembling boxes: (Left to right) Lila Zorn, Fran White,
Nita Stearn and Ron Stearn
"Once again Project H.O.P.E. has made a difference in the lives of our elderly who would not have had all of the Passover goodies," Vivian Kantrow, director of development and community relations at the senior living community Tower One in New Haven, Conn., said of this year's program. "You and your team really make a difference and on behalf of all of your friends at the Towers, a very big thank you!"
The community action project, created by B'nai B'rith leaders in Brooklyn, has expanded to communities throughout the Northeast and across the United States. The recipients include singles, couples, families, assisted living residents and group homes for the disabled. This year, in addition to distribution on Long Island, New York, the program is being held in Philadelphia, Connecticut, Maryland, Virginia, Michigan and Washington, D.C.
"Project H.O.P.E. is really a great example of what B'nai B'rith excels at as an organization," B'nai B'rith International Executive Vice President Daniel S. Mariaschin said. "It gives us an opportunity to fulfill our commitment to helping communities through 'gemilut chasadim' by making Passover memorable and accessible for those who might have viewed the holiday as just another day on the calendar."
---