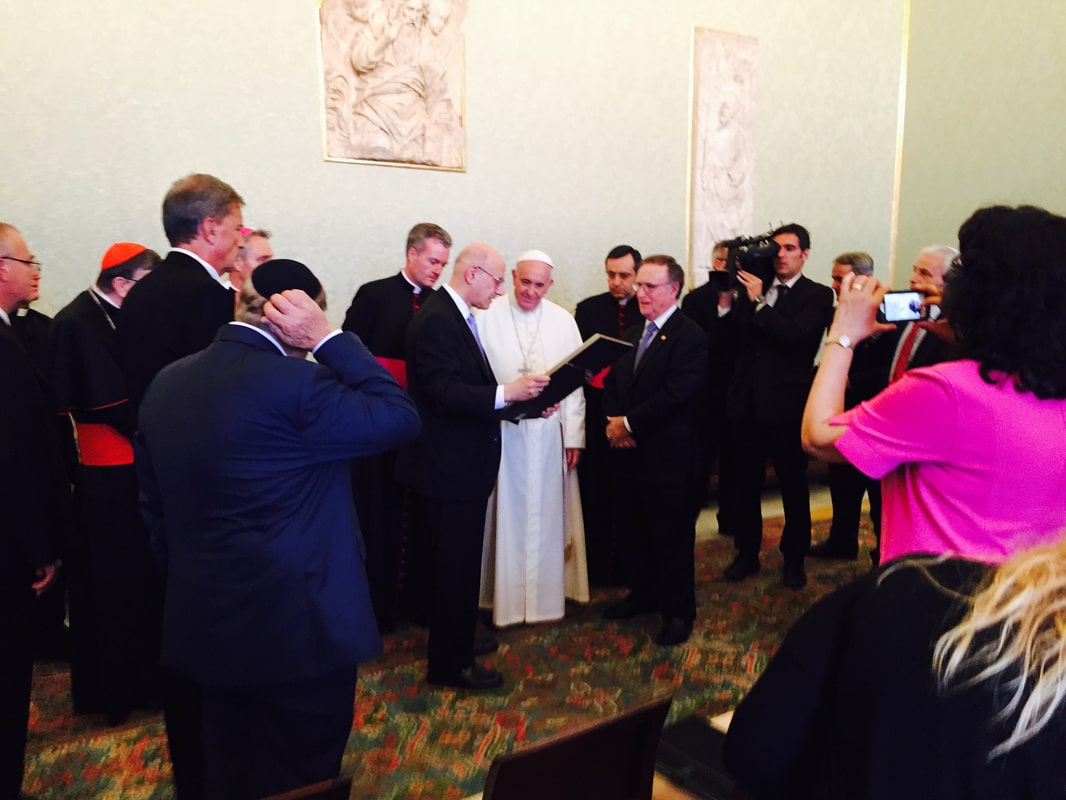 B'nai B'rith International President Allan J. Jacobs (Right) and Executive Vice President Daniel S. Mariaschin (Left) present Pope Francis (Center) with a framed 1965 edition of The Jerusalem Post with coverage on Nostra Aetate, the Second Vatican Council document that helped to transform Catholic-Jewish relations.
A multinational delegation of B'nai B'rith leaders met privately with Pope Francis on June 25 at the Vatican, the first international Jewish audience with the pope since the Vatican announced an agreement on church issues with "the State of Palestine" and the pope separately acknowledged non-recognition of Israel as amounting to anti-Semitism. The meeting came during the 50th anniversary year of Nostra Aetate, the Second Vatican Council document that helped to transform Catholic-Jewish relations.
B'nai B'rith International President Allan J. Jacobs
celebrated the pope's commitment to "advancing the path of your predecessors in signaling the Church's commitment to the Jewish people, its respect for Judaism, its denunciation of persisting anti-Semitism, and its due recognition of the State of Israel." At the same time, he told the pontiff that "tragically, no enduring Palestinian-Israeli peace can be possible as long as powerful forces deny the right of a Jewish state to live within any boundaries in Jews' only ancestral homeland. It is in light of this that it is so important that Palestinians not be afforded incentives to pursue political aims outside of meaningful and direct negotiations, compromise and comprehensive bilateral agreement with Israel."
On the eve of the current June 30 deadline for international negotiations with Iran over its illicit nuclear program, Jacobs also emphasized that "i
f it weren't enough that Iran openly pledges Israel's destruction and lethally empowers foremost terrorist groups—responsible for carnage as far away as Buenos Aires, whose unresolved 1994 AMIA bombing you have consistently highlighted—this rogue government has aggressively pursued the ability to acquire the most dangerous of weaponry… [M]ore attention needs to be paid to the telling fact that Iran's actions have broadly united its neighbors—Arabs and Israelis alike—in urgent, and unprecedented, alarm."
The B'nai B'rith statement said that the "continuing, extraordinary transformation in the relationship between our faith communities can serve as a source of inspiration and optimism for so many others around the world, not least at a time of tensions and conflicts too often influenced by religion… We must make the deepening Christian-Jewish kinship further known among our own adherents around the world—from clergy to educators to young people—and we must progress from dialogue to concrete partnership in tackling the array of challenges that confront our constituencies and all members of the human family. Among these are the protection of our shared environment, care for the poorest and most vulnerable in society, the advancement of quality education for all, the encouragement of international peace, and the combating of all forms of extremism and bigotry."
B'nai B'rith expressed support "to our Christian friends worldwide—and we specifically offer our immense concern, and abiding solidarity, as Christians in so many parts of the Middle East are now faced with discrimination, threats and outright persecution. We have them in our thoughts and our prayers."

Since Israel, a rare Middle Eastern democracy where Christians and other minorities have continually increased, itself represents a threatened minority presence in the region, the B'nai B'rith delegation decried "an economic warfare movement, present even in some religious denominations, that singles out the Jewish state for punitive campaigns."
This is not B'nai B'rith's first time meeting with Pope Francis: In 2013, B'nai B'rith International Director of United Nations and Intercommunal Affairs David Michaels attended the installation of the pope and the first interreligious meeting with him at the Vatican. In 2014, Michaels also greeted Francis at the Western Wall in Jerusalem during the papal visit to Israel. And before he was known around the world at Pope Francis, then-Cardinal Jorge Mario Bergoglio hosted B'nai B'rith's Kristallnacht commemoration in Buenos Aires in 2012.
"Our meeting with Pope Francis provided us an opportunity to directly reaffirm the bond between the Jewish community and Catholics worldwide, on the 50th anniversary of Nostra Aetate. It also gave our delegation an important chance to discuss urgent issues in the Middle East that affect both faiths in the region," B'nai B'rith International Executive Vice President Daniel S. Mariaschin said.
The B'nai B'rith delegation additionally met, or is scheduled to meet, with Italian Foreign Minister Paolo Gentiloni; Vatican Secretary of State Cardinal Pietro Parolin; Bishop Paul Gallagher, Vatican Secretary for Relations with States; Emanuela D'Alessandro, diplomatic advisor to Italian President Sergio Mattarella; Cardinal Kurt Koch, president of the Pontifical Council for Promoting Christian Unity and its Commission for Religious Relations with the Jews; Cardinal Peter Turkson, president of the Pontifical Council for Justice and Peace; Cardinal Jean-Louis Tauran, president of the Pontifical Council for Interreligious Dialogue; Zion Evrony, ambassador of Israel to the Holy See; Kathleen Doherty, chargé d'affaires at the United States Embassy in Rome; and leaders of the Italian Jewish community and B'nai B'rith Rome.
In addition to Jacobs and Mariaschin, among the other members of the B'nai B'rith delegation were Chairman of the Executive Board of Directors Gary Saltzman (Denver, Colo.); B'nai B'rith Europe President Erika van Gelder (The Netherlands); Chairman of the B'nai B'rith International Center for Human Rights and Public Policy Joseph Harari (Panama); Haim Katz, Chairman of the B'nai B'rith World Center in Jerusalem (Israel); and President of B'nai B'rith Argentina Mario Wilhelm (Argentina).