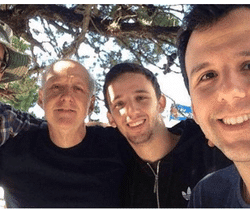 David Fremd, left, was stabbed to death in an anti-Semitic attack in Uruguay.
Deeply Concerned About Rising Incitement Against Jews World Wide
B'nai B'rith International has issued the following statement:

B'nai B'rith International is outraged over the anti-Semitic attack in Uruguay resulting in the murder of a beloved Jewish community leader. On Tuesday, 54-year-old David Fremd, an outstanding leader in the Jewish community, was stabbed more than 10 times and died in Paysandu, Uruguay. One of Fremd's sons was also stabbed; his injuries are not life-threatening.

The assailant, who has been arrested, reportedly shouted "Allahu Akbar" just prior to the attack. According to Israelite Central Committee President Sergio Gorzy, the attacker stated during his police interrogation that he was targeting Jews.

We are very concerned about the increasing incitement to anti-Semitic attacks around the world. Jews are being targeted where they pray, where they go to school, where they shop and where they walk.

B'nai B'rith calls on our world leaders to condemn these horrific attacks and to recognize and condemn incitement against Jews and Israel.

Our thoughts and prayers are with the Fremd family.
---