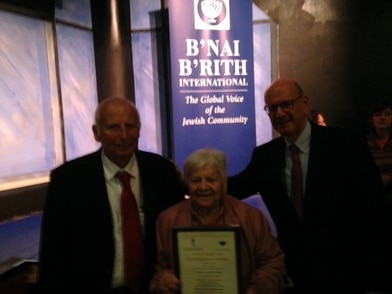 Left to right: Brand Meir, Berta Davidovitz Rubinsztejn, Daniel S. Mariaschin
B'nai B'rith International, the B'nai B'rith World Center in Jerusalem and Committee to Recognize the Heroism of Jews who Rescued Fellow Jews During the Holocaust (JRJ) was honored to confer the joint Jewish Rescuers Citation on Berta Davidovitz Rubinsztejn, a rescuer who operated in German-occupied Hungary.
The citation was presented to Rubinsztejn on Nov. 6 at the Riverdale YM-YWHA in the Bronx, N.Y., with her family, friends and community present. But there was a special guest in attendance as well: Meir Brand, traveling from Jerusalem to attend, was rescued by Rubinsztejn when he was 7 years old, scrounging for food on the streets of Budapest in the spring of 1944.
"This is a great moment for me as this citation is awarded to Berta who of all people most deserves it," Brand told the audience before Rubinsztejn was presented with the citation. "I am standing here only because of what Berta has done for me which allowed me to raise a wonderful and prosperous family."
The citation ceremony opened with Riverdale YM-YWHA President Bradd Gold and CEO Deann Forman addressing attendees, followed by Rabbi Avi Weiss from the Hebrew Institute of Riverdale and Rabbi Steven Exler, who led the memorial prayer in memory of the victims of the Shoah.
A representative of New York State Assemblyman Jeffery Dinowitz and New York State Sen. Jeffrey Klein issued a proclamation from New York State, and delivered thoughtful words and congratulations to Rubinsztejn. Documentary filmmaker Gaylen Ross spoke too. Ross was responsible for bringing Rubinsztejn's story to life in her documentary "Killing Kasztner" and ultimately nominated her for the citation.
The citation was presented to Rubinsztejn by B'nai B'rith International Executive Vice President Daniel S. Mariaschin, who recounted her harrowing story and the work of other Jewish rescuers who have received the citation.
"We know that Berta is here today to represent an important part of the Shoah—those who are here to tell the story and be the eye witness to this horrible event in Jewish history—to make sure we never forget those who were lost and those who have lived to keep this memory alive," Mariaschin said. "I am honored to be here to be part of this tribute to Berta and make this presentation in person on behalf of B'nai B'rith International."
Rubinsztejn, 92, was born in Poland and fled with her family into still unoccupied Hungary where Jews were not yet being rounded up. She made her way to Budapest where she joined the Zionist youth movement Habonim Dror. Rubinsztejn assumed a Gentile identity and would covertly plan and carry out various operations, including weapons smuggling. As Rudolf Kastner—a leader of the Jewish Aid and Rescue Committee—negotiated with the Nazis in the summer of 1944 the departure of a trainload of Jews from German-occupied Hungary to neutral Switzerland. The goal of Habonim Dror was to put as many orphaned children onto the train as possible. One of these children was Brand.
Brand was smuggled with two young cousins into Hungary in August 1943 after his parents sensed that the liquidation of the ghetto they had lived in for two years was near. After a three-week hike to the Slovakian border, Brand arrived in Budapest and was abandoned. Posing as a Gentile, he lived on the streets for nine months, scrounging for food and sleeping in bombed-out buildings. When Rubinsztejn found him in his battered state in April 1944, she instinctively knew he was Jewish and took him home, nursing him back to health. In June 1944 Rubinsztejn put herself and about 20 Jewish children—including Brand—on the Kastner train.
Rubinsztejn dedicated herself to Brand's recovery throughout the trip—including a terrifying and life-threatening incarceration in the Bergen-Belsen concentration camp—until they arrived in Switzerland. The two made Aliyah in 1946.
Rubinsztejn emigrated from Israel to the United States in 1960, where she currently resides with her family. She was very involved with many organizations including the Bronx Democratic Party, and counts former New York City mayors Abraham Beame, Ed Koch and David Dinkins along with former New York Gov. Mario Cuomo among her acquaintances. She was active in the Hebrew Home for the Aged at Riverdale, in Riverdale, N.Y., and still visits the Riverdale YM-YWHA every day where she organizes the monthly "Café Europa" gathering of Holocaust survivors.
"The most important outcome of all your efforts Berta, and of which I'm forever in your debt, is that I was able to arrive safely in Israel, the only one of my whole family," Brand said. "Together with my wife Hana I have raise a wonderful family of three children and nine grandchildren."
The Jewish Rescuers Citation was established in 2011 by the Committee to Recognize the Heroism of Jews who Rescued Fellow Jews During the Holocaust (JRJ) and B'nai B'rith World Center to set right the historic record—that thousands of Jews were active in rescue efforts throughout Europe, putting their own lives at risk in order to save other Jews from deportation, hunger and death at the hands of the Nazis and their collaborators. To date nearly 100 citations have been presented to rescuers who operated in France, Germany, Holland, Greece and Hungary.
"We are proud to honor these two Jewish heroes and gratified that through our decade-long efforts there is growing acknowledgement that their recognition as models for Jewish and human solidarity is long overdue," Director of the B'nai B'rith World Center and a founding member of the JRJ Committee Alan Schneider said in advance of the ceremony.
---