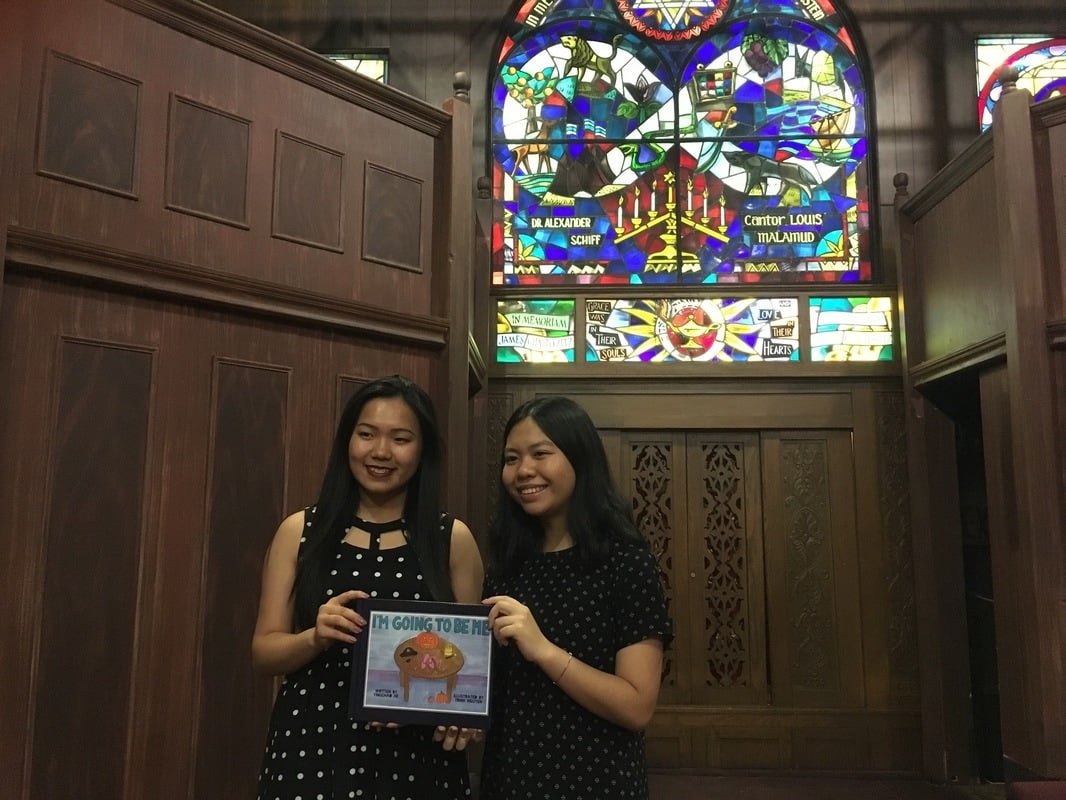 First place winners Yingchao He and Trinh Nguyen wrote and illustrated "I'm Going to Be Me."
Teen Writing Contest Rewards Stories About Tolerance with College Scholarships; Book Publication
Two Bronx High School of Science students will share a $5,000 college scholarship for their creative and insightful book advocating tolerance and diversity.

The winner of this year's Diverse Minds Writing Challenge in the NYC-area is "I'm Going to Be Me," written by Yingchao He and illustrated by Trinh Nguyen, seniors at Bronx High School of Science in Bronx, N.Y. Diverse Minds is a contest where high school students write and illustrate children's books to help elementary school children celebrate and appreciate tolerance and diversity.

This education and awareness initiative was created as part of B'nai B'rith programming that promotes tolerance and communicates a message of equality among all citizens. The contest aims to enlighten, inspire and educate America's young people and their families in an effort to eradicate prejudices and strengthen ties among today's youth.

He and Nguyen were announced the winners at an award ceremony at the Actors Temple Theatre on June 21.

From the start, the students wanted this story to focus on gender stereotypes in society. "We hope this story can be an eye opener and a thought-provoking inspiration for children and adults alike to see the world, not just as blue and pink, but as many different colors, hobbies and preferences. It would be the most incredible honor to be able to spread the message of this story to the world."

He and Nguyen were congratulated by B'nai B'rith International CEO Daniel S. Mariaschin and B'nai B'rith Director of Corporate Partnerships Melanie Marconi.

"For the last nearly 30 years, I have traveled the world on behalf B'nai B'rith, and I have met with world leaders, peoples of all cultures, backgrounds and beliefs, and the worst of what I have seen always stems from a foundation of intolerance, bigotry and narrow-mindedness. So, it is always heartening for me to see the idealism, hope and conviction of this next generation and the young people who participate in the Diverse Minds Writing Challenge. It is needed now more than ever, and it is why we at B'nai B'rith are so committed to this program and the substance that it conveys," Mariaschin said.

This year a panel discussion, "These Diverse Minds: Tolerance & Inclusion Practices for the Next Generation," was added to the event. Topics discussed during the panel were equal rights, inclusion and justice, and actionable ways to promote these ideas in their schools, homes and communities. Panelists included Mariaschin as the moderator; Kandace Coston, editorial assistant at Lee & Low and­ the first winner of Diverse Minds NYC; Kimberly Mann, chief of the Education Outreach Section at the United Nations Department of Public Information; and Jill Hausman, rabbi at the Actors Temple.
By placing first, He and Nguyen will share a $5,000 college scholarship and their book has been professionally published. It will be distributed to local schools, libraries and community organizations, as well as to the annual TODAY Show Holiday Toy and Gift Drive. Their book will also be accessible in an e-book format and will be available on iTunes and Amazon as a free download.
Second place winners Jackson Rocke and Ella Shea, also from Bronx High School of Science and The Renaissance Charter School in Jackson Heights, N.Y. wrote and illustrated "Career Day" and will share a $2,000 scholarship.
For the second year in a row, Townsend Harris High School in Queens, N.Y had a student place in the top three: Third place winner Emma Fujita wrote and illustrated "Colors of the Sea" and won a $1,000 scholarship.
Teacher Nick McConnell, who advised He and Nguyen on their first place book, received a $1,000 grant to be used for classroom or organizational materials. Bronx High School of Science also received a $500 grant.
B'nai B'rith has now published 37 original children's books, in two different languages (English and Spanish), awarded more than $300,000 in college scholarships and grants and donated more than 42,000 books to public schools, libraries and community organizations across the country.
A diverse panel of judges from the worlds of education, the arts, business and government, along with B'nai B'rith International leaders, reviewed the submissions and selected the winners. Judges this year included: Rhonda Love, B'nai B'rith International vice president of programming; Michael D. Cohen, eastern director of the Simon Wiesenthal Center; Lawrence J. Krule, president of the Jewish Book Council; Kristina Rodulfo, associate editor of ELLE.com and 2008 winner of Diverse Minds; Naomi Kleinberg, editorial director of licensed publishing at Random House Children's Books; Andrea Louie, executive director of Asian American Arts Alliance; and Ryan John Koch, director of New York Public and International Affairs at LDS church.
This year's contest was generously supported by an anonymous donor and the panel discussion, "These Diverse Minds: Tolerance & Inclusion Practices for the Next Generation," was supported by First Data.
---