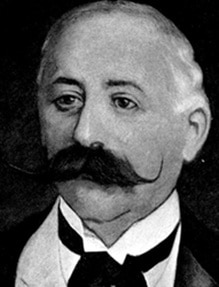 Baron Maurice de Hirsch, the German Jewish railroad magnate, purchased 5,300 acres in Woodbine N.J., enabling settlers to become farmers, cultivate their own property and raise cows and chickens.
By Cheryl Kempler
A town with a unique history, Woodbine, N.J. was founded as a community for Russian and Polish Jewish immigrants at the end of the 19th century. It came about through the philanthropy of Baron Maurice de Hirsch, the German Jewish railroad magnate, who purchased 5,300 acres and provided the necessary tools to the settlers to become farmers, cultivating their own property, and raising cows and chickens.
In the center of town, Jewish-owned businesses sold supplies for this insular, ultra Orthodox community. The Baron de Hirsch Fund also established an agricultural school for both the children of locals and for boys and girls from all over the United States who worked at the school in exchange for training in agriculture, horticulture, floriculture and even bee keeping.
Today, the Sam Azeez Museum of Woodbine illuminates the town's story and pays tribute to its original families and subsequent generations who worked and lived there. Located on the lower level of Woodbine's restored Brotherhood Synagogue, consecrated in 1896, the museum offers tours and educational programs in which Woodbine's citizens take center stage.
Retired machinist Lawrence Levy, who was bar mitzvah'd at the Brotherhood Synagogue more than 60 years ago, is a committed museum docent. His strong community ties are evident as he shares his memories and engages visitors in an interactive discussion, focusing on the evolution of Woodbine, from its original settlement through the 1970s, when it functioned as both a farming community and an important factory town.
Levy, who ancestors were among Woodbine's first families, cherishes most his memories of the spirit of the Brotherhood Synagogue in action, his childhood and coming of age in a place where all, including Woodbine's African American citizens, were treated with dignity and respect. Non-Jews, who moved to Woodbine to work in manufacturing during World War II, inevitably altered the insular quality of life there. Five churches were built. Later, concentration camp survivors from Europe arrived; most raised poultry.
Levy attributes empathy, derived from a shared history of suffering and discrimination, as the impetus that forged friendships among people of differing cultures, and the positive ways in which they dealt with each other. Although Woodbine had become multi-ethnic by the middle of the 20th century, Jewish culture and customs still dominated. A special dispensation from the New Jersey Sunday Blue Laws continued in effect. On Saturday, Shabbat, no business was transacted, but on Sunday, shops were busy, as merchants welcomed customers from nearby towns that purchased Kosher meat, bought clothes or had their hair cut.
For many, Woodbine became a stepping stone to a better life for their children. Jacob Kotinsky, for one, received little formal education but became a leading entomologist (engaged in the study of insects). Honored as the museum's namesake, Sam Azeez was a pioneer in the computer and technology fields. Gregory Pincus earned his doctorate at Harvard and served as part of a team of scientists and physicians whose research contributed to the development of the birth control pill. Eugene Feldman, a noted artist and author of numerous books, established the Philadelphia-based publishing company, Falcon Press.
Today, displays at the museum provide documentation—dates, facts and figures—that support the narratives of docents like Levy and give other residents and former residents the chance to contribute to an installation named "The Wall of Memories." In addition, the museum is now the designated site for the N.J. Commission on Genocide and Holocaust Education, giving students of all ages the opportunity to learn and interact directly with those who were victims of persecution during World War II, and in more recent times. The Brotherhood Synagogue sanctuary continues as a place of worship, and is made available to Jews and people of other faiths for religious services.

Sam Azeez Museum of Woodbine Heritage
www.thesam.org
610 Washington Avenue
Woodbine, NJ 08270
(609) 861-5355
Open Wednesday Thursday and Friday 10:00 am to 4:00 pm and by Appointment
---