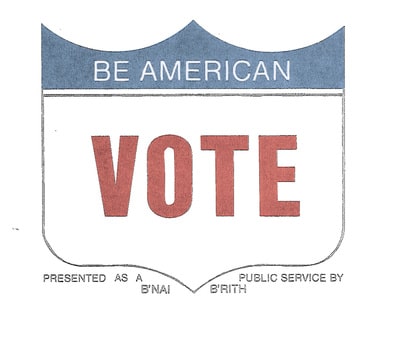 The logo featured in a 1988 pamphlet, as part of B'nai B'rith International's "Get Out the Vote" campaign.
By Daniel S. Mariaschin
Executive Vice President, B'nai B'rith International
My first recollection of a presidential election is from 1956. In our second grade classroom we had a big calendar with one removable slot for each day of the month. I remember Election Day being in red, placed there by our teacher Mrs. Osborn. I remember coming in the next morning and telling her for whom my parents had voted.
Now, how did I know that? Political discussions were a normal part of our lives at home, and, in 1956, while I may not have known the issues of the day, I did know of Eisenhower and Stevenson, the major party candidates. From that point, there was no stopping me.
With the first-in-the-nation presidential primary, awareness of politics in the Granite State, for me, came early. At 13, I was volunteering for a candidate running to fill a U.S. Senate vacancy. I worked on my first presidential campaign at 15; the primary season that year was particularly intense, and I became further bitten by the political bug. I then went on to volunteer in a succession of campaigns for candidates for governor of New Hampshire, the New Hampshire Governor's Council, and another U.S. Senate race. My ultimate goal was to run for a seat in the state legislature at the age of 22. But other interests entered the picture, and, by that point, I had decided on another career option, to work professionally in the Jewish community. I have consistently followed that path. The single exception is when I had the honor of serving as spokesman in the 1988 presidential campaign of Alexander Haig.
I did, however, keep up my abiding interest, not only in politics, but also about Jews in American politics. I was fascinated by early historical figures like David Levy Yulee, of Florida, elected in 1845 as the first Jewish member of the U.S. Senate, and by Meyer London from New York's Lower East Side, a Socialist elected to Congress in 1914. When I was growing up in the late '50s and early '60s, there were two Jewish standouts in the Senate: Jacob Javits, of New York, and Abe Ribicoff, of Connecticut. Elsewhere in the country, there were Ernest Gruening, one of Alaska's first senators, and Congressmen Sidney Yates and Abner Mikva, of Chicago.
Jews were being elected in those days largely from districts and states with sizeable Jewish populations. Indeed, in 1974, Stephen Isaacs of The Washington Post wrote "Jews and American Politics." In one chapter, he asks Jewish political figures why there weren't more Jewish candidates for public office. One respondent admitted that while some were hesitant to run, many Jews acted behind the scene as media and strategic advisers, as well as donors. In 1974, there were three serving Jewish senators (Javits, Ribicoff and Howard Metzenbaum, of Ohio, who was then filling a vacancy), and 12 Jewish members of the House, seven of them from New York.
Over the past generation that picture has drastically changed. In the 111th Congress (2009-11) there were 14 Jewish members of the Senate, and 31 House members. Today the numbers have changed but are still impressive: 10 in the Senate and 19 in the House. We are about 2 percent of the total U.S. population.
And in the time since Isaacs' book was published, Jews have represented states with relatively smaller Jewish populations, like New Hampshire, Wisconsin, Kansas and Oregon. The message: Voters were more interested in where one stood on the issues than on religion or ethnicity. In the process, more Jewish citizens have offered their candidacies, making that comment in the Isaacs book somewhat anachronistic.
Though relatively small in numbers, Jews traditionally lived in large numbers in strategic states, like New York, New Jersey, Michigan and Ohio that could always make a difference in the Electoral College vote for president, raising the importance of "the Jewish vote." Today, Jews live throughout the Sunbelt, while Jewish population figures in some important states have dropped, relative to our proportion of the population. Still, Jewish constituencies in a number of states, and our traditionally high voter turnout, remain important factors during election season.
As a 501(c)(3) nonprofit organization, B'nai B'rith is prohibited from endorsing or raising funds for political candidates. That said, we have always advocated a strong Get Out the Vote (GOTV) effort on the part of Jewish voters. A 1988 brochure, distributed by the B'nai B'rith Commission on Community Volunteer Services, was headlined "Your Voice Makes the Choice." Its table of contents includes such topics as voter registration, getting voters out on Election Day and an order form from which to order GOTV stickers.
Over the years, many of B'nai B'rith's senior housing facilities have had their own GOTV programs, which have included briefings on issues affecting seniors.
One of America's greatest gifts to its citizens is the electoral process. Sometimes mundane, and many times contentious, it gives each of us a chance to be heard. We enjoy the spectacle (the televised debates of candidates from both major parties this year had high ratings), many of us follow the races closely, wear a campaign button or place a bumper sticker on our cars, and then, on election day, revel in the opportunity—in another day it might have been said, our solemn duty—to cast our votes.
That affirmation of our democracy should never lose its importance to us as Americans, and as Jews.
---