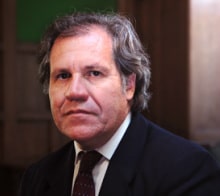 Uruguayan Foreign Minister Luis Almagro
It was a troubling week for the Jewish population in Uruguay, as the country's foreign minister, Luis Almagro, likened Gaza to a concentration camp, then appeared in public wearing the Palestinian flag as a scarf.
This comes one week after anti-Semitic graffiti began to appear on buildings and dumpsters in the capital city of Montevideo.
Eduardo Kohn, director of Latin American affairs at B'nai B'rith International, decried Almagro's words and actions, calling on the Uruguayan government to label Hamas as a terrorist organization and work to improve relations with Israel.
His words appeared in an article by El Observador. Highlights from the story can be found below:
---
---
El director de la B'Nai B'rith América Latina, Eduardo Kohn, aseguró que "es llamativa" la actitud del canciller Luis Almagro al utilizar una bufanda con la bandera palestina, en un momento en donde las relaciones entre Israel y Uruguay están tensas.

"Justo esto sucede en una semana en el que el Ministro de Relaciones Exteriores ha dicho que Gaza es un gran campo de concentración; campo de concentración es Treblinka, Autzwitch. No es campo de concentración un lugar en donde hay misiles en cantidades industriales, donde hay hospitales, casas, shoppings, carreteras, caminos, autos, gente viviendo. Eso es muy ofensivo, porque todos los que han pasado por campos de concentración deben sentir, como ciudadanos uruguayos que son, deben sentir que los han ofendido en una forma muy fuerte. Además, el gobierno de Uruguay ha hablado de la palabra 'genocidio' y todos sabemos lo que eso ha provocado," dijo Kohn al ser consultado por El Observador.

"Esta misma semana el ministro dijo por segunda vez de que las organizaciones judías (…) tenían que criticar la guerra y las acciones de Israel en Gaza. No es bueno que se le diga a ciudadanos uruguayos que salgan hablando en contra de Israel. Con Israel tenemos todo el afecto y sentimos como judíos que es el único país judío que hay en el mundo. Nosotros salir, como uruguayos, a emplazar o decirle algo a un gobierno que fue elegido por los ciudadanos de Israel, nos parece un emplazamiento que sólo trae confusión y puede traer otro tipo de reacciones, como grafitis y frases agresivas que estamos viendo en Montevideo."

Según Kohn, "las opiniones por este conflicto, es público y notorio, que han sido confrontacionales entre Uruguay e Israel. Pero Israel sólo quiere tener paz, tranquilidad y la mejor relación con todos los países. En el caso de Uruguay mucho más, porque fue central en la creación del Estado de Israel."