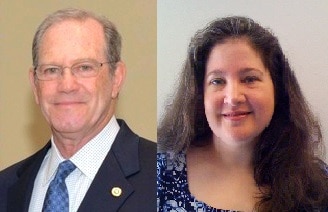 Mark Olshan and Rachel Goldberg
Among the first acts of the 114th U.S. Congress was the adoption of a new rule that will undercut Social Security as a whole, and risks steep cuts in Social Security Disability Insurance benefits (DI) by late 2016.
During the summer, the 2014 Social Security and Medicare Trustees Report stated the DI trust fund is at risk of being depleted by 2016.
The latest forecast is consistent with past reports, including expectations in the early 1980s, when funding allocations between retirement and disability benefits were last adjusted.

The new rule would essentially prohibit a "clean reallocation" bill, and require any reallocation to be accompanied by proposals likely to cut benefits somewhere in the Social Security system. Proponents of the rule insist that is needed to protect the Old-Age and Survivors Insurance (OASI) Trust Fund from moving funds to the "broken" DI system.

B'nai B'rith International urged Congress to increase the DI's allocation from the payroll tax, funding that all Social Security programs share.
Reallocating funds from the payroll tax has been a measure routinely carried out 11 times over the life of the program. B'nai B'rith International pushed for this reallocation to keep millions of disabled Americans, many of whom are also elderly, from experiencing benefit cuts of 20 percent in late 2016.

The disability system is not broken, and a reallocation is not only appropriate and routine, but also will not cause appreciable harm to retiree benefits.
A reallocation of funds from the payroll tax to DI would actually put the fund on equal footing with OASI and other Social Security programs, making the benefits fully funded through 2033.

---
---
Mark D. Olshan, Ph.D.
began his career with B'nai B'rith in 1983 when he was hired as its Director of Senior Housing. He currently serves as Director of the Center for Senior Services and Associate Executive Vice President of B'nai B'rith International. He was awarded the Julius Bisno Professional Excellence Award in 2000
. To view some of his additional content, Click Here.
Rachel Goldberg, Ph.D has been the B'nai B'rith International director of health and aging policy since 2003 and the deputy director of the B'nai B'rith International Senior Services since 2007. Before joining B'nai B'rith International, she taught politics and government at the University of Puget Sound and Georgetown University. To view some of her additional content, Click Here.