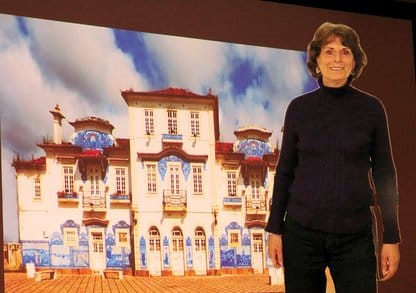 Today, Helene Sender spends her time traveling the world taking photos
—here with a photo she took in Portugal. Photo by Joe Crupi
By Sam Seifman
Today, if you see Helene Sender walking around her hometown of Flushing, Queens, chances are you'll see her with her camera, taking photos of the people in her neighborhood. But she hasn't always been as passionate about photography as she is today. Her professional career had a very different start.
Her story actually begins in the Bronx, and, although she has traveled around the world, she has lived in New York City her entire life. After receiving her bachelor's and master's degrees in psychology from Hunter College, CUNY, she worked as a research assistant in an adult education program for the unemployed and underemployed and then in therapeutic drug rehabilitation in Manhattan. She decided not to pursue research, and transitioned to the garment industry, where she worked in customer service and management for 15 years.
---
All Photos by Helene Sender
Her career took another turn when she began working in the medical field. She ultimately secured a position with the New York Blood Center (NYBC) as an executive assistant. Within a few years, she became the program coordinator in the education department. Helene was also a voluntary bone marrow and stem cell courier for NYBC's Special Donors Program during those 10 years.
Upon retirement from NYBC, Helene continued transporting lifesaving bone marrow and stem cells throughout the United States and around the world for the National Marrow Donor Program (NMDP) until age 70, when she was retired as a courier. She loved sharing her stories with friends and staff at NMDP, but they wanted more.
"[My friends] kept pushing me to show them photos of my travels," Helene says. So, she bought herself a camera.
Originally she used a big digital single-lens reflex camera, but it was too cumbersome to carry a large camera and lenses, so she moved to a smaller "point and shoot" camera. Today, Helene is an active member of the Flushing Camera Club, which allows her to share her photos and see the work of others. One day, she hopes to display her work publicly.
"I've always been drawn to the arts and music," Helene said. She often attends jazz concerts at Flushing Town Hall, where she is a member; she is also a long-standing member of the Museum of Modern Art, in Manhattan.
Just because Helene has retired doesn't mean that she's staying at home. She has traveled to and has taken photographs throughout Europe and the Middle East, including Israel, Cyprus, Germany and Poland.
Helene's father, a house painter who shared her artistic eye, immigrated to the United States from Poland in 1925 at 23. Traveling to Poland for the first time was daunting for her since so many of her father's family were victims of the Holocaust. She has thus far been to Krakow, Warsaw and Poznán, where she visited the ghetto areas and memorials. She spoke with many young Poles and found that they were open to discussing occupied Poland's collaboration with the Nazis. They also spoke about Poland's largely unsuccessful efforts to get Jews to return; a very small Jewish population presently resides in what used to be the old Jewish quarter of Krakow.
Although her father and her American-born mother raised her in a secular household, Helene feels deeply connected to her Jewish identity. During the Persian Gulf War in 1991, she served as a volunteer in Israel where she was assigned to an army camp in the Negev desert. She describes this as a "transforming experience." There, she peeled potatoes and painted offices to keep the soldiers free to deal with security risks.
"I wanted the Israeli people to know that there were people that cared and were willing to risk their lives for them," she said. Helene visits Israel often and will visit this year. Helene believes that in Israel and around the world, "It's important that we care about and reach out to all people in need."
One of the ways she has put these words into action is by naming B'nai B'rith International as a beneficiary in her will. Specifically, Helene is establishing an endowment fund with the interest going to whichever program B'nai B'rith determines is the most in need at the time.
"I've always been supportive of the work that B'nai B'rith does. To take a stand against persecution of all people is what 'never again' means to me," Helene said. "Your work is incredibly important in these times as we witness the increase of genocide, fear, discrimination and anti-Semitism around the world."
"Helene has been a longtime friend and supporter of B'nai B'rith," says Marna Schoen, director of Planned Giving. "But when she called to discuss a way to create a legacy through a planned gift, I got to know her much better. I loved the stories of her travels, and when she described herself as a 'street photographer,' I asked to see her photos. I was floored. She is able to capture a very special moment in time and the personality of her subject. That same appreciation for the subjects of her art is apparent in her giving. By establishing an endowment fund, she will, in perpetuity, be helping those in need, whoever they are or wherever they may live. She's leaving quite a legacy, and B'nai B'rith is honored to be a part of it."