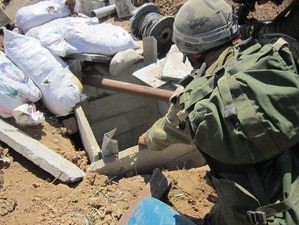 Via IDF: IDF Soldiers Found Terror Tunnel in Gaza
The Israel-Gaza conflict has dominated international headlines, inspiring civil unrest and prompting discussions of terrorism vs. national sovereignty.
Eduardo Kohn, B'nai B'rith director of Latin American Affairs, penned an op-ed offering background on these discussions for El Observador, the second largest daily newspaper in Uruguay.
Kohn places the responsibility for Operation Protective Edge squarely on the Hamas terror network, explaining the organization's charter, philosophies and ultimate goal of Jewish annihilation.
Read the entire op-ed in Spanish, below:
---
---
El Debate De Medio Oriente Llegó A Uruguay
El director de B´nai B´rith para América Latina, Eduardo Kohn, responde sobre el carácter terrorista del grupo Hamas
Un análisis de la especialista Susana Mangana, publicado en El Observador el viernes 25 de julio, sobre diferencias y similitudes entre el grupo palestino Hamas y otros que operan en la región, provocó diferentes reacciones (principalmente en redes sociales) de integrantes de la colectividad judía del Uruguay.
El Dr. en Diplomacia Eduardo Kohn, director de B´nai B´rith Internacional para América Latina, escribió un texto, reproducido a continuación, en el que da su visión sobre Hamas.

La realidad no es teoría, son los hechos
¿Quién es Hamas?
De acuerdo con la Carta Fundacional del Movimiento de Resistencia Islámica (Hamas es un acrónimo), publicada el 18 de agosto de 1988, la misma es una organización islámica que tiene objetivos precisos.
En su preámbulo señala:"Israel existirá hasta que el Islam lo destruya, de la misma manera que destruyó a otros en el pasado".
En su artículo 13 establece que "Palestina es una tierra islámica. La liberación de Palestina constituye una obligación individual para cada musulmán dondequiera se encuentre. No existe ninguna solución al problema palestino que no sea por medio de la Yihad".
Hamas no es un movimiento de resistencia como se ha podido leer en estos días, sino que es un grupo que tiene como objetivo buscar los medios posibles para exterminar a los judíos. Y en ese contexto, su primera etapa es destruir al Estado de Israel.
¿Pueden hacerlo? Hoy, gracias a Irán tienen armas como para intentar sus objetivos. Cuentan con 10 mil misiles que llegan a cualquier parte de Israel y les da la capacidad de asesinar a casi 4 millones de personas.
¿Por qué no lo han logrado si lanzaron más de mil misiles? Porque Israel está decidido a defenderse, grave pecado para quienes desean su desaparición.
Hamas no basa su legitimidad en la búsqueda de un Estado Palestino, como también se ha escuchado y leído. Eso trata de hacer la Autoridad Palestina. Hamas no puede querer construir un Estado cuando el preámbulo de su carta constitutiva ya señala que el gran objetivo es matar a todos los judíos:
"El Día del Juicio no llegará hasta que todos los musulmanes luchen contra los judíos y les den muerte. Entonces, los judíos se esconderán detrás de las rocas y los árboles, y éstos últimos gritarán: ¡Oh musulmán!, un judío se esconde detrás de mí, ven a matarlo"(Artículo 7).
Bajo esas premisas, para Hamas los civiles muertos no cuentan. Son mártires y escudos humanos; sus escuelas y hospitales son refugios para sus misiles. Porque los verdaderos refugios construidos por Hamas en Gaza son para sus armas y sus líderes, no para sus civiles.
Los ciudadanos israelíes tienen refugios para ocultarse, el ejército tiene armas para enfrentar misiles, y esa parecería ser su culpa mayor. Se califica de desproporcionado cuando un Estado defiende a sus ciudadanos, cuando reacciona frente a una amenaza constante. Pero así funcionan las democracias: los ciudadanos exigen seguridad a sus gobernantes, y los gobiernos deben actuar en consecuencia.
Mezclar a Hamas con procesos de paz y diálogo político es falsear los hechos que están a la vista. Para Hamas, Israel debe ser borrado del mapa; allí debe existir un estado islámico. Así lo expresó,una vez más, públicamente, hace dos días en Irán el Ayatollah Ali Khamenei, líder máximo en Irán y mentor ideológico y material de Hamas.
Bajo los objetivos de Hamas, es muy cínico hablar de paz en Gaza. Hay allí 2 millones de palestinos que son rehenes de una idea de exterminio del vecino.
La Autoridad Palestina debería reconocer públicamente los hechos. Mientras ambos, Autoridad Palestina por debilidad, y Hamas , por sus ataques y su violencia, sigan alentando la confrontación, la hipocresía intelectual y política que también ronda por estos lares , que acusa de uso desproporcionado de la fuerza a quien se defiende, y legitima el terror defendiéndolo sin pudor, los palestinos seguirán siendo víctimas de un marco de vida insostenible.
Si la ONU actuara de acuerdo a lo que escribieron y soñaron sus fundadores, no habría 200 mil muertos en Siria, ni 4 millones de israelíes amenazados por misiles, ni palestinos sin esperanzas. Pero mirando sesgadamente y acusando automáticamente, se logra que Assad siga siendo Presidente, que Hamas reciba de Estados miembros de ONU miles de misiles, y que Mahmoud Abbas sienta que habla a la pared cuando pasea por las capitales de países árabes muy ricos y sordos.
Los que insisten en legitimar a Hamas desde sus cómodos sillones de tecnócratas, desde sus atalayas más o menos intelectuales, o desde sus odios políticos, respaldan la sinrazón de la confrontación y avivan las hogueras.
Ambos pueblos merecen algo bien distinto para empezar, al menos, para comenzar a superar la triste realidad de los hechos.