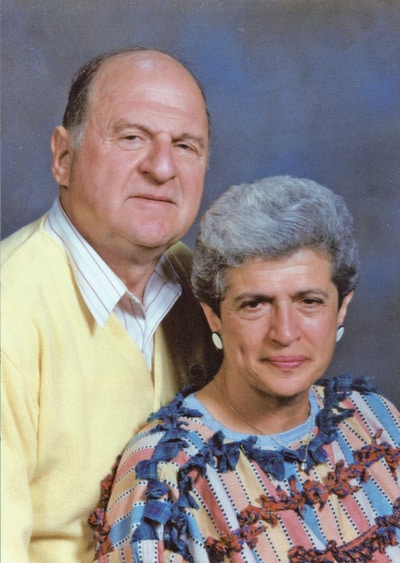 Leo Novarr was married to his wife Sylvia for 69 years.
By Adam Volman
Leo Novarr served in the army in the South Pacific during World War II, while his future wife, Sylvia, was an aviation machinist mate first class stationed in San Diego. While apart, they wrote to each other often, and, on Sept. 4, 1945, following his return and with both still in uniform, they married.
Three years later, the couple, motivated by their strong Jewish identities, joined B'nai B'rith International.
Novarr, now 95, attributes his Jewish ties to his upbringing in Hartford, Conn., by Russian-Jewish immigrants. Originally from Brailov, between Kiev and Odessa, in what is now Ukraine, they spoke Yiddish, English and "Russian, when they didn't want us to know what they were saying," he recalls.
His mother kept a kosher kitchen, and his parents wanted him and his four siblings, to live "Jewish lives," an ideal Novarr would later instill in his own children.
Novarr's father, Bennie, was a mason for more than 50 years and also founder of Star Silk & Woolen Company, a successful wholesale yarn goods store in Hartford.
Bennie Novarr was one of the first people to use polyester in a wide variety of patterns. Working with Bennie from a young age trained him to eventually take over the family business. He also excelled in high school both as a student and football player.
"I had the best arm in the state back then," Novarr reminisced.
After high school, Novarr attended Yale University—although he didn't want to.
"What am I going to do with iambic pentameter?" thought Novarr at the time. But his father insisted that he finish. He graduated in 1943 with a degree in economics, writing a thesis titled, "General Strike and Political Unionism."
With the war underway, Novarr enlisted in the United States Army. "I never said I wanted to fight Germans, only Nazis," Novarr says. "That was very important to me."
However, he was sent to fight the Japanese instead. Proficient in math, Novarr was placed in a combat engineers unit. He saw combat in the Mariana Islands, at the Battle of Saipan, in which around 2,000 American soldiers died. Novarr was wounded; a piece of shrapnel lodged in his chest above his heart remains there today. Discharged in early April of 1946 as a second lieutenant, Novarr received a Good Conduct Medal for his service.
After the war, Novarr returned to work at the store, eventually running the business. The store changed with the times, selling to larger companies, as opposed to seeking out peddlers, as in the past. Like his father, he believed in a family business, and his wife worked by his side as the store's bookkeeper.
Novarr describes himself as "always very conscious of being Jewish." He and Sylvia also made sure that each of their four children became B'nai B'rith members. The couple had five grandchildren and nine great-grandchildren.
Novarr had known Sylvia, the love of his life, since she was a 14-year-old high school tennis star. The two were married for 69 years. Their passionate marriage ended after her passing on May 24, 2014. "She was a strong force no matter where she went; she was an individual," Novarr said, clearly deeply impacted by her loss. "She was a sturdy soul."
Today, Novarr lives in Bloomfield, Conn. He attributes his B'nai B'rith affiliation to a variety of things. His father, he says, was a strong Zionist and passed these sentiments on to him. He also has an interest in the advancement and security of the Jews worldwide and gives to B'nai B'rith because of its support for the international Jewish community.
"I was proud of everything Jewish," Novarr says.
In addition to his active involvement with the organization, Novarr established a Charitable Gift Annuity with The B'nai B'rith Foundation. In return, the donor receives regular fixed payments for life and also a sizable tax deduction. While pride in the organization motivated his donation, he felt that setting up the annuity was a sound financial decision.
Novarr has made an impact not just on those in his personal life but with those at B'nai B'rith. Marna Schoen, national deputy director of planned giving for B'nai B'rith, is a longtime friend.
"It has been such a pleasure to work with Leo over the years," she said. "The life he shared with his beloved wife, Sylvia, of blessed memory, is a love story for the ages. I enjoy his stories, and his jokes always make me laugh. When Leo set up his Charitable Gift Annuity, he knew that doing so would support B'nai B'rith in years to come, and would have a positive impact on future generations. We are very appreciative of Leo and his commitment to B'nai B'rith."
---