The 2019 B'nai B'rith Managers and Service Coordinators Training meeting took place from May 14-16 in San Juan, Puerto Rico. This annual training meeting was created for the on-site building staff, focusing on the issues that affect the day to day activities of staff and residents in our affordable housing buildings.
The meeting kicked off with a day of service in conjunction with some of the B'nai B'rith Disaster Relief partners that are still active in Puerto Rico, including José Andrés's charity, the World Central Kitchen. Participants on the trip also learned from our affordable senior housing colleagues in Puerto Rico how to prepare if a large-scale disaster were to happen in your community, including presentations from the Red Cross and staff from the largest hospital system in Puerto Rico.
Additionally, U.S. Department of Housing and Urban Development sent staff to participate in our panels. CSS staff members facilitated interactive discussions with professionals from the Consumer Financial Protection Bureau and experts in the affordable senior housing industry, as well.
Holding the meeting in Puerto Rico served as a way for B'nai B'rith International to help continue the long-term recovery of the island, beyond assisting with disaster relief. As a bonus, the meeting gave the CSS staff a chance to help our own senior housing building affiliates develop their emergency preparedness if and when disaster strikes.
LISTEN – CSS Staff Visits B'nai B'rith International Podcast to Discuss the Trip
WATCH – Video Testimony of Trip Participant Cara Sherman
Photos from the Trip
Check Presentation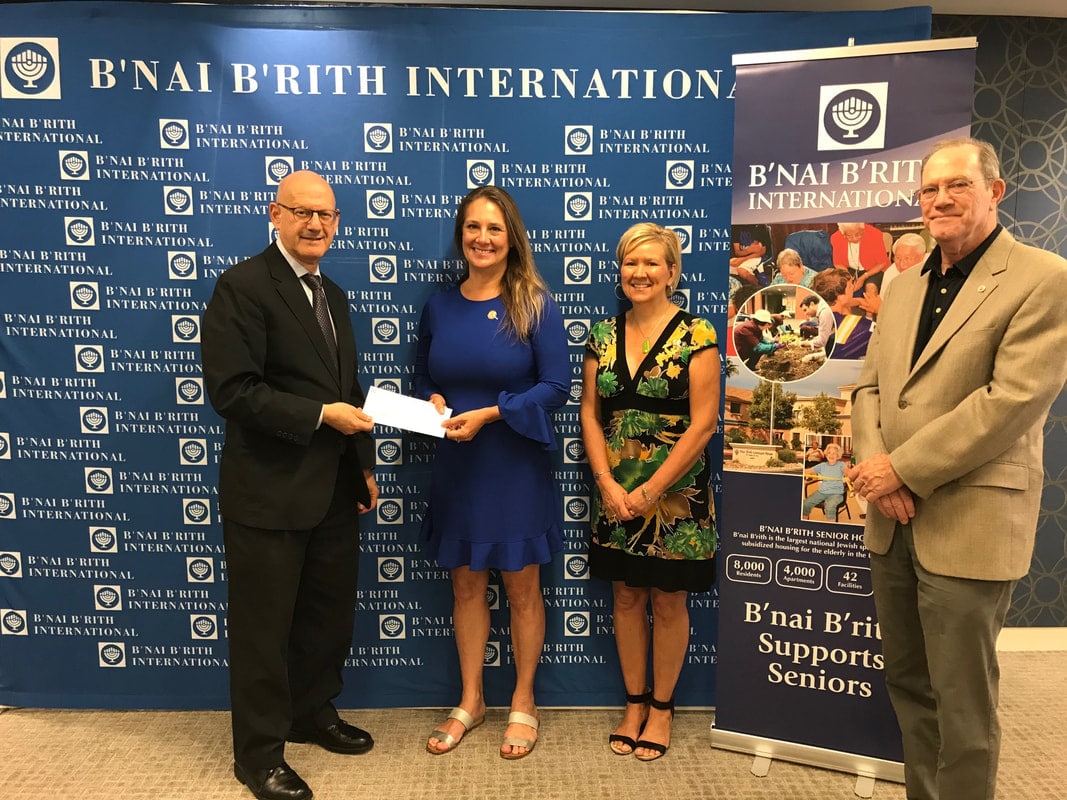 B'nai B'rith International presents a donation to World Central Kitchen. This donation comes from the B'nai B'rith International Disaster Relief Fund; the B'nai B'rith Disaster Relief Committee raised money specifically for Puerto Rico after Hurricane Maria devastated the island. This year, the Center for Senior Services held its annual Managers and Service Coordinator Training in Puerto Rico. Participants volunteered for a day of service at one of World Central Kitchen's partner farms, Siembra Tres Vidas, located in Aibonita, Puerto Rico. Managers and service coordinators mulched, planted eggplants and helped fertilize the land in a four-hour volunteer shift, ultimately saving two to three days of labor for the farmers. Pictured at the check presentation (l-r): B'nai B'rith CEO Daniel S. Mariaschin, Chief Program Officer for the World Central Kitchen Alexandra Garcia, Associate Director of the B'nai B'rith Center for Senior Services Janel Doughten and B'nai B'rith International Associate Executive Vice President Mark Olshan.