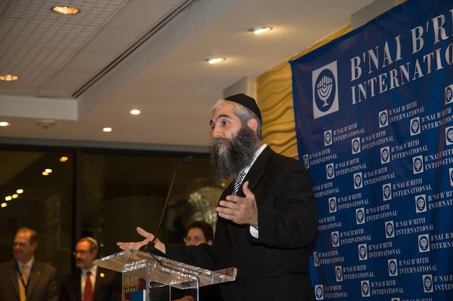 Rabbi Aron Laine, rabbi of the Beth El synagogue in Panama City and chief rabbi of the nation's Ashkenazi community, addresses the B'nai B'rith 2014 Policy Forum.
By Taylor Schwink
When you visit Panama and look like a tourist, locals will undoubtedly ask you, "Have you visited the Canal?"

For the Central American isthmus nation, the Panama Canal is and always has been the biggest draw. And, it should be. The engineering marvel, cited by the American Society of Civil Engineers, is truly a sight to behold. Since its opening a century ago, the transcontinental waterway has been a strong economic pipeline and a source of pride for Panamanians. It's an integral part of their heritage and attracts literally boatloads of business types, tourists and, for longer than the Canal has been open, Jews, who have come here to visit but also to live.

"The Jewish community in Panama is very close, very strong," says Batia Siebzehner, a researcher at the Harry S. Truman Institute for the Advancement of Peace and the Liwerant Center for the Study of Latin America, Spain, Portugal and their Jewish Communities at Hebrew University of Jerusalem, who has been studying the Panamanian Jewish community.

Panama boasts an estimated Jewish population of between 12,000 and 14,000, the largest in Central America, says Siebzehner. She describes a community that has been around since the 1820s and recently has grown and solidified as an important segment of Panamanian society.

Most of Panama's Jewish population resides in Panama City, the country's bustling and expanding capital. Involved in every type of business, from construction to finance, tourism, textiles and international trade, Jews have had tremendous commercial success in almost every sector. Many Jews have also found a great deal of success operating in the Colón Free Trade Zone, selling merchandise throughout Latin America.

"Many Jews are working professionals; they might have their own business," Siebzehner says. "They are very strong from an economic point of view."

The Jewish community is so engrained in the city that there are several synagogues, multiple schools, a large community center and a large kosher food scene – one that rivals and exceeds what's available in other major cities around the world.

"Most Jews in Panama keep kosher, [or] at least keep kosher at home," says Rabbi Aron Laine, of the Beth El congregation in Panama City. "There [are] about 20 kosher eateries, four or five caterers and probably 15 bakeries where they make some kind of kosher pastries."

Panamanian Jews received presidential recognition Aug. 31, when Panamanian President Juan Carlos Varela formally addressed the Jewish community for the first time at the B'nai B'rith International Policy Forum. Varela thanked the community for its support and reaffirmed his government's support for Israel—an increasing rarity in Central and South America.

"My family has been in Panama for about 100 years. The community started very small and has grown tremendously," says Joseph E. Harari, a prominent Panamanian businessman and a lifelong B'nai B'rith member. "We're the pride of Latin America. We've actively worked to retain our Jewishness, and we try to help Israel in any way we can. Often times more so than just giving money too, we also give our time and volunteer."

But, the Jewish community hasn't always thrived. Like much of Panama's history, its fortunes have been directly linked to the country's importance to international trade and geopolitics.

Panama's Jewish roots lay across the Atlantic with the expulsion by Spanish Catholic King Ferdinand II and Queen Isabel I of Jews and Muslims from the Iberian Peninsula during the 16th century. Many Jews forced from Spain, and eventually Portugal, set up small communities elsewhere in Europe, North Africa and the Ottoman Empire. But some gambled, eventually sailing to the New World, and established themselves in various corners of the Americas, though Panama remained unsettled.

Despite putting an ocean between them and the rulers who forced their expulsion, Jews who settled in many parts of the Caribbean and South America were still living in Spanish colonies and, thus, were forced to convert to Catholicism. Turning Jews and Muslims into conversos was standard practice during the days of the Inquisition, and, because of it, much of the Jewish culture and religion in these newly established communities waned or dissipated over time.

Panama saw little Jewish immigration until the 1800s, when the Spanish Empire began to crumble as many of its colonies began declaring independence. Panama declared its independence as a separate department within Colombia in 1821 and remained part of the South American nation until declaring its own sovereignty in 1903 (with the help of the United States and its promise to complete the construction of the canal).

After Panama severed ties with Spain in 1821, the first, albeit quite small, wave of Jewish immigrants arrived there from the Caribbean and South America looking for opportunity, Siebzehner says.
Panama had been a commercial hub teeming with the opportunity they sought long before the canal was dug. The Atlantic-side city of Nombre de Dios was one of only three ports in Spanish Central and South America authorized to trade with Madrid. Goods would come in from all over to meet the Spanish ships that docked. For more than 200 years, many goods, including Inca gold, were brought in from the Pacific and then transported overland to Nombre de Dios

The first wave of Jewish immigrants found work opportunities in the newly formed department of Colombia, but a strong Jewish community failed to take hold. Many Jews were quick to assimilate into the Catholic-dominated society, already lacking Jewish cultural and religious ties.

"Jews coming to Panama were looking for new opportunities in the economic market," Siebzehner says. "Panama had very little to offer from the cultural point of view. They moved because of the commercial opportunities."

The Jewish community in Panama would not truly take root until the next wave of immigration in the latter half of the 1800s. The completion of the Panama Railroad in 1855 ushered in economic opportunity unseen in Panama until then. People rushed in to stake their claim on the trade windfall and the businesses cropping up around it.

Jews immigrating to Panama were no different.

Ashkenazi Jews from Curaçao were the first to take hold in Panama, founding the Kol Shearith Israel congregation in 1876. That congregation is still thriving today.

The Panamanian-Jewish community experienced more growth in the 1910s and 1920s, due to two major world events. The first, obviously, was the opening of the Panama Canal in 1914, followed by the end of World War I and the disintegration of the Ottoman Empire. In particular, Siebzehner says, Syrian-Sephardic Jews began immigrating to Panama to escape persecution.

In 1933, Jews of Syrian origin established an Orthodox synagogue called Shevet Achim, which is now the largest congregation in Panama. The Shevet Achim community—members are referred to as sociedades—is so large that in addition to its main synagogue, several satellite synagogues have been built. Siebzehner says the bulk of Panamanian Jews are of Syrian descent, and their community is closely knit and committed to preserving Jewish continuity.

There is also a small Reform community in Panama City.
Culturally speaking, in Panama City, the three sects of the Jewish community operate in separate spheres. The smaller portion of the Jewish population is the Sephardic community, whose lineage originates from the Caribbean and South America, and is much more integrated into Panamanian society, Siebzehner says. Both parts of the community have their own schools, synagogues and community centers.

Another wave of Syrian Jews came to Panama in the 1970s, and even more emigrated from Syria in the 1990s following the toppling of Panama's dictatorial regime.

Currently, Siebzehner says the Syrian segment of the Jewish community is "returning to religion," reemphasizing and embracing Judaism across all spectrums of life.

"In the last 20 years, there has been a revival of Jewish traditions, for sure," Laine said. "Twenty years ago, besides the synagogues, you'd have maybe 10, 15 succahs. Today you have 150, 200 sukkahs. And, we're talking about buildings. Each sukkah represents many families."

Laine also said that, in that same time period, the number of families committed to keeping Shabbat has gone from a handle to hundreds.

Laine attributes this reinvigoration simply to more people studying the Torah and the religion, which has resulted in a communal sense of inclusivity. "The more people study, the more involved they get," he says. "Then [the religion] becomes easier for other people to follow."

"Most of the people here have become more religious because it helps to bring up children, it keeps families together it helps bring our community closer together and it genuinely helps us to survive as a community," Harari says.

Siebzehner also said that, in recent years, more Jews are not only immigrating to Panama but to all over the region, with an increase in people coming from Israel.

"The overall number of Jews in Latin America is increasing," Siebzehner says. She cites the increased economic stability in many Latin American countries, including Panama, as a reason for increased Jewish immigration to Central and South America.

"Israelis coming to Panama has not been a big boom, but they're very well represented in the community," Siebzehner says.

Adds Laine: "The reason Jews are immigrating to Panama is twofold: There's a very strong Jewish community, very involved, and the economy has been very good."

Siebzehner also cites increased anti-Semitism as a reason for Jewish immigration to Panama from nearby countries, specifically in Venezuela. From the time now-deceased Venezuelan President Hugo Chávez took power in 1999 to the present day, the Jewish population has nearly halved, with some moving to Panama. Chávez was well known for his anti-Israel incitement, using state-run media to stir up hate, often taken out on the Jewish community. During the summer, current Venezuelan President Nicolás Maduro also made inflammatory and derogatory remarks against Israel. As a result, anti-Semitic graffiti has appeared in Caracas, vitriol against Jews raged on social media and a Jewish newspaper's website was hacked to display anti-Israeli messages.

Several other Latin American countries also spoke out against the Israeli government over the summer, heightening tension in Jewish communities.

It's no surprise that Jews are still filtering into Panama, given the country's societal acceptance of people of all races, cultures and religions. The canal, still a focal point of international business, initially drew Jewish immigrants to the country a century ago, and it continues to do so.

"Of course there's the economic benefit of [Jews] immigrating, people need a job to keep them going and the economy is progressing very rapidly," Harari says. "They want to be where there is a social life, a Jewish life. We're not only a community for religion and Israel, we're for the mainstay of Jewish life."


---