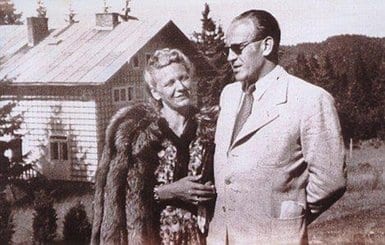 A photo of Oskar and Emilie Schindler at their farm in
Argentina taken in the late 1940s
By Cheryl Kempler
Nearly 30 years before Steven Spielberg's cinematic masterpiece "Schindler's List" shined a light on Oskar Schindler's heroism, B'nai B'rith's Traducion Lodge in Buenos Aires rescued his wife, Emilie, from certain death.
A former spy and a Nazi, Oskar Schindler engaged in bribery and deception in order to save the 1,200 Jewish men and women working in his munitions and enamelware factory close to several concentration camps in Poland. Near the end of the war, as even more Jews were murdered before the camps were liberated, he was even able to persuade those in power to move both the factory and the laborers to Czechoslovakia. Assisting her husband, Emilie Schlindler played her own part, negotiating with dangerous black market criminals to obtain massive amounts of food, medical supplies and clothes, and tending to the needs of more than 1,000 individuals in her care.
Miraculously, the couple saved many Jews and survived themselves but used all their money and possessions to do so. Supported by the American Jewish Joint Distribution Committee, a relief organization, and those they had kept alive in the postwar years, the couple ran a farm in Argentina, but, when it failed, Oskar left Emilie to return to Germany in 1957. In 1962, as Oskar was being honored in Israel, Emilie was alone, homeless and starving in San Vicente, near Buenos Aires.
Learning of Emilie's situation, the German immigrants who had formed the Traducion Lodge committed to her lifelong care. The men began to provide a small monthly stipend and set up a foundation that paid for a house built for Emilie in San Vicente on land donated by a Traducion member. In 1975, further assistance came through the fundraising efforts of New York's Joseph Popper Lodge, made of men and women who lived in Czechoslovakia before the war. Eventually, both the German and Argentine governments also granted stipends to Emilie.
Enjoying a quiet existence with her many cats and dogs, Emilie was looked after by B'nai B'rith's volunteers, who paid her visits, cultivated her garden, fetched her groceries and took her to doctors' appointments. The house continued to be her residence until she moved to a care facility in 2000, a year before her death at age 93, in Strausberg, Germany. Her husband died in 1974, also in Germany, and is buried in Jerusalem.
---