You wouldn't know it from the Human Rights Council — which ritualistically adopted multiple anti-Israel resolutions last week, yet only lone ones on such scenes of unsurpassed carnage and deprivation as Syria, Iran and North Korea — but the most elemental human right of Israelis, the right to life, has been denied and threatened in a particularly relentless and vicious way for about half a year now. The council was not even embarrassed to condemn Israel for its possession of, and human rights record on, the strategically vital and essentially tranquil Golan Heights at a time when religious minorities and the U.N.'s own personnel enjoy refuge there from the bloodletting by regime forces and terrorist groups alike across the border in Syria.

In a true manifestation of insult added to injury, and of abdicated political and ethical leadership, apathy in Geneva to Palestinian terrorism comes as little surprise, though, since the United Nations as a whole is all but explicit in its indifference to violence against Israelis — unless and until Israel responds forcefully, at which point Israel itself is subjected to especially wild opprobrium.

A running compendium by the world body, "UN Response to Acts of Terrorism," lists its reactions to acts of violence against civilians globally — from France to Lebanon to Mali to Afghanistan to Egypt to Turkey to Belgium and beyond — and yet manages not to note even a single one of the stabbings, shootings or car rammings that have afflicted innocent Israelis on a near-daily basis over the last six months.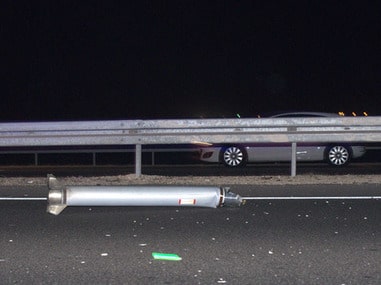 A rocket fired by Hamas in Gaza lands on a highway in Israel.
Forget solidarity marches by world leaders, the superimposing of the Israeli flag on social-media profile photos or declarations of "Je suis Jerusalem"; after all, even a fresh target of Islamist terror like Belgium continues to be among those denying Israel any understanding or decency in its voting at the Human Rights Council. Instead, the UN secretary-general recently rationalized Palestinian acts of terror as "human nature" — and went as far as to respond to the subsequent objections of Israeli leaders by publishing an op-ed castigating them for "lashing out at every well-intentioned critic," among them "Israel's closest friends." When a few weeks ago I accompanied a group of diplomats on a visit to Israel — one that was illuminating in its revelation of the country as a democratic, pluralistic haven amid upheaval, so humane as to be unassumingly treating wounded arrivals from hostile Syria — UN officials stationed there did not let reality disrupt their relaying of a well-practiced narrative in which only Palestinians are associated with grievance and only Israelis are saddled with obligations.
For these bureaucrats, Palestinian suffering was worthy of detailing and magnification, while Israeli suffering was minimized or ignored completely. Indeed, with the UN never considering all those Israelis maimed or traumatized in terrorist attacks, the ongoing wave of Palestinian violence, we were told, does not rise to the level of a "political crisis." Meeting the same day with a non-religious Jewish girl and an Orthodox man who had been wounded in horrifying attacks — by sheer randomness, in different areas that we ourselves had visited in Jerusalem that day, including the vicinity of the UN compound itself — I found myself growing emotional in decrying the failure of UN data and officialdom to see any "crisis" in an untold number of Israelis whose scars, physical and otherwise, will permanently testify to their neighbors' conviction that their lives are somehow deserving of being brought to a cruel and arbitrary end.
Putting aside cruelty, today's multiplying Palestinian assailants, whose precursors had inaugurated in earnest the era of modern political terrorism, particularly the use of plane hijackings and suicide bombings, have again honed their brutal craft. Following phases dominated by cross-frontier rocket fire, hostage-taking and other tactics, ordinary Palestinians, endlessly incited to violent hatred not only by Hamas but also by the purportedly moderate Fatah, can now harm and terrorize Israelis with little training or resources, and little possibility for a decisive Israeli response. After all, will Israel deny all Palestinians access to steak knives or to automobiles that can then be exploited as weaponry? And whom can Israel effectively confront when any Palestinian youth rifling through a kitchen drawer is a potential perpetrator of warfare? Not least, by anonymously taking cleavers to Israelis one at a time — without the dramatic footage and gore of ISIS decapitation videos — Palestinians can broadly victimize Israelis, day after day for months on end, without the world's so much as taking notice, let alone discerning a crisis.
---
And so it has been. Indeed, with their Arab and other allies comprising an automatic majority at the world body, the Palestinians also continue to determine messaging there, wielding the ability to defame and isolate Israel as a means to pressure the Jewish state without at long last accepting peace with it.

And yet, of course, for Palestinians at large the end-result is the same: a widening cult of "martyrdom" but negligible actual progress toward substantive political goals. Consequently, grassroots Palestinian anger and frustration further increase, and the most fanatic Palestinian factions retain popular appeal relative to that of the nominal pragmatists occupying positions of power in Ramallah.

"The UN will remain fundamentally corrupt, and most certainly a failure at peacemaking, until it is finally able to treat the deliberate murder of Jews as it does that of others among its constituents."

Which is why, if UN officials do actually care about peace in the region or at least about the stated aspirations of mainstream Palestinians, they must finally stop coddling the Palestinians, denying them all sense of responsibility or agency, and insist that they end the crude, ubiquitous incitement against Israel that inevitably results in the deaths of Palestinians.
The UN itself, for that matter, must stop serving as a global purveyor of such incitement.

A senior UN official, explaining in a New York Times essay this month why he was walking away from a long career at the organization, wrote: "If you lock a team of evil geniuses in a laboratory, they could not design a bureaucracy so maddeningly complex, requiring so much effort but in the end incapable of delivering the intended result. The system is a black hole into which disappear countless tax dollars and human aspirations, never to be seen again." At the UN, he acknowledged, "too many decisions are driven by political expediency instead of by the values of the United Nations or the facts on the ground." He concluded: "We need a United Nations led by people for whom 'doing the right thing' is normal and expected."
Serial abuse of Israel was not the subject of the former UN official's piece, and — no surprise, since it is likely the most entrenched and politically untouchable of UN dogmas — it was nowhere mentioned in it.
However, indifference to and complicity in the deep injustice that is bigotry against Israel are central to the departure of the UN from its intended purposes and from its real potential.
The UN will remain fundamentally corrupt, and most certainly a failure at peacemaking, until it is finally able to treat the deliberate murder of Jews as it does that of others among its constituents.
---
| | |
| --- | --- |
| | David J. Michaels is Director of United Nations and Intercommunal Affairs at B'nai B'rith International, where he began working in 2004 as Special Assistant to the Executive Vice President. A Wexner Fellow/Davidson Scholar, and past winner of the Young Professional Award of the Jewish Communal Service Association of North America, he holds degrees from Yale and Yeshiva University.To view some of his additional content, Click Here. |