Teen Writing Contest Rewards Stories About Tolerance with College Scholarships

A Wootton High School junior has won a $5,000 college scholarship for her creative and insightful book advocating tolerance and diversity.

The winner of this year's Diverse Minds Writing Challenge in the D.C.-metro area is "What Makes Me Beautiful," written and illustrated by Ariya Feng, a junior at Thomas Sprigg Wootton High School in Rockville, Md. Diverse Minds is a contest where high school students write and illustrate children's books to help elementary school children celebrate and appreciate tolerance and diversity.

Feng was announced the winner at an award ceremony at the Pepco Edison Place Gallery on June 7.

The inspiration behind "What Makes Me Beautiful" stemmed from Feng's recognition that people often feel the need to compare themselves to others—and also have a difficult time embracing who they are and what they have. She said it was crucial for her to write characters that young students could relate to as a reminder that no matter how big this world seems they are not alone.

"I want to promote tolerance [and] diversity to influence the younger generations, especially because they are going to be our future. I just really hope that my book shows that race, religion [and] sex shouldn't be an issue, and everyone should be treated the same. I hope that when people read this they feel like they belong wherever they are," Feng said.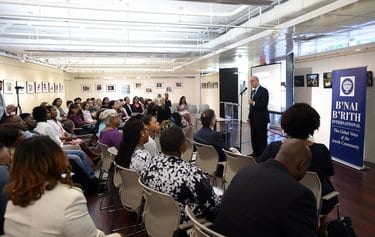 B'nai B'rith International CEO Daniel S. Mariaschin delivers
a speech on how much the Diverse Minds
program has changed since its inception.
The finalists and winners were congratulated by Daniel S. Mariaschin, CEO of B'nai B'rith International; Donna Cooper; region president of Pepco; Debbi Jarvis, vice president of corporate relations of Pepco Holdings; Dave Velazquez, president and CEO of Pepco Holdings, and award-winning illustrator Shadra Strickland.

"For the last 26 years, I have traveled the world on behalf B'nai B'rith, and I have met with world leaders, peoples of all cultures, backgrounds and beliefs, and the worst of what I have seen always stems from a foundation of intolerance, bigotry and narrow-mindedness. So, it is always heartening for me to see the idealism, hope and conviction of this next generation and the young people who participate in the Diverse Minds Writing Challenge. It is needed now more than ever, and it is why we at B'nai B'rith are so committed to this program and the substance that it conveys," Mariaschin said.

Pepco leaders at the event talked about the significance of this program.

"On behalf of Pepco, I would like to thank B'nai B'rith International for its commitment to diversity and inclusion a set of values Pepco also promotes," Cooper said. "Since its inception, the Diverse Minds Writing Challenge has given talented students a unique opportunity to spread the message of diversity and inclusion through their own personal lenses and has allowed them to capture the subject in a way that can inspire the younger generations that follow. The masterful pieces of art and prose in these books help to educate students by sharing elements of diversity and inclusion in personalized, thoughtful and creative ways collaboratively. We are inspired by their ingenuity and compassion in wanting to give back to others through their work in this competition."
---

Award-winning illustrator Shadra Strickland gives an inspiring speech on her journey to becoming professionally published.
At the award ceremony, Strickland addressed the finalists and gave an inspiring speech on her journey to becoming a published illustrator and the importance of perseverance and not giving up on your dreams.
"The dream doesn't always look the way it does in your head, but trust your gut, believe in yourselves and keep living the dream," Strickland said. She also told students to "live the most inclusive life that you can." And Strickland concluded: "As hard and painful as it is to create, it is also one of the greatest and rarest joys that most people never experience."
By placing first, Feng won a $5,000 college scholarship and her book has been professionally published. It will be distributed to local schools, libraries and community organizations, as well as to the annual TODAY Show Holiday Toy and Gift Drive. Her book will also be accessible in an e-book format and will be available on iTunes and Amazon as a free download.
Second place winners Janet Baindu Lagah-Bona and Río Castañeda-Guthreau from Duke Ellington School of the Arts in Washington, D.C. wrote and illustrated "Apples & Oranges" and will share a $2,000 scholarship.
Third place winners Lauren Zhou and Michelle Li from Richard Montgomery High School in Rockville, Md. wrote and illustrated "The Star of the Show" and will share a $1,000 scholarship. In addition, the teacher who advised Feng, Sarah Debnam, received a $1,000 grant to use for classroom or organizational materials. Thomas Sprigg Wootton High School received a $500 grant.
​
A diverse panel of judges from the worlds of education, the arts, business and government, along with B'nai B'rith International leaders, reviewed the submissions and selected the winners. Judges this year included: Mariaschin; Velazquez; Wendy Chang, children's author; Vince Fiduccia, Maryland state director of Best Buddies; Jacqueline Jules, author and poet; Carolyn Parkhurst, author; Ari Z. Brooks, executive director of Friends of the Library in Montgomery County, Md.; and Lissa Rosenthal-Yoffe, executive director of the DC Arts & Humanities Education Collaborative.
B'nai B'rith is pleased to partner with Pepco for the fifth year of the D.C. Diverse Minds Writing Challenge. We are also excited to work with Atlantic City Electric and Delmarva Power, holding contests for a fourth year for students in South Jersey and the Delmarva Peninsula.
Background
This education and awareness initiative was created as part of B'nai B'rith programming that promotes tolerance and communicates a message of equality among all citizens. Funded by Pepco, the contest aims to enlighten, inspire and educate America's young people and their families in an effort to eradicate prejudices and strengthen ties among today's youth.

B'nai B'rith has now published 33 original children's books, in two different languages (English and Spanish), awarded more than $300,000 in college scholarships and grants and donated more than 39,000 books to public schools, libraries and community organizations across the country.
---