Last week the mid-Atlantic region experienced a storm so bad it qualified as a blizzard. It even got a weather service name and a twitter hashtag (#snowzilla). As with every big snow, the region's roads were impassable and cities became paralyzed. For those in the Midwest and New England, the pre-storm shopping hysteria, the weeklong school closings, the government closings have made Washington, Baltimore and other cities an object of ridicule, and frankly we see your point. We get it. When St. Paul gets this much snow they call the storm "just another Tuesday."
| | |
| --- | --- |
| But there is a good reason the D.C. metro area can't respond as quickly to the snowfall, and it's one we happily point out whenever this happens. We aren't prepared to deal with storms like this because it doesn't pay for us to be. Most years having enough salt, trucks and drivers to efficiently remove a blizzard would be a waste of money—money that D.C. area cities and states don't have. It would be like Minnesota putting its money in shark attack prevention. So when the "big one" does hit, we are spectacularly and sometimes comically underprepared. And over shopped. | Sidewalks are a critical part of the transportation infrastructure, especially for low-income people and people with disabilities and mobility impairments, categories that include millions of older adults. |
So our snow removal has been painfully slow. The blizzard conditions started late Friday, Jan. 22 and ended on Sunday, Jan. 24, but my own street didn't see the shadow of a plow until late Monday, Jan. 25, and our street is barely passable. Friends have been posting and tweeting appalling pictures of impassable streets and sidewalks for days. Nearby, major roads are often plowed, but are down from three lanes to two. And everyone complains: why didn't they plow ALL the lanes? And that's where things get interesting.
Often they haven't plowed all the lanes because if they did they would have to shove that last lane's snow right up onto the sidewalk, making pedestrian travel difficult, dangerous or downright impossible. And who travels on the sidewalks after a snowstorm? Kids (which is why schools are closed when your street is already clear), people with disabilities and many elderly and low-income people who don't have or use cars.
While we all seem fairly aware of the roads being critical to our everyday city and community life, it's easy to forget the role sidewalks play until they are covered by a 6 foot snow pile left by a plow. Sidewalks are a critical part of the transportation infrastructure, especially for low-income people and people with disabilities and mobility impairments, categories that include millions of older adults.
Yep. Snow removal is an aging issue.

And it's not that transportation experts and disability/aging advocates didn't already know this—we did. In fact, there are some great studies and planning tools out there to help, so that transportation and urban planning includes people with disabilities and the elderly.

So how are we doing at actually implementing pedestrian/aging/disability friendly transportation plans? Not great.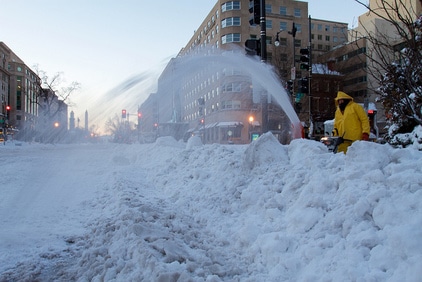 Image via flickr
This even helps to keep snow removal in mind in long term urban planning (like making sure there is space between the sidewalk and the road for that snow to get shoved). The issue is on the table in many communities, including mine. In Montgomery County, Maryland (where I live), the county almost got a pedestrian friendly plan that would have increased the county's obligation to remove snow from pedestrian pathways, but it was never signed by a county executive. Montgomery County also has an advisory committee that recently did a pedestrian "walk about" tour of the area and developed more pedestrian friendly guidelines that
you can read about here.
Other groups including disability groups have developed excellent resources, like Easter Seals' Project Action, where I found a guide on pedestrian/disability friendly snow removal policies and planning.

The federal government has money (called Section 5310) allocated to efforts on disability transportation, including pedestrians. While I would like to say that includes a resource listing the right phone numbers to call for every city or county when you see an impediment to pedestrian travel or a mobility challenge, it doesn't mean that. We do have regional contacts and state contacts listed together and the National Center for Mobility Management, and that gets you off to a good start. You can find other related resources on their main page. The Federal emphasis on transportation planning for people with mobility challenges has produced some excellent planning tools and raised awareness about best practices.
So how are we doing at actually implementing pedestrian/aging/disability friendly transportation plans? Not great. It has been clear during this week's "snowzilla" how much tension remains between the need to plow roads and the need to maintain sidewalks. And the sidewalks often lose. We've seen pedestrian access to public transportation (Metro) limited because the parking lot's snow got dumped on the sidewalks leading to the stations. In my neighborhood—already a hot spot for pedestrians being struck by cars—bus stops have been obliterated, the bus shelters are half filled with snow and often there is nowhere for riders to stand but in the slick, snow-banked roadways. So far no pedestrians have been injured in my neighborhood, but I am frankly almost as surprised as I am relieved.
But advocates know it takes more than having information about how best to do things to get them actually done. I guess we all know that.
So what do we do? Three things come to mind. First, do your part. Shovel your sidewalk as soon as you can after a storm. It's required by law most places, and is neighborly. If you can't shovel, ask a neighbor to help. If you can, shovel for the neighbor you know can't. Local governments often need to do more to make sure that commercial and public areas (where no homeowner is responsible) are also plowed. In good weather, don't block sidewalk access with a vehicle, trash can, etc., especially the curb cuts designed to let wheelchairs ease from sidewalk to street. As a driver remember that pedestrians have rights, and are easy to injure. Remember that not all pedestrians are STANDING, and some may be seated and harder to see. Be aware.
Second, if you see something wrong, tell someone. If the sidewalk is blocked, report it. If stores plowed snow into the handicapped spots, tweet about it. If you see people walking on a snowy roadway because there is no sidewalk to be found, call your city or county.
And third, after you figure out how to report these problems, think about getting more involved. Ask how you can become part of an advisory committee on transportation issues. Transportation planning is a big deal for most states and municipalities, and advocates for the elderly and disabled have made it a particular point to make sure those concerns are part of all planning, whether it's public transportation, new road designs or services especially for the disabled. And there is plenty of information available about how planning can be done to accommodate the needs of people with mobility challenges—and how to keep the snow from trapping them at home or making them unsafe when they are out.
Last year we participated in the once-a-decade White House Conference on Aging, and the final report calls for more planning and coordination on transportation issues. Cities, states and the federal government are always planning transportation initiatives, from maintaining what exists to expanding mass transit and building new highways. All that planning needs to take into account the needs of people with mobility challenges. It was great to hear last year about the $2.5 million allocated for a plan to launch the National Aging and Disability Transportation Center at the U.S. Department of Transportation, which will "provide technical assistance to improve the availability and accessibility of transportation options that serve the needs of people with disabilities, seniors, and caregivers."
But the kind of planning—and frankly pressure—required to make sure seniors, the disabled and pedestrians are not left out of the future of our roads and bridges requires us to get involved. There are so many issues at play, and so many future consequences of today's decisions, that we have to make sure we represent these issues at the table. If you want to learn more about volunteering your insights, start at the National Center for Disability Management. Or call a disability rights group. Or call us—we'll help you find the right access point for wherever you live.
Even those of us who don't have any mobility challenges (yet) are sometimes pedestrians. It can be complicated to sort out how to support growth and safety, roads and sidewalks.
​
And, if you see a sidewalk covered in a snow mountain made by a snow plow, take a picture and send it to us. ​
---
---
| | |
| --- | --- |
| | Rachel Goldberg, Ph.D has been the B'nai B'rith International director of health and aging policy since 2003 and the deputy director of the B'nai B'rith International Senior Services since 2007. Before joining B'nai B'rith International, she taught politics and government at the University of Puget Sound and Georgetown University. To view some of her additional content, Click Here. |