Professional wrestling in the United States has come a long way from its origins in backyards and high school gymnasiums, to selling out Levi Stadium in San Francisco for Wrestlemania 31.


Along the way, local B'nai B'rith lodges and members have been wrestling advocates, supporters, promoters, officials and fans.




A look through the organization's 17-decade history turns up a number of times that B'nai B'rith and wrestling have shaped each other:
---
June 29, 1952

---

Charles W. Pian was President of the

National Wrestling Association in the 1960s, and stayed involved as a B'nai B'rith volunteer for more than 25 years.


Charles W. Pian was involved in professional sports for decades in Missouri, and had a

heavy hand in the wrestling game. In 1932, he was initially named Deputy Missouri State

Athletic Commmissioner. To say Pian was heavily involved in the community is an

understatement.

He was involved with the St. Louis Consistory #320, The Shriners Moolah Temple, Naphtali Lodge #25-A.F. and A.M., Scottish Rite Club, Alhambra Grotto, Veterans of Foreign Wars, Veterans of World War I of the U.S.A., Jewish War Veterans of the United States of America, forty-two year member of the American Legion, twenty-five year Gold
Menorah Member of the B'Nai B'rith and the Elks Club No.9, Chairman of the Selective Service System, member of the St. Louis Chamber of Commerce, member of the Ozark
Association A.A.U, 6th Ward Regular Democratic Organization, and the State Club Democratic of Missouri.

Pages 179-180

Though Jews joined civic groups as individuals, they were most active in their own aid societies, Sisterhoods and B'nai B'rith lodges. In addition to raising funds for Jewish causes, these groups engaged in extensive local charitable and civic work, supporting causes that ranged from flood relief in Williamson and a tuberculosis hospital in Beckley.

The women held bazaars and rummage sales, ran booths at carnivals, and coordinated activities with women's church groups.

The men took a more masculine approach: the Beckley B'nai B'rith's popular fundraising event, a wrestling show with national stars attracted some 4,000 people to the high school stadium annually in the 1940s and 1950s. The wrestling put on "one wild show," recalled a former member.

---

In April 2014, the B'nai B'rith World Center in Jerusalem and Keren Kayemeth LeIsrael (KKL-JNF) held a unique joint Holocaust commemoration ceremony on Holocaust Martyrs' and Heroes' Remembrance Day/Yom Hashoah, commemorating the heroism of Jews who rescued fellow Jews during the years of torment in Europe.

This event memorialized the rescue activities of Jonas Eckstein (1902-1971) who was an active member of the Jewish community and a successful wrestler in "Hakoach" Jewish sport club in Bratislava.

His sporting activities allowed Eckstein to befriend city officials and police which later facilitated his rescue activities.
---
November 3, 1957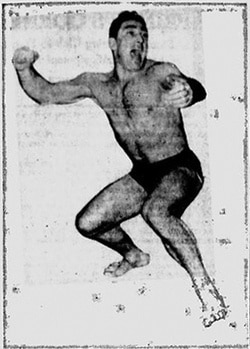 ClassicWrestlingArticles.Wordpress.com
Waterbury's B'nai B'rith, whose venture into wrestling promotion several months ago drew a shiny $4,600 gate, hope to top that at their next mat project on Monday, Nov. 18.
And the prospects are bright, judging by the all-star program lined up for staging at Buckingham Hall and proudly labeled by Co-Chmn. Robert Kosowsky and Sol Bernstein as "good enough for Madison Square Garden."
The Bras City lodge of the national Jewish fraternal order holding the show to raise funds for its charitable foundation, has a quartet of "big names" in a feature tag team match – Antonino Rocca and Ricki Starr vs. Prof. Roy Shire and Dr. Jerry Graham. This tussle will be two out of three falls, with a one-hour limit.
Rocca, from the Argentine, rates as America's No. 1 grappling attraction via his unique form of acrobatic technique. Starr, a nimble onetime ballet dancer, delights fans with his clever maneuvers and elusiveness. The two will combine their varied talents against two of the game's more notorious villains in the persons of Professor Shire and Dr. Graham.
A growing Puerto Rican fan element will have a chance to root for countryman Luis Martinez when he tackles another badman, Danny McShain, self-styled "world's toughest wrestler," in a semi-final set for two out of three falls, with a 45-minute limit.
Rounding out the slate will be a one-fall 30-minute opener and another bout set for the same route pairing two other well-known matmen, Sandor Kovacs of Hungary and Chief Don Eagle.
The New Haven Arena, running two mat cards a month on every other Saturday, has its next show coming up on Nov. 9.

The most recent Arena presentation finished up with a net gate of $4,400 (gross receipts minus taxes) as the New Haven offerings continued to enjoy prosperity.


---