The World Council of Churches, with a long record of singling out Israelis for demonization and hostility, last week sidestepped calls to officially brand Israel an "apartheid" state at the council's ecumenical assembly in Karlsruhe, Germany.
This was a hopeful outcome, not to be taken for granted, but sadly only part of a picture that remains disconcerting for those invested in Christian-Jewish relations and elemental fairness toward the world's only Jewish state.
No doubt, the venue of the assembly—which is the WCC's highest governing body, typically convening once every eight years—played a part in guiding the council's newest actions toward Israel. After all, in Germany, to formally escalate WCC anti-Israel agitation would have been especially callous.
Germany was not only responsible for the greatest mass murder of Jews in history, but a site of historic Christian anti-Semitic incitement and persecution laying the groundwork for it.
Just weeks ago, on the fast day of Tisha B'Av, Jewish liturgy mourned Jews' forced exile from Jerusalem—but also their later massacre by Christian crusaders in Worms, Speyer and Mainz. In June, a German court ruled that a notorious medieval sculpture on a Wittenberg church where Martin Luther preached—showing pointy-hatted Jews suckling a pig—could remain.
But Germany, post-Holocaust, is not the Germany of the past.
Signaling that there is literally no limit to Palestinian libels against Israel, which increasingly get mimicked by some Christian activists, visiting Palestinian leader Mahmoud Abbas ignited a firestorm on August 16 by dismissing a question about Palestinian terrorists' killing of Israeli athletes at the 1972 Munich Olympics by claiming Israel perpetrated "50 holocausts." German Chancellor Olaf Scholz later called that lie "intolerable."
On German soil and in the same month as the WCC assembly, Abbas also accused Israel of "apartheid," an insult to those subjected to actual ideologies of racial supremacy.
Scholz said, "we have a different assessment."
Fast forward to Karlsruhe. Not only the recent controversy garnered by Abbas in Germany but also opposition by key German church representatives made adopting the Israel-as-apartheid smear implausible at this particular conclave. Moreover, wariness by at least certain more prudent WCC figures—the council's acting general secretary bluntly suggested that Holy Land church heads harbor strong reservations about "apartheid and BDS" (anti-Israel boycott, divestment and sanctions) initiatives—seems to have had an impact. Additionally, Germany's president, Frank-Walter Steinmeier, affirmed in remarks to the assembly that "One of the greatest current responsibilities of the Christian churches all over the world is to take a stand against anti-Semitism."
He added, "We need to be aware that anti-Semitism can assume many forms … The security of the Jewish community—in Germany, in Israel, in the nations of the world—must be one of the tenets of all religions."
So the WCC assembly in Karlsruhe did not declare Israel guilty of apartheid. But neither did the assembly, and the WCC leaders and staff there, reject the notion.
To the contrary, even while recounting that some WCC members strongly endorse the apartheid charge but others "find it inappropriate, unhelpful and painful," a statement adopted by the assembly claimed that "numerous international, Israeli and Palestinian human rights organizations and legal bodies" have found that Israeli policies are tantamount to apartheid. The same statement, consistent with WCC practice, is uniquely heavy on accusations against and demands on Israel. Moreover, the text opens the door to a more blatant embrace of the apartheid trope by other WCC entities, such as its central committee, by calling on the WCC to "include the Middle East" in its efforts on "racism"—and by asking that the WCC "discern the implications of the recent reports by B'Tselem, Human Rights Watch and Amnesty International, and for its governing bodies to respond appropriately."
B'Tselem is an Israeli non-governmental organization campaigning to "end" what it hyperbolically declares a "regime of Jewish supremacy" by Israel. The WCC and its informational sources have seemingly found no manifestations of Muslim or Christian supremacy, let alone "apartheid," to explore and confront in the name of equality and justice.
Meanwhile, over the summer, the WCC elected a new general secretary, Rev. Dr. Jerry Pillay, who previously railed against the "exclusionary and violent character of the Israeli Zionist project"—and "the empirical ambitions of Israeli Jews." The same leader, slated to assume office at the start of 2023, made overt his view that Israel perpetrates apartheid, if not something even worse.
And we know what came of the racist, colonial apartheid regime in the incoming leader's native country, South Africa: punitive sanctions, isolation and downfall.
To be fair, the new WCC statement does include this line: "We affirm the rightful place of the State of Israel in the community of nations and recognize its legitimate security needs." In a rarity, it also references "grave failings of the Palestinian authorities." These modest concessions to balance helped spur some sustained opposition to the final text, when various other WCC motions on complex subjects were adopted with remarkable unanimity.
Again, on a positive note, certainly the WCC membership is not entirely without proponents of healthy, meaningful Christian-Jewish ties.
But full, genuine representation of the Jewish-Israeli experience is absent in the WCC's relevant deliberations, and WCC zeal for human rights is not universal. As with actually longstanding WCC flirtation with the apartheid charge against Israel—despite having once said it "cannot support … equating Zionism with racism, describing Israel as an apartheid state"—the WCC has said it "does not promote boycotts" or "economic measures against Israel" even as it openly "supports an international boycott of goods and services from illegal Israeli settlements" and "considers targeted economic measures an important non-violent strategy for promoting peace" in Israel.
By contrast: a WCC assembly statement in Karlsruhe "calls for the lifting of sanctions and/or addressing the negative impacts of such sanctions on ordinary people in countries such as Syria, Cuba, Venezuela and Zimbabwe," and decries "oppression due to international sanctions that affect these populations' human rights and dignity." Practically without fail, such countries are cited by the WCC not for scrutiny or condemnation, let alone highly loaded labels such as "apartheid," but for sympathetic intervention.
The WCC's next general secretary, Pillay, said at one point in Karlsruhe that he aims to challenge the domination of "selective" narratives at the WCC. It is not clear to which contexts he was referring. But given his own doubling down on an extreme ideological one-sidedness, there is ample cause for worry that WCC ecumenism will not extend to ordinary, mainstream Israelis.
---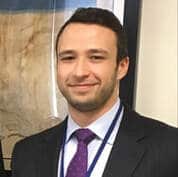 David J. Michaels is Director of United Nations and Intercommunal Affairs at B'nai B'rith International. He previously trained at the Foreign Ministry of Germany, the Conference of Presidents of Major American Jewish Organizations, the Embassy of Israel in Washington, Ha'aretz and the International Fellowship of Christians and Jews. A Wexner Fellow/Davidson Scholar, and winner of the Young Professional Award of the Jewish Communal Service Association of North America, he holds degrees from Yale and Yeshiva University. Click here to view more of his content.