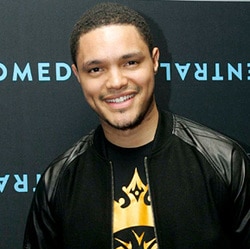 New Daily Show host Trevor Noah
Trevor Noah Has History of Anti-Israel, Anti-Semitic, Misogynistic Comments

B'nai B'rith is concerned about the long history of anti-Semitic, anti-Israel and misogynistic tweets by the new choice to host the popular comedy program, The Daily Show.

Trevor Noah, tapped to replace retiring Daily Show host Jon Stewart, has repeatedly tweeted comments that are deeply offensive and highly stereotypical, and his anti-Israel comments even border on incitement. Why does he tweet about Jews so much?

Though Jon Stewart has always been quick to note that The Daily Show is meant to provide entertainment more than actual news, political comedy in our culture is often a substitute for news. Studies have shown that a large number of Americans, particularly young Americans, get their news from such programs.

The line between satire and hate can be very fine. As a result, the role of the host on this popular program carries significant responsibility.

We recognize that the platform The Daily Show provides its host is different from the stand-up comedy circuit, and we are hopeful that Noah will use this new and larger role responsibly on complex, sensitive issues. Entertainment cannot justify promoting hate and misinformation—and no group, including Israelis and Jews, should be considered fair game for bigotry.

---