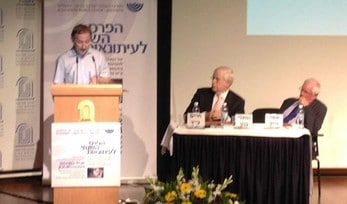 (photo credit: Jessica Steinberg/Times of Israel)
Sunday marked B'nai B'rith World Center's 22nd annual Award for Journalism ceremony, with a trio of Israeli journalists noted for their work in covering the Israeli-Diaspora.

One of the three, David Horovitz, Times of Israel's founding editor, was awarded the Lifetime Achievement Award in recognition of his three decades of service to Israeli journalism.
The other two, Matan Hodorov and Judy Maltz, were given awards for excellence in Diaspora Reportage.
Media coverage of the event can be found below:

---
---
[Horovitz] went on to say "a few words too about our battered profession, which is economically so troubled. I think journalism is a noble field… Honest, independent journalism is the most effective way to keep our leaders honest.

"Fair and honest journalism is also crucial to informing the nation what's being done in its name, and what its options are, to enable the people to make smart, informed choices about who should lead and which policies they should favor.

"But honest, fair, independent journalism is in ever shorter supply around the world, most certainly including in Israel.

[…]

"I'm proud to think that in a world with so much partisan, shrill and incitement-filled media, we're part of the antidote."

The Haaretz correspondent receives the 2014 B'nai B'rith World Center Award for Journalism Recognizing Excellence in Diaspora Reportage.

*Starts at the 28:14 mark
---
The prizes were awarded by the B'nai B'rith World Center in memory of Dr. Wolf Matsdorf, a journalist and social worker, and his wife, Hilda, who was a leading social worker. […]
Maltz was a former economics reporter for The Jerusalem Post; Horovitz, who started out as a reporter for the Post, later became the paper's editor-in-chief, and before that was editor-in-chief of its sister publication, The Jerusalem Report.
Although it was claimed by Government Press Office director Nitzan Chen and several other people at the recent Jewish Media Summit that the Israeli media does not deal with the Jewish Diaspora unless there is a crisis or tragedy, this has proven to be untrue in the case of the annual BBWC competition – where the number of entries grows from year to year. This year, there were 33 applicants who submitted 82 news and feature stories.