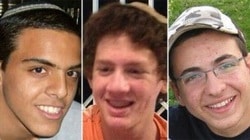 Eyal Yifrach, Naftali Fraenkel, Gilad Shaar
Our Thoughts and Prayers are with the Families and all of Israel
B'nai B'rith International has issued the following statement:

We are outraged and horrified by the murder of three Israeli teenagers missing since they were kidnapped in the West Bank June 12. The three teenagers, Naftali Fraenkel, 16, Gilad Shaar, 16, and Eyal Yifrach, 19, were abducted as they returned home from school.

The kidnapping and subsequent murders are the direct product of the constant and relentless incitement taught by the Palestinians.

For many decades, generations of Palestinians have been raised on a diet of hate, which feeds the terror targeting Israel. The twin evils of incitement and terrorism have once again shown that Israel does not have a credible partner for peace.
The Israeli government has placed the blame for the kidnappings—which occurred less than two weeks after the swearing in of the Fatah-Hamas-backed Palestinian government—directly on Hamas, which remains committed to the destruction of Israel and to carrying out terrorist attacks against Israeli civilians.

It is the duty of the Palestinians to surrender the murderers to Israel.

Our thoughts and prayers are with the families of the teens and with the people of Israel.

---