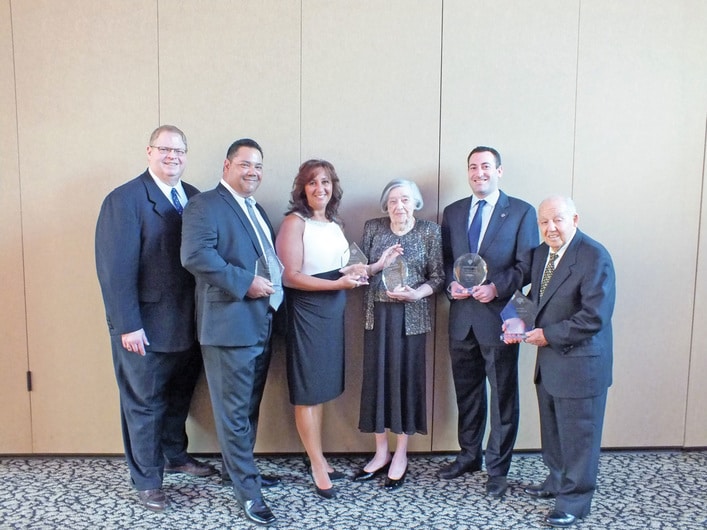 B'nai B'rith of Union County's 60th annual dinner dance was held June 15 at Temple Beth Ahm Yisrael, in Springfield, N.J. Those attending included, from left to right: Mark Samuel Ross, Esq., event chair; Kenneth Lavroff, recipient of the B'nai B'rith Keter Shem Tov (Master Of A Good Name) Leadership Award; Davida Berkowitz, recipient of the B'nai B'rith Eshet Chayil (Women Of Valor) Award; Miriam Gershwin, recipient of the B'nai B'rith Eleanor Roosevelt Humanitarian Award; Adam Levoy, B'nai B'rith New Jersey Young Leadership chair and recipient of the B'nai B'rith Young Leadership Award; and Joseph Tenenbaum, lodge president and recipient of the B'nai B'rith Lifetime Service Award and 50-year member pin.
By Sam Seifman
From coast to coast, B'nai B'rith lodges are holding events and activities to strengthen the Jewish community across the generations.
In Upper Dublin, Pa., the Beth Masada Lodge runs four youth basketball leagues. Seventy-five percent of lodge membership is under 40. Members draft new basketball players, create new teams and work to develop a friendly, competitive Jewish community through sports.
"Basketball is the glue that helps keep our lodge together," says Lodge President Eric Felt. "Everyone gets new friendships. Everyone contributes."
The Upper Dublin lodge is also known for Project H.O.P.E. (Help Our People Everywhere), run by Samuel Domsky, a lodge past president who has chaired the project since 1997. Last Passover, the lodge delivered 1,250 bags of kosher-for-Passover food to 625 needy and elderly people in the area.
The Knesset Lodge, in North Hills, Calif., comprises older Jewish couples dedicated to socializing and making a difference in their community. The lodge recently celebrated its 25-year anniversary. Members hold dinner parties, go to movies and plays together, host nights out on the town, hold discussions and sponsor lectures. On Chanukah and Passover, its members deliver food to 30 families in need. Lodge members also donate toys and clothing to needy children in their area.
"Our longevity is powered by our friendships," said lodge President Bernard Bregman. "If you are looking for new friends, and to fill in your desire to be active, we are the people you are looking for."
---
Members of the Knesset Lodge, in North Hills, Calif., with athletic equipment they collected for area children.
B'nai B'rith of Union County, N.J., has been active in the community of Springfield for well over 60 years. The lodge joins with synagogues in the area, engaging the community in its events and supporting the larger Jewish community. Its main event is an annual dinner dance, which honors community members and raises money for Jewish causes.
B'nai B'rith of Union County hosted its 60th annual dinner dance on June 15 at Temple Beth Ahm Yisrael, in Springfield. Among those honored were New Jersey young leader Adam Levoy and Holocaust survivor Miriam Gershwin. Gershwin lived in the Kovno Ghetto in Lithuania and pretended to work for the Nazis, while actually delivering messages from ghetto to ghetto.
At the end of every summer, the lodge also holds "Bar-B-Que and A Movie," this year featuring the documentary "Welcome To Kutchers: The Last Catskills Resort," in conjunction with the Men's Club of Temple Beth Ahm Yisrael, of Springfield.
"By partnering with area synagogues and other organizations we hope to both revitalize B'nai B'rith and strengthen the other organizations as well. We don't feel they are competition, but, rather, when we strengthen one, we strengthen our entire Jewish community," said lodge President Mark Ross.
---