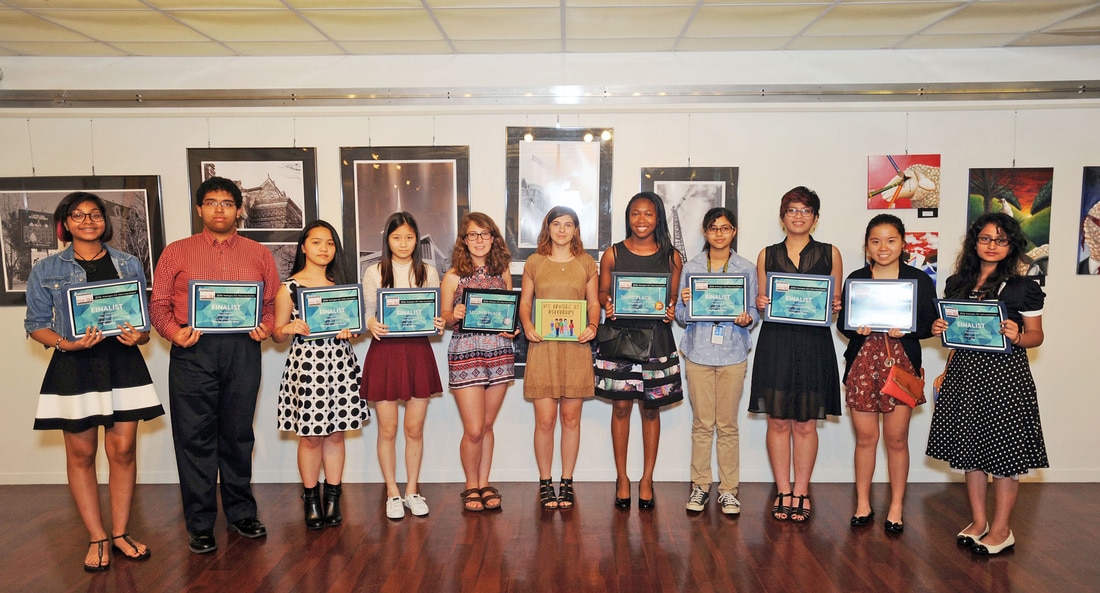 The finalists stand together after the B'nai B'rith Diverse Minds Writing Challenge award ceremony, at the Pepco Edison Place Gallery in Washington, D.C.
By Rachel Chasin
The B'nai B'rith Diverse Minds Writing Challenge asks high school students to write and illustrate children's books to teach tolerance and diversity. This year, the contest was held in Washington, D.C., New York, South Jersey and the Delmarva Peninsula.
At the Washington, D.C., award ceremony, local children's author Wendy Shang addressed the finalists and gave an inspiring speech that included 10 points, in honor of Diverse Minds' 10th anniversary, offering advice and encouragement on how to become a writer.
"Don't be afraid to call yourself a writer. Your only qualification is that you must write, and you must be willing to work at your writing. Call yourself a writer, and then go write." She added, "Writing a children's book is a creative act of hope and good will. It is also an act of bravery. It is easy to be cruel, cynical and critical, but it takes guts to create."
Shang concluded, "Don't be afraid to swing for the fences. Write with your soul on fire."
Through the support of sponsors, first-place winners in each city had their books professionally published and received a $5,000 college scholarship. Each first place book is also accessible in an e-book format and is available on iTunes and Amazon as a free download.
In addition, the teacher who oversaw the winning entry in each city secured a $1,000 grant, and the school of the first-place winning student in each contest city received $500. The second-place winners at each location earned a $2,000 college scholarship, and the third-place winners received $1,000.
The winning books are distributed to local schools, libraries, community organizations and the annual TODAY Show Holiday Toy and Gift Drive. The books can be found at the B'nai B'rith website: bnaibrith.org/diverse-minds.
"Originally the challenge was created with the concept that we must encourage and celebrate diversity—diversity in our communities, in our workplaces, in our schools. And 10 years later, I think we can see in society that there is a richer diversity than ever before," said B'nai B'rith International Executive Vice President Daniel S. Mariaschin.
Over the 10 years of the contest, B'nai B'rith has published 33 original children's books, including one book in two different languages (English and Spanish), awarded more than $300,000 in college scholarships and grants and donated more than 39,000 books to public schools, libraries and community organizations across the country.
"Since its inception, the Diverse Minds Writing Challenge has given talented students a unique opportunity to spread the message of diversity and inclusion through their own personal lenses and has allowed them to capture the subject in a way that can inspire the younger generations that follow," said Pepco Region President Donna Cooper. Pepco Holdings, an electric utility company, sponsored the Washington, D.C., competition.
A panel of judges from the fields of education, the arts, business and government, along with B'nai B'rith International leaders, reviewed the entries and selected the winners.
---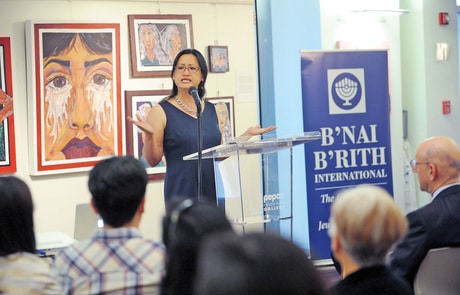 Children's author Wendy Shang addressed finalists at the Washington, D.C.,
B'nai B'rith Diverse Minds Writing Challenge award ceremony.
The winning books were: "My Family Is Different," written and illustrated by Anahit Kanayan (Duke Ellington School of the Arts, Washington, D.C.); "Hearts of Gold," written by Madeline Smith and illustrated by Morgan LaMonica (Towle Institute, Hockessin, Del.); "The Legend of Firemarth," written and illustrated by Samson Beaver (Paulsboro High School, Paulsboro, N.J.); and "From the Heart," written and illustrated by Sylvia Yu (Stuyvesant High School, New York City).
Kanayan received her award at the Pepco Edison Place Gallery on June 1. In her story, a character named Delina decides to take a new art class and is very nervous about meeting new people. Delina's art teacher tells her students that their topic for the day is drawing their families. Delina wonders how she can draw her family, because she doesn't have a father at home and questions what the other students might think of her "different family." At the end of the class, all the children show one another their drawings and Delina realizes that everyone's family is a little different, but just as beautiful.
Madeline Smith and Morgan LaMonica were honored June 3 at an award ceremony at the Delmarva Power Conference Center. In their story, "Hearts of Gold," a little girl visits a popular doll shop and asks the doll maker to sell her his most beautiful doll. The doll maker tells the girl that he cannot show her his most beautiful doll, because it doesn't exist—none of his dolls are any more special or beautiful than the other. The only thing they have in common is a heart of gold. The little girl quickly realizes that it doesn't matter what the dolls—or a person—look like on the outside, but it's what's in the heart that matters. This contest was funded by Delmarva Power, a subsidiary of Exelon.
The award for "The Legend of Firemarth," the winner for the contest sponsored by Atlantic City Electric, was presented at Atlantic City Electric headquarters on June 2. Beaver tells the story of Adelina, who runs away from her father's kingdom, Firemarth, because her father locked up all of the beasts just because they are different. Not long after, Adelina encounters a friendly dragon who scares her at first. But Adelina sees the kindness in his eyes. Moments later, Adelina's father, the king, approaches and tries to slay the dragon. The king falls of a cliff but is saved by the dragon. The king learns how wrong he has been—you shouldn't be mean or disrespectful to someone just because they're different.
"From the Heart" was recognized on June 21 at the New York Marriott Marquis; the contest was funded by the Mitsubishi UFJ Financial Group. In Yu's story, a classroom of bears worries about giving out cards on Valentine's Day. Some of the bears are concerned they can't give a card to someone of their same gender, if they have different ethnicity or if they are disabled. Their teacher, Ms. Frost, tells her bear students that "love is blind—gender, race and imperfections are not important. What matters the most is that you love them for their heart."
Kanayan, in addition to being an 11th grader, works as an assistant art teacher at Sitar Arts Center in Washington, D.C. She was inspired to write her book about the children she teaches. "The whole program is to have classes for children who are in low-income families. The little kids there come with their families, and something about it just sparked," Kanayan said.
Submission details and deadlines for next year's contest will be posted this fall at www.bnaibrith.org/diverse-minds.
---