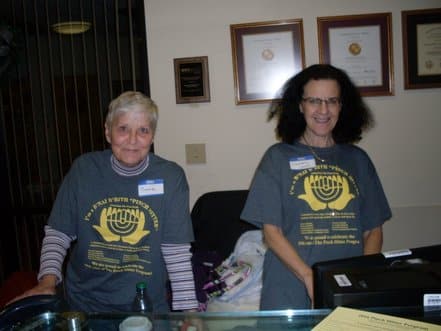 Connie Pierce and Stephanie Lewis volunteer at a Veterans Affair hospital for the Achim/Gate City Lodge Pinch Hitter program.
By Sam Seifman
"It was just a bunch of Jewish guys who realized they had Christmas off and nothing to celebrate, so they decided to do something useful," said Achim/Gate City Lodge Financial Secretary Harry Lutz, describing the beginnings of the Pinch Hitter Program in Atlanta.
It started with just 18 volunteers working at one hospital. Today, every Christmas, 200-250 volunteers staff three hospitals and six assisted living facilities in the area.
The lodge, which has 90 members, also participates in other community service programs like "Unto Every Person There Is a Name," in which participants read the names of Holocaust victims, and "B'nai B'rith Cares for Kids," in which toys are collected and given to hospitals, police departments and fire departments to distribute to sick children or children facing a trauma.
"We have a unique group of people keeping this lodge alive. I'm committed to it as long as we've got people willing to do it," said lodge President Karen Kahn Weinberg.
Achim lodge isn't the only one. All over the country, B'nai B'rith lodges are dedicated to strengthening their communities through service.
Justice Unit #5207 in Ft. Lauderdale, Fla., is a different breed. Its 150 members comprise practicing attorneys, judges and legal support and vendors. Members offer seminars on social justice, give legal aid to the community, provide backpacks and school supplies for Family Central Inc., an early learning training center, and fund scholarships to Nova Southeastern University.
"When you involve lawyers and judges and you get the plaintiff and defense bar to come together, both promoting tikkun olam, you end up with a lot of people willing to help," says lodge President Scott Knapp.
---
Stacy Lewin and Sarah Lewin working in the kitchen for the Achim/Gate City Lodge Pinch Hitter program in Atlanta.
It also joins with the B'nai B'rith Young Leadership Network, Jewish fraternity Alpha Epsilon Pi (AEPi) and the Heroes to Heroes Foundation to send soldiers suffering from post traumatic stress disorder to Israel for spiritual healing. Members recently attended a Marlins game with foster children from Jewish Adoption and Foster Care Options.
The Isador Garsek Lodge in Dallas/Fort Worth, founded in 1876, boasts 85 members. Harry Kahn, a man who survived Kristallnacht and the Holocaust, recently resigned the presidency for health reasons. Rich Hollander, his interim replacement, can't wait for his return.
"I let him know that, for me, this is a temporary gig," he said.
From Jan. 8 to March 2, the lodge helped host an exhibit, "Chasing Dreams: Baseball and Becoming American." The exhibit, curated by the National Museum of American Jewish History, in Philadelphia, has toured the nation and been seen by thousands of visitors. At the opening gala for the exhibit at Congregation Ahavath Sholom, in Fort Worth, Tex., the lodge provided hot dogs, peanuts, knishes, pastrami sliders and American pies.
"We're Jews, so we got to eat," Hollander joked.
This Christmas, the lodge held a "Beautiful Feast" where it fed 300 needy people. Much as with the Achim/Gate City Lodge, it was also a way to help Christian communities on their day off. The lodge provided food and delivered 121 gift bags. For children, the bags contained toys, and for adults, the bags contained necessary toiletries.
In addition to their Christmas dinner, volunteers help provide Thanksgiving and Passover meals to seniors, in conjunction with Mollie & Max Barnett Apartments/Tarrant County B'nai B'rith Apartments. The residence is part the B'nai B'rith Senior Housing Network, which consists of 38 buildings in 28 communities. The network includes more than 4,000 apartment units and serves more than 8,000 people.
---