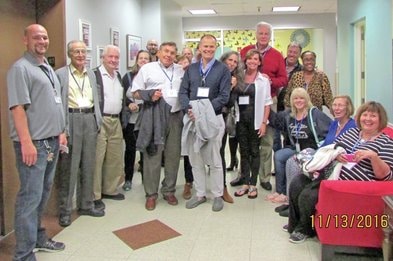 Conference participants touring Goldberg B'nai B'rith Towers.
By Rachel Chasin
"It's not just housing, it's a vibrant community that we're a part of ," said Janel Doughten, B'nai B'rith International associate director of the Center for Senior Services, describing the B'nai B'rith Conference on Senior Housing.
For more than 35 years, the B'nai B'rith International's Center for Senior Services has convened a conference on managing the organization's senior housing facilities. Last year was no exception, as housing management professionals and members of the facilities' board of directors gathered in Houston for three days in November.
Attendees took part in workshops and panels and learned from their peers what it takes to run a senior residence efficiently.
B'nai B'rith launched its senior housing program in 1968. In September 1971, in partnership with the U.S. Department of Housing and Urban Development (HUD), B'nai B'rith opened its first low-income senior housing facility in Wilkes-Barre, Pa. Now the B'nai B'rith Senior Housing Network comprises 38 buildings in 28 communities across the United States and serves more than 8,000 people. These housing communities are open to any senior, regardless of religion, race or sexual orientation.
The conference included a panel on "Assessing the Effectiveness of Management and the Board of Directors," moderated by Mark D. Olshan, director of the B'nai B'rith Center for Senior Services. Other sessions were devoted to the 2016 presidential election and the future of affordable housing. In addition, Nancy McIlhaney, director of compliance for the Austin-based Southwest Housing Compliance Corp., briefed managers on how to comply with HUD regulations.
Participants also toured two Houston-area B'nai B'rith-sponsored housing properties, Pasadena Interfaith Manor and Goldberg B'nai B'rith Towers. This allowed board directors and housing management staff to see how different buildings are run. Attendees interacted with residents and toured some of the apartments.
---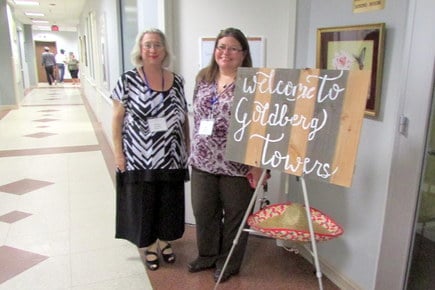 Goldberg B'nai B'rith Towers board member Deeanne Rosenberg and Goldberg B'nai B'rith Towers Manager Angie Futch welcome the conference attendees to the Murder Mystery Dinner and Entertainment at Goldberg Towers.
At Pasadena Interfaith Manor, residents are allowed to have pets in their apartments. However, management can limit the number, size and type. Conference attendees learned how Pasadena's on-site staff worked with its board of directors to raise money to buy dog strollers for its residents. Now, residents don't have to walk their halls worrying that a loose dog might bite them. Those less mobile are finding it easier to use strollers for their dogs, as it provides them with more stability walking down halls.
The use of these strollers also eliminated dog-related accidents. While the use of a dog walking stroller isn't required, most residents have taken advantage of it.
Doughten said she enjoys helping make a difference in residents' lives.
"The residents are the most important thing, and we all have the same ultimate goal—how do we make this work for [the residents], how do we keep them living independently and living longer independently?" Doughten said. "That's why I do everything I do, because of them."
---