By Eduardo Kohn
On July 20, the Defense Ministers of Iran and Bolivia signed a bilateral cooperation memorandum in Tehran. The agreement, signed by Iran's Brigadier General Mohammad Reza Qarai Ashtiani and Bolivia's Edmundo Novillo Aguilar, has sparked intense debate within Bolivia and the region.
The document that has been signed is considered by both sides as "confidential," so neither the public nor other Bolivian neighboring countries will be able to know what has been written and signed.
Argentina should have reacted immediately, but it did not. Argentina´s current administration only asked Bolivia for information several days after the signature in Tehran, and then only due to high pressure from the Argentinean Jewish community and some Congressmen. So far, Argentina has not received any answer, it is unlikely that it will happen, and it is more unlikely that Argentina will insist on learning the details of the deal. The opposition in Bolivia has also requested information and has received silence.
International media reported that Iran has sold drones to Bolivia. In the face of these comments, Bolivia's Defense Minister declared that the import of drones from Iran was intended to monitor drug trafficking flights. But he quickly contradicted himself. He cited "blind spots" along certain borders where radar struggles to detect illegal activities. This statement contradicted previous reports suggesting that the French radar equipment, acquired in 2017, was non-operational.
Now, Novillo confirmed that these 13 radar units are fully functional, having detected 479 irregular flights in the current year alone. However, interception of these flights was not possible due to the "blind spots." On one hand, flights were not intercepted because the Bolivian government was not willing to fight the ongoing increase in trafficking in the country and in the borders of neighboring countries, and on the other hand, it is difficult to conclude which will be the real use of Iranian drones and weapons in Bolivia.
Former Bolivian President Evo Morales (a close ally of the Venezuelan, Cuban and Nicaraguan regimes, and host of former Iranian President Mahmoud Ahmadinejad several times) did not accept any criticism and said that the Iranian drones are essential to control borders. Of course, Morales criticized U.S. authorities for questioning the Bolivia-Iran agreement.
Speaking at the ceremony on July 20 in Tehran, Iranian Defense Minister Mohammad Reza Ashtiani emphasized the significance of Latin American nations in Iran's foreign and defense policy. He claimed that these countries occupy a special place in Iran's strategic outlook, prompting the desire to forge closer ties with Bolivia in particular.
"In light of Bolivia's critical requirements in border defense and the fight against drug trafficking, we actively sought to establish collaborations in equipment and expertise with the country. This cooperative endeavor has the potential to serve as a pioneering model for other nations in South America," Ashtiani said.
The alarms should have been heard, but, again, Argentina, which was the site of two terrorist attacks, in 1992 and 1994, did not look very anxious. Brazil did not say a word, which is a dangerous way to say a lot. Since Luiz Inácio Lula da Silva became president on Jan. 1, 2023, Brazil not only returned to its close relations with Iran, but also has not agreed in any international forum to condemn Russia for its invasion of Ukraine.
The behavior of the largest countries in Latin America vis a vis the Iranian ongoing infiltration of the region and the Russian violation of international law by invading Ukraine, is putting all Latin American countries under real and present dangers.
The threats of increasing drug trafficking, smuggling of weapons and alliances with rogue states have already brought huge damages to the Latin American population (crime rates due to these issues have increased dramatically) The renewal of links through memorandums and other commitments hidden in the dark and secrecy increases concerns and unrest for everybody without exception.
---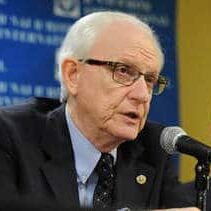 Eduardo Kohn, Ph.D., is the B'nai B'rith International Director of Latin American Affairs. Click here to read more of his expert analysis.