Helen Thornton and Margery Brown were in a relationship for 27 years. Together, they did things that most couples do. They bought a home, had a child and shared a bank account. Sadly, Brown died of ovarian cancer in 2006, and the couple never had the opportunity to marry because Washington state, at the time, did not allow same-sex marriage.  Therefore, the Social Security Administration originally denied Thornton social security survivor benefits.
Similarly, Michael Ely married his partner of 43 years, James "Spider" Taylor, after the court struck down Arizona's gay marriage ban. Six months later, Taylor died of cancer, making Ely unable to qualify for survivor benefits because he wasn't married to his partner for nine months. Under SSA rules a spouse is only entitled to survivor benefits if they are married for at least nine months.
In 2018 Lambda Legal, a nonprofit LGBTQ rights group, filed litigation on behalf of Thornton and Ely, and other same-sex partners, arguing that these same-sex couples were unconstitutionally prevented from marrying and thus obtaining survivor benefits. In 2020, U.S. District Courts in Washington and Arizona both ruled that plaintiffs were owed social security survivor benefits. Thankfully, in November, the Department of Justice  and the SSA made an important announcement by dismissing both appeals cases. "We commend the Biden administration for respecting the constitutional rights of same-sex couples and choosing the right side of history. No one should continue to pay the price for past discrimination. Today's development ensures that the door stays open for seniors who were wrongly locked out from critical benefits because of discriminatory laws," said Lambda Legal Counsel Peter Renn. "This a historic development with immense implications: survivor's benefits are now equally available to everyone, including potentially thousands of same-sex partners who could not marry their loved ones and may have thought it was futile to apply."
According to the New York Times, Thornton worked for nonprofit organizations, with her partner having a greater income. Consequently, Thornton's social security benefits were $953 a month, forcing her to do pet-sitting to earn additional income. Her financial situation didn't allow for visits to family and maintenance on her house. Receiving survivor benefits has almost doubled her social security income, and she received back payments of $72,000. "I am relieved that my 27-year relationship with Margie will finally be respected by the government and that we will not be treated as legal strangers even in death," Thornton told Lambda Legal. "Marriage equality came too late for many of us, but it was not too late to fix this problem involving survivor's benefits. I hope everyone who has been harmed by this problem, but never dared to apply for benefits, understands that this development is a game-changer. The pathway is now finally open to everyone."
Josh Driggs, of Phoenix, Arizona, whose husband died six months after the state's gay marriage ban was struck down by the court, was denied benefits, despite being in a relationship for more than 40 years. Lambda Legal reported that, after being rejected by SSA for benefits, Driggs became homeless twice. "While these monthly benefits may seem modest, they can make the life-changing difference between having enough food, medication, or a roof over one's head," Driggs said. "For me, the denial left me out in the cold, literally. I had to leave the home that my husband and I had shared, and I became homeless twice – once on the eve of Thanksgiving, which I spent in my van in a Wal-Mart parking lot. I'm relieved to know that no one else in our   community will have to experience that indignity simply because of who they loved."
To qualify for benefits, a same-sex partner must demonstrate that the marriage ban is what stopped them from getting married. For example, SSA will look at factors like did the couple raise a child together, name each other as beneficiaries for wills and insurance policies, share finances, hold a commitment ceremony or own or rent a property together. Clearly, there are rigorous standards in place to ensure that the right people are getting survivor benefits.
Equality should extend to all facets of gay marriage and the Biden administration's recent decision regarding survivor benefits should be praised as a commitment for equality. As Thornton refenced above, equality should be recognized by our government, even when one spouse, unfortunately, passes on.
---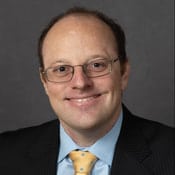 Evan Carmen, Esq. is the Legislative Director for Aging Policy at the B'nai B'rith International Center for Senior Services. Click here to read more from Evan Carmen.