By Maayan Jaffe-Hoffman
In a development that went unnoticed but may have changed history, the United Kingdom's ambassador to the United Nations Human Rights Council (UNHRC) recently declared that the UK would no longer rubber stamp anti-Israel resolutions.
What triggered this sudden major policy change was not the huge percentage of resolutions bashing Israel or the conflicts around the world being ignored. It was one resolution the British realized went too far—calling for Israel to return the Golan Heights to Syria.
"Nowhere is the disproportionate focus on Israel starker and more absurd than in the case of today's resolution on the occupation of Syria's Golan," Ambassador Julian Braithwaite said in March. "We cannot accept the perverse message sent out by a Syria Golan resolution that singles out Israel as Assad continues to slaughter the Syrian people."
The resolution came 50 years after the 1967 Six-Day War, during which Israel won control of the Golan Heights, West Bank and the eastern part of Jerusalem. The focus in the international community, including in the recent Six-Day War commemorations, continues to be on the last two.
But the most threatening battle 50 years ago was not in Jerusalem. It was in the Golan, where Syria attacked Israel with all its might, threatening to invade the Galilee. In a costly and overwhelming uphill battle, Israel, with just a handful of tanks, stopped the Syrians and held onto the strategic Golan.
Then, six years later, in a surprise Yom Kippur attack, the Syrians, armed with 700 tanks against Israel's 175, once again overran the Golan before being repelled by Israeli troops.
After that war, Syria signed a disengagement agreement, ending two decades of provocations and planting the seeds for what has become one of Israel's most strategic, fertile and prime tourist areas.
Israel annexed the Golan in 1981, extending its civilian law and administration to its residents. Since then, the Golan has undergone a transformation from an area associated with its Valley of Tears—the long stretch between Mount Bental and Mount Hermon where much of the battle took place—to one known for its quality wines and quiet getaways.
From War Zone to Tourist Attraction
"Nothing was here," said Yitzhak Ribak, owner of the Chateau Golan winery who was among hundreds of pioneer farmers that settled the land. He arrived in 1973. "Today, the Golan is known for the quality of its wine, our very good apples, and we grow the most beautiful wild irises."
"People come here to get away from life [in crowded cities], to fulfill their dream of sending their child to school on his bike and not having to worry," said Golan Regional Council spokesperson Dalia Amos. "We're the land of possibilities, open spaces and tourism."
The Golan, 37 miles in length, has 32 Jewish communities. There are roughly 60,000 residents—35,000 Jews and 25,000 Druze. Amos said the Golan Regional Council projects another 1,500 families coming in the next decade.
Ron Reichen, head of the Bnei Yehuda local council, said his community is building 48 new single-family homes in a new neighborhood, and 85 percent of them were already purchased. He believes the Golan's population will double within 20 years.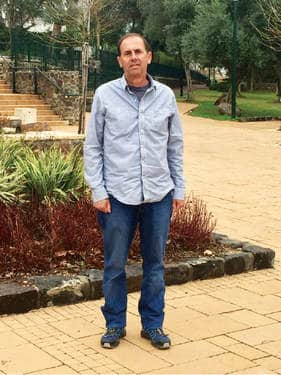 Ron Reichen, head of the Bnei Yehuda local council,
in the Golan.
However, the Golan was not always popular. In fact, after the initial core group of pioneers came between 1967 and 1990, the area came to a virtual standstill. Only 43 families moved there from 1990 to 2000, when Israel negotiated with Syria over returning the land.
"Children here were born, and, at age 10, they still lived in uncertainly about whether this would be their home," said Amos. "People thought twice about plans to build a house, open a business. The leadership also didn't develop the Golan because it would cost so much money, and their minds were occupied with one thing—the struggle to keep the land. It was quite sad."
Communities had aged, the majority of elementary schools had closed, and there were few children on the streets, which were devoid of the sounds of laughter and joy. If tourists came—and there were few—it was to plant a tree through the Jewish National Fund or to kiss the land goodbye before Israel relinquished it.
Then, in 2001, the struggle simply ended.
Ariel Sharon became prime minister and vowed to retain the Golan Heights. There were no more negotiations.
But the Golan was in a sorry state. Amos moved there for her job with the Golan Regional Council, and one of her first projects was to research what Israelis thought of it. The results were disconcerting, though not surprising for her. They equated the Golan with the Yom Kippur War, negotiations, army reserves or school field trips.
"No one said I want to travel there, let alone live there," said Amos.
The regional council decided to embark on a rebranding effort.
"We understood that people are stressed in the center of the country. There are traffic jams, and people work so hard they have no time for their kids. But in their hearts, they have a dream of living differently," said Amos. "So we tried to touch them there—in their hearts."
The council decided to hold meetings in cities, inviting people to learn about the Golan. That first day, they set up a tent and invited a top Israeli journalist to come and see what was happening. They instructed colleagues and friends to call in and express interest while the journalist was there. That evening there was a big article. The next day, the phones rang and rang.
"That was the day it all started," said Amos.
Over the next four years, 600 families moved in. They built gardens, playgrounds and schools. Israeli tourists started coming to see this "land of possibilities" and fell in love.
"When people come en masse, they develop the economy," said Amos.
The Golan has about 3 million annual visitors, of whom at least 40 percent are English speakers. Amos said 44 percent of Israelis say the Golan is where they most love to travel.
Tourism features range from romantic getaways to wineries, spas, backpacking, bike trails and sky diving. There are several geological volcanic sites, including Mount Bental and Avital Volcanic Park, where visitors see simulated volcanic eruptions.
The Golan is home to one third of Israel's 100 synagogues unearthed from the Second Temple period. Nimrod's Castle, situated at the foot of Mount Hermon, is Israel's largest castle remaining from the Middle Ages.
Ribak explained that the basalt soil, elevation, not-too-cold winters and not-too-hot summers make the Golan ideal for growing grapes. The Golan Winery, which brought Bordeaux to Israel, wins awards nearly every year. His Chateau winery pioneered Syrah blends in Israel. Ribak produces about 100,000 bottles annually in 10 varieties, which he sells to restaurants and privately.
"It's been 50 years since we started settling the Golan," said Ribak. "It's not the Wild West anymore."
---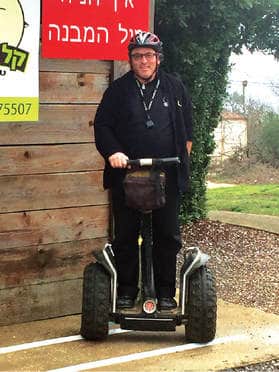 Duby Hadar, Golan community leader and
tour guide.
Here to Stay
But it's also not Tel Aviv. While it has improved, the Golan's economy has not been as prosperous as the council hoped, and the government's investment has been less than residents believe it should be.
"Everyone knows there's a need to invest in the periphery," said Reichen. "But when politicians decide where to allocate money, it's to those who elected them, and they're in the center" of the country.
Reichen was elected nine years ago, and he said he learned quickly that the periphery's people would have to "do things for ourselves." That includes the municipality sponsoring subsidized childcare programs that don't exist in other parts of the country, extended after-school care and flexible enrollment, so parents could work without it costing them too much. Unique cultural and holiday programming is also offered.
"We need to make sure life is full here," said Reichen.
He said no one is getting rich in the Golan: "Those who want a career around something they learned in school or to become rich—the periphery's not for that." Work is limited mostly to low-tech and agricultural jobs. Many people work in civil service roles, own mom-and-pop shops or travel to cities like Tiberias (28 miles away), Rosh Pinna (26 miles) or Karmiel (38 miles), where there are more opportunities.
There is also the issue of security. The Golan commands the entire Galilee Valley. You can stand in the hills of the Golan and literally see half of Israel spreading out before you, making it of strategic importance to Israeli security.
Further, much of the Golan is only minutes from the Syrian border. While Syria adhered to a cease-fire on the Golan until the eruption of its civil war six years ago, it provided a haven for terrorist groups that attacked Israel from Lebanon and other countries.
Residents say the Golan has been largely quiet, and they continue to view their enemy border as more of an annoyance than a threat.
"I never felt afraid," said Duby Hadar, a tour guide who founded the cooperative agricultural community Alonei HaBashan, which directly borders Syria.
Since the start of the Syrian civil war, the moshav has felt the challenge of its rogue neighbors more acutely. Hadar said residents could see the war from their doorsteps without any binoculars. Every once in a while, it escalates, including a recent round of Syrian shells that sparked an IDF response in late June.
"It's like if there are two people fighting and one pushes the other into me, I could get injured, but they weren't trying to hit me," explained Hadar on how he sees the war's impact.
Of course, he knows that it may not always be that way and that terrorist organizations in Syria may eventually turn their focus on Israel. He said he worries that Iran may play a more prominent role in Syria, which "would be a big problem." But he trusts the Israeli army.
"The army prepares, and we live," said Hadar.
Others in the Golan, however, are affected more, despite being farther from the border.
The Golan's Druze are originally from Syria and have family there. Over the past 50 years, they have maintained positive relations with their Jewish neighbors but mostly chose to not become Israeli citizens. Instead, they would study at Damascus University and marry Syrians. They even sold their apples to the Syrians.
All of this took place at the Quneitra border.
"The Druze sent their brides from here to Syria," Amos said. "They would come wearing earrings, in their wedding dresses, and their husband would wait at the border exit," said Amos. "The apple farmers, they would come to the border and load the apples onto a truck, and the Syrians would come with cash in suitcases and they would trade." This phenomenon was featured in a successful 2004 Israeli film called "The Syrian Bride."
Syria and Israel both knew about and allowed it, despite being enemy nations. But two years ago, when terror organizations learned about the border crossing's importance to Assad, they sought to take it over. A series of battles ultimately led to the injury of an Israeli border policeman, and Israel decided to shut down the crossing. Today there is a new electric fence, and no one can go through either way.
"Something good was happening here, and now it's finished," said Amos.
But Dolan Abu Salh, the head of the Majdan Shams Druze village, said something else good has resulted. The Druze have increased their commitment to Israel, and many more are opting for citizenship, joining the current 10 percent.
"We have good relations with the municipalities, and we cooperate a lot on education and employment," said Salh.
The Druze of the Golan, he said, do not serve in the army because of their close connections with their Syrian families. He said there was always a fear that security secrets would be shared, inadvertently or otherwise. Further, it weighed on them that one day the Golan might be returned, and if they had shown allegiance to Israel, they might later be tortured.
"It wasn't an easy paradox," said Salh. "But I think today if you speak to any Druze in the Golan, it's clear to everyone that life under the Israeli government is 1,000 times better than life would be under Syrian dictatorship. Everyone has always known that. But there are those starting to say it."
With more Druze students in Israeli universities and increased commerce without being able to sell into Syria, the walls between the Druze of the Golan and Israel are beginning to crack. Salh said they know there is no Syria to go back to and that his community members now need to see themselves as part of Israel, regardless of budgets and developments.
"We're here to stay," he said. Jewish Golan residents agree.
"In 1994, I sat across from a German journalist who told me, 'I know how the peace talks are going, and within a week or two, you won't be there,'" recalled Hadar. "I told her I'd be there next year and invited her to come and visit. Twenty years have passed, and she never came back to visit me."
He continued, "You need to have faith. When I pray on Yom Kippur, I pray that all of Israel should have it as good as me."
---