By Michele Chabin
When Andrea Wiese, a teacher at the Hillel Day School in Farmington Hills, Mich., teaches her seventh graders about Israel, she likes to read aloud passages from a book she discovered when she was a student there.
That 1996 book, "Alex: Building a Life: The Story of an American Who Fell Defending Israel," is a diary-like compilation of letters, journals and drawings by Alex Singer, an American-Israeli soldier killed in Lebanon in 1987.
Alex's letters, some serious, others irreverent but always filled with love for his family, follow his evolution from the relatively pampered life of a university student to the physical and emotional challenges of serving in the Israel Defense Forces.
"Today I felt lonely. I've told you that happens sometimes. I feel lonely when I am at a junction—not of wadis but of futures," Alex wrote to his family in June 1986 while attending officer school. "I want to sit back and look at the junction from the side, and not to analyze it—just to look, to see the perspective which disappears in the dust of turmoil, to let the dust settle and feel at peace."
Thirty years after Alex was killed in a battle with Lebanese terrorists—on Sept. 15, 1987, his 25th birthday—his words "still resonate," Wiese said. "I think my students are shocked at how articulate he was. Shocked that he had such strong feelings about Israel that he decided to move there."
Not that his decision was easy, Wiese emphasized.
According to his letters and journal entries "Alex is torn between his love for his U.S.-based family and his love for Israel and the Jewish people. He's becoming religiously observant. His words draw you in," Wiese said.
Reactions like these are heartening to Alex's parents, Suzanne and Max, who, during their son's shiva in Jerusalem, decided to gather the hundreds of letters he wrote to family and friends from a period that spans his undergraduate studies at Cornell University, from which he graduated in 1984, to his military service in Israel from 1985 to 1987. Eight years later they published the book and, in 1998, an accompanying guide for teachers written by longtime educator Steve Israel.
Together they form the foundation of the Alex Singer Project, a nonprofit 501(c)(3) organization whose goal is "to inspire and activate the next generations of Jewish thinkers and activists around the world," his parents explain on the organization's website.
A Legacy, Not a Monument
"From the time Alex died we knew we were not interested in making monuments," Suzanne and Max say in the book's preface. "The purpose of the Alex Singer Project is to continue Alex's work and his determination to improve the world and to demonstrate through his example how Judaism can enrich and beautify a fully modern life. This book allows Alex to speak to those who never knew him."
Raised in Westchester County, N.Y. and a suburb of Washington, D.C., with a four-year family sojourn in Jerusalem during his early teen years, Alex graduated from college before making aliyah in December 1984. He volunteered for the paratroopers and began his mandatory 18-month service in February 1985. His decision to become an officer in October 1986 extended his service by a year, and, in May 1987, he was assigned to command an infantry platoon.
On Sept. 15, Alex and 11 other soldiers were dropped by helicopter into Lebanon, right in the midst of a group of 30 terrorists in hiding. When the company commander was shot, Alex, who was the second officer on the mission, took a medic and went to help his commander. When Alex reached him, he, too, was shot and killed.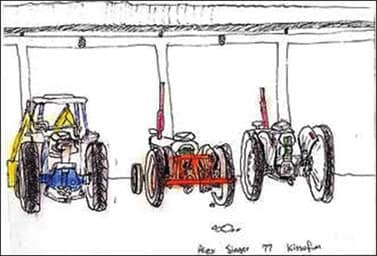 Kibbutz Kissufim Tractors, 1977.
Two days later Alex was buried in the Mount Herzl military cemetery in Jerusalem. Suzanne and Max, who lived in the U.S. at the time, flew to Israel for the funeral and shiva.
Seated in the living room of their apartment in southern Jerusalem, where they moved a few years after Alex's death, Suzanne and Max said they want people to focus not on Alex's death, but on his life.

"The way he died may spur people to learn more about Alex, but the basic reason he continues to have an impact on people is not because of the way he died, but because of how he lived," Suzanne said.
The walls of the Singers' airy home, which boasts high ceilings and large windows, is full of Alex's artwork, some black-and-white pen drawings, others watercolors.
His mother noted that he never studied art but that once the family moved to Israel, Alex began drawing a great deal—on hikes, on visits to the Sinai, at home while looking out the window. The Singers didn't realize how many letters Alex had written until dozens of family members and friends shared them after his death.
In one letter, dated June 2, 1983, during his junior year abroad at the London School of Economics, Alex admits to his family, "I'm unmotivated to study, to write, to work. The things I'm looking forward to [are] traveling to Scotland, the flight home …"
---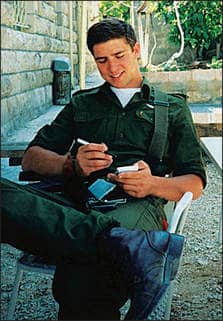 Sketching in the City of David, Jerusalem,
May 1987.
The Secular Son Searches for Answers
Less than three years later this "unmotivated" young man had donned an IDF army uniform. He was proud to be a soldier but disturbed by some of the IDF's actions.
"Dear Saul," he wrote to his older brother in March 1986, " … I found out that our interrogation methods are more brutal than I would admit to journalists … I have a lot of things troubling me which I'd like to talk out with you."
To his mother, on the occasion of her 50th birthday in June 1985, Alex wrote: "What do I think when I think of you? I think three things. I think gratitude … I think admiration for how you raised us, taught us … Third, I think joy. Joy is maybe what I feel most when I think of you, because you take the world so well and that makes me happy. I love to see you working, talking, writing … everything."
Suzanne said Alex "would light up a room" when he walked in the door. "He loved the outdoors. He was a risk-taker. He liked to ski fast and climb rocks. He was charismatic. People were attracted to him."
Still, "Alex was always a bit of a loner," she said, especially in unfamiliar settings.
Max said Alex was unusually introspective and analytical for someone so young, but what he remembers most is his son's "exploring spirit" and "bubbly personality." He was so positive and full of joy and ready to meet whatever was happening. Everybody felt good being around him."
Many of Alex's letters reveal his growing desire to become a more committed and practicing Jew.
"He began to wear a kippah," Suzanne recalled. "In those days, you didn't have many officers who wore kippot, and he wanted to be a model of someone who was enriched by Jewish observance and at the same time open to everybody."
---
Educators from Jewish day schools, Hillel houses, Jewish summer camps, Birthright and many other Israel experience programs have utilized Alex's book, the accompanying educators guide and the short, compelling video about his life to engage young Jews.
The project's website notes that Alex asked himself many of the questions today's young Jews are asking themselves: What actions can create a meaningful life? What is the nature of my relationship to Israel and what are my responsibilities to it as a Jew? How do I feel about the concepts of homeland and Diaspora? Is aliyah an option? Joining the IDF?
The guide "is designed for use in a group framework, one that straddles the line between formal and informal education, such as a workshop," the guide's instructions say. "More important than an exact educational structure," the guide requires the participating institution "to confront youth with relevant issues to assist them in building thoughtful, value-centered lives."
The guide's four sections focus on the themes that most engaged Alex: Israel; the meaning of life; the concept of home and the challenges faced by leaving it; and Israel and aliyah.
Each of the four themes includes a prologue and three or four activities. For an activity called "Nightwatching," groups are encouraged to go out into nature in the middle of the night and, through a series of exercises, to experience the night and to try to concentrate on their feelings and senses.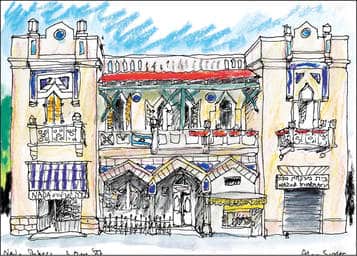 A sketch by Alex of Nada, his favorite bakery in Jerusalem.
During this activity, the group's leader may read a passage in which Alex explains how his army training helped him appreciate the dead of night.
Leon Morris, a veteran Jerusalem-based educator, said he has been teaching young adults about Alex's life for some 20 years.
When Morris brought a group of gap-year students to the Singers' home, "it was very powerful," he said.
"Here is this very moving story of an American immigrant, a lone soldier. Alex grappled with duty, obligation, how to live as a responsible person, as a Jew, even when it wasn't easy. Everyone in the group was touched."
Rabbi David Levin-Kruss, another longtime Israeli educator, first heard of Alex just after he was killed in action.
"It was two weeks before I myself went into the army, and I still remember feeling sadness that someone so talented had died, he said. "I wished that I could do something for Alex's family, even though I didn't know them."
Alex's Story, Guiding the Way
Years later, when Levin-Kruss was the director of the overseas program at the educational organization Melitz, he stumbled upon "Alex: Building a Life."
"I found the book very interesting, and I discovered the educators guide," he said. "We had a lot of visiting groups, especially young adults, and I would often use Alex's materials. I'd tell them a little about Alex. We'd read letters he had written and then delve into discussion questions."

When Levin-Kruss joined the Pardes Institute in Jerusalem, where young adults and some older students come for a year of intensive Jewish studies, he brought Alex's book and study guide with him.
The Pardes students "had a lot of different questions about Israel, even the legality of the State of Israel, the role of the army. These are subjects Alex often addressed. His views weren't black and white. He was able to see the subtlety and different point of views."
---
Eventually Levin-Kruss met Suzanne and Max, and they became friends. The educator and some Pardes students joined the annual hike the Singers organized in Alex's memory.

"Every year we would go to a place Alex had written about and someone read his writings out loud. It was a very beautiful day, a good way of remembering him. It was low key, a soft introduction or window into someone who had thoughtful things to say."

The carpenter thinks of wood and nails and pegs and saws.
The soldier thinks of killing and guns and bombs.
But the carpenter need not ask whether each cut is "just."
Only the soldier must judge his every step.
The carpenter goes home attuned to his woods.
The soldier goes home with justice on his mind.
Of course war is full of immorality.
But at least soldiers are forced to think of what is right.
— Alex Singer, 1986
Levin-Kruss brought his children along on these outings. His son, now 16, was so moved, that, when he was 10, he did a school project about Alex.
"He told his Hebrew-speaking classmates about Alex before the book was published in Hebrew," the educator said. "It opened up a world to them."
Although the book is clearly Jewish-themed, Levin-Kruss said, "I think a non-Jewish person can pick it up and say, 'Wait a minute, I also want to make something of my life.' His message is universal, and Alex died in 1987, but, for me, it's as if he's still writing today."
Steve Israel, who wrote the educators' guide, said he was drawn to the project because Alex's life "invites imagination and reflection and opens up a wealth of possibilities" for both teachers and students.
Wiese, 31, said she first read "Alex: Building a Life" when she was a teenager.
"You fall in love with Alex. You sense the love he feels for his parents, his brothers, his grandparents. There's something so sincere and pure. He feels the same things others his age feel, but he expresses it in a way most others can't, in a way that's not intimidating," Wiese said.
In her sunny living room, surrounded by family photographs and Alex's vibrant artwork, Suzanne reflected on her family's journey.
"Both Max and I are second-generation Americans. Our boys grew up in a Jewishly conscious home. We had seders but no Shabbat. We didn't go to synagogue in a regular way. We didn't know what a day school was. But then we suddenly realized that our oldest son, 12-year-old Saul, would soon be bar mitzvah'd. We wanted our sons to know more than we knew Jewishly, so we decided to come to Israel for the year and ended up staying for four."

Suzanne said that when visitors, including Jewish community leaders like rabbis and educators, come to her home to hear about Alex, she tells them "'You're on the front lines. You'll go back to your diaspora communities, which are running away from Judaism and Israel. Perhaps they might like to learn about someone who didn't start off knowing a lot about Judaism, who didn't speak Hebrew or come from a Zionist family.' That was Alex."