By Daniel S. Mariaschin
Executive Vice President and Chief Operating Officer, B'nai B'rith International
Each year, B'nai B'rith organizes leadership missions focusing on our public policy agenda. Over the past few years, we've been to Geneva and Paris for meetings of the United Nations Human Rights Council and UNESCO, to Cuba, where we have conducted our Cuban Jewish Relief Project for over two decades, and to India, an international economic player and an increasingly important partner with Israel on a range of issues.
Early this summer, International President Gary Saltzman and I led a delegation to the adjoining former Soviet republics of Georgia and Azerbaijan, at the border of Europe and Asia. These mountainous countries, wedged between the Caspian and Black seas, are strategically important, lying at the crossroads of energy production and pipelines going west. Majority-Christian Georgia and majority-Muslim Azerbaijan have Jewish communities dating back millennia. And both nations, on an isthmus defined also by the Caucasus Mountains, enjoy excellent relations with the State of Israel.
The people-to-people value of our missions is undeniable. Even in the internet age, there is no substitute for engaging high-level officials on their home ground and meeting Jewish community leaders in their synagogues, schools and community buildings.
Government officials in both countries know of our interest, as an international organization accredited at the United Nations since 1947, in combating anti-Israel bias at the U.N. and fostering better relations between their republics and the United States and Israel. Notably, both countries have longstanding diplomatic, cultural and commercial ties with the Jewish state.
Our meetings included the prime ministers of both countries, the chairman of the Georgian parliament, the patriarch of the Georgian Orthodox church, Azerbaijan's deputy foreign minister, the chairman of Azerbaijan's State Committee on Work with Religious Organizations, and the American and Israeli ambassadors.
On the agenda were a range of issues, including Iran's incessant threats to stability in both the Middle East and the Caucasus region. Azerbaijan is one of the world's leading oil and gas producers, and one important pipeline—the Baku-Tbilisi-Ceyhan (BTC)—carries its oil west across Georgia to Turkey and beyond. Israel is one of its best customers for oil. And both countries seek to strengthen their ties with the U.S. and the European Union—in addition to Israel.
The Jewish communities in both countries gave us a warm welcome. In the early 1970s there were as many as 80,000 Jews in Georgia, but most left for either Israel or the U.S. as part of the great Soviet Jewish emigration starting in the late 1980s. Still, there remains a vibrant community of some 5,000, and we were hosted in the beautiful main synagogue, built in 1904, in the capital city of Tbilisi.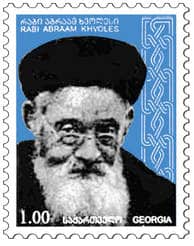 Georgia's 2005 philatelic
tribute to Rabbi Avraham
Halevy Khvoles.
I took special personal pride in the visit; my mother's eldest uncle, Avraham Halevy Khvoles (1857-1931), was the most prominent Georgian rabbi of his era. His photo, along with those of other distinguished rabbis, is displayed near the entrance to the synagogue. In 2005, Georgia issued a postage stamp in his honor.
Azerbaijan is home to more than 25,000 Jews. Most live in Baku, the capital. A dinner in honor of our delegation was held at the Or-Avner Jewish School, operated by Chabad. Leaders of the various branches of the community joined in a dinner marked by good food, conversation, and an unending round of toasts, a welcoming feature of local Caucasus hospitality.
Azerbaijan is also home to a community of mountain Jews, believed to be of Persian origin. In Quba, the Jewish quarter sits within sight of the eastern ridge of the Caucasus Mountains. We stopped at the Jewish cemetery at the edge of town and visited the town's main synagogue. There were once 14 synagogues in Quba; today there are four. As with so many others from the former Soviet Union, an outflow has taken the mountain Jews not only to Baku, to which many have moved, but beyond—especially to Moscow and to Israel.
---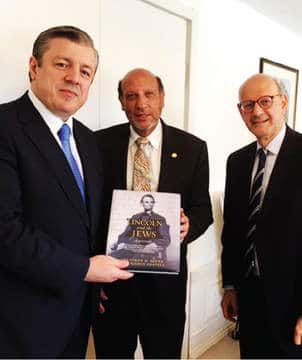 Gary P. Saltzman (center) and Daniel S. Mariaschin (right)
with Georgian Prime Minister Giorgi Kvirikashvili (left).
Both countries have traditionally been benevolent places for Jews to live, which cannot necessarily be said for some of the neighbors in the region. Even though the numbers are down, one sensed among Jewish community members a feeling of belonging that is today often absent in some EU countries.
Advocating for an Israel not only at peace in its region but enjoying close relations in the community of nations requires cultivation and constant reinforcement. In Georgia and Azerbaijan, we found an open door to discussing how already good relations can be taken to the next level. That B'nai B'rith can play a role in this process speaks well of our internationality, as well as our ongoing interest in proactively visiting those countries deemed vital to making it happen.
---