The Photographers' Gallery in London continues its retrospective of the iconic work of Helen Levitt through Feb. 22, 2022.
A crowd has gathered at one spot at the Metropolitan Museum of Art installation of 20th century masterworks of photography. People of all ages, even the children who have been brought to the museum under protest, are spellbound by a modest 20-minute black and white silent documentary filmed on the sidewalks of East Harlem and Bensonhurst, Brooklyn. This is a first encounter with Helen Levitt's "In the Street" (1945-46) for most, who watch unincumbered by the essays and expert interpretative analysis that have contributed to the work's reputation. Curators, critics and poets have proclaimed Levitt to be one of the era's greatest artists. What is it about "In the Street" that has the power to capture and transport them so completely?
Daughter of a Russian Jewish immigrant, Levitt (1913-2009) was raised in Brooklyn, where she attended, but did not complete, high school. Turning to photography in her early 20s, Levitt was influenced throughout her lifetime by the politically charged work of both earlier photographers like Lewis Heine, who depicted the hardened children of Manhattan's Five Points district, and perhaps Paul Strand, remembered for his early portraits of the city's street people, as well as dozens of her own contemporaries and colleagues. Ben Shahn's photos and paintings of children were certainly known to her. Any point of view inherent in her selection of subject matter was tempered by the somewhat detached aesthetic of her mentor, the genius Henri Cartier-Bresson. Her friend, Walker Evans, left a legacy of Depression-era portraits whose static gravitas was rejected by Levitt, known for the kinetic exuberance of her work.
"In the Street," made in collaboration with cameraperson Janice Loeb and James Agee, the celebrated author who wrote the film's opening title, could also be viewed through the lens of peripheral sources like Italian Neo-Realist cinema—just being screened in New York during those years—early Soviet newsreels or even some of the experimental short films that attracted audiences to Manhattan's art cinemas.
Steeped in the gritty ambiance of New York's tenement neighborhoods, "In the Street" is almost anthropological in its view of their inhabitants. An unconscious comparison between real life and its Hollywood treatment drives the search for truth. What the camera records—the tired, the elderly dog walkers, the attentive but haggard mothers, the alcoholics and the mentally ill, the men whose faces become roadmaps of their violent pastimes—is the distillation of an experience that is alien to most.
The lingering takeaway involves sequences with children, unkempt and dressed in tattered castoffs, engaged in play. Affectionate or savage, brazen or mysterious, their repartee is one that reveals an intimacy that can develop among those who encounter the same trials and who find release in each other's company, perhaps mirroring the life Levitt had known during her own youth.
Maurice Sendak's brief comment about the photographer and her perspective on the world conveys a lot: "Helen Levitt's clear-eyed view of children's street life is sympathetic and brutally honest. She takes children on their own terms and sees the extraordinary paradox of their lives, watching them duck and dive between total fantasy and hard reality."
Although a large portion of Levitt's negatives, contact sheets and prints disappeared when her studio was burglarized during the 1970s, it is possible to discern the variety of her methods from existing materials. Sometimes she photographed her subjects clandestinely, at other times they confront the camera to pose for her.
The London exhibit also includes a selection of Levitt's later work in color, dating from the 1970s, which conveys, according to art historian Julie Hrischeva, "an urban sense of disconnection that … [unlike pictures by Diane Arbus or Garry Winogrand] maintains true affection for her fellow New Yorkers."
---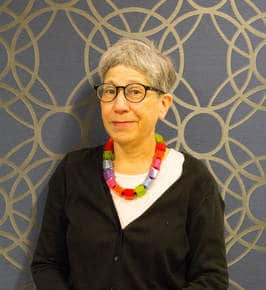 Cheryl Kempler is an art and music specialist who works in the B'nai B'rith International Curatorial Office and writes about history and Jewish culture for B'nai B'rith Magazine. To view some of her additional content, click here.