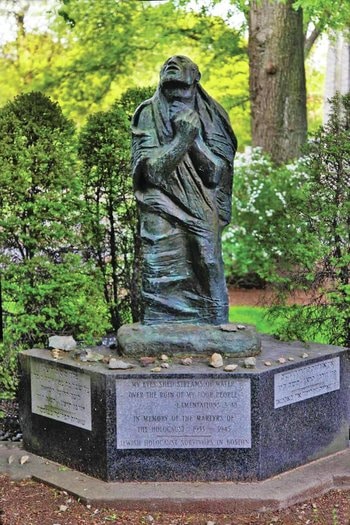 Nathan Rapoport's statue, "Job," at Brandeis University.
By Daniel S. Mariaschin
Executive Vice President and Chief Operating Officer, B'nai B'rith International
Just over 40 years ago, when I was working in my first job at the Boston Jewish Community Council, my portfolio included staffing the Holocaust Memorial Committee. Each fall, on the campus of Brandeis University, we'd organize, together with the local survivors' organization, a memorial service in front of the school's Jewish chapel.
The assemblage of survivors and their families, Jewish community leaders and students would gather around "Job," Nathan Rapoport's stunning bronze sculpture of a Holocaust victim; candles were lit, prayers were said and a few short speeches were given.
These programs were my first direct encounters with Holocaust survivors. In 1973, we weren't even 30 years beyond the horrors of the round-ups and deportations, the ghettoes, the camps and the killing. I recall one participant in the Brandeis commemoration, a survivor of the Warsaw Ghetto, whose haunted eyes I can still see.
Experiencing that, in the speeches I would give in those years, down to today, I would say that there will soon come a time when there will be no people who could point to a tattoo on their arm, and say, "I was there. I saw it. I experienced the horror." The biological clock is now ticking its final hour, and the moment, regrettably, is almost here.
Last year, we lost the most poignant voice of the witnesses, Elie Wiesel. His writing, and that of all those survivors who have written memoirs and given video testimony, will survive and be studied and serve as constant watchmen of Holocaust remembrance.
Yet, as these testimonies take their honored and vital place in libraries, classrooms and video collections, the pernicious virus of Holocaust denial is beginning to spread. The phenomenon is not new: The infamous Willis Carto, who founded the Liberty Lobby in 1955 and the Institute for Historical Review in the 1970s, was among the early purveyors of Holocaust denial. Carto once offered $50,000 to anyone who could prove that the gas chambers of Auschwitz ever existed. He attracted a cohort of other deniers, some in the United States and some in Europe, who peddled the same theme, in books and on the far-right lecture circuit.
Perhaps the best known of the deniers is the self-styled historian David Irving, who wrote admiringly of Hitler and who minimized the extent of the Holocaust. Emory University historian Deborah Lipstadt included Irving as a subject in her 1994 book "Denying the Holocaust: The Growing Assault on Truth and Memory."
Irving sued Lipstadt and her publisher, Penguin Books, for libel and lost. The judge in the case, tried in the United Kingdom, stated that Irving was indeed "a Holocaust denier; that he [was] anti-Semitic and racist and that he associate[d]with right-wing extremists who promote[d] neo-Nazism."
The case, which took seven years to conduct, was made into a motion picture last year, "Denial," starring Rachel Weisz and Tom Wilkinson.
The Iranian regime has been among the major promoters of Holocaust denial. Its annual Holocaust "cartoon contest" last year attracted over 40 entries, all focused on a revisionist theme. The winning entry: a cash register that featured the numbers 6,000,000 and a cash drawer marked "shoah business." The key to open the register was marked "B'nai B'rith."
The Arab world is home to many who write and speak of the Holocaust being exaggerated or never having happened. Egyptian Muslim Brotherhood leader Mohammad Mahal Akef speaks of "the myth of the Holocaust" coming out of World War II. In 1990, the Palestinian Red Crescent Society issued a statement speaking of the "lies concerning the gas chambers." And, in his doctoral thesis, Mahmoud Abbas, the president of the Palestinian Authority, minimized the number of Jewish victims of the Shoah.
As the years pass, though, Holocaust denial has moved in from the fringe, to include university campuses, which have now been infected by this virus of hate. A resolution focusing on Holocaust remembrance and anti-Semitism, introduced at a meeting called at Toronto's Ryerson University, produced a walkout, accompanied by a student union statement suggesting the Holocaust was a matter of interpretation, since it "evokes many views."
Very few countries have laws against Holocaust denial, among them Germany, France and Romania, which also include prohibitions against the display of fascist symbols. In the U.S., First Amendment protections shelter those who engage in denial. In the age of the internet, anti-Semitism and Holocaust denial can emanate from our shores and be broadcast globally. This issue of B'nai B'rith Magazine takes a hard look at social media and hate online, and discusses what internet service providers and search engines might do to monitor and excise the proliferation of hate we are currently witnessing.
As the time comes when there are no longer survivors to bear witness, we need to redouble our efforts to educate and to remember. There is a special obligation for our generation and the one just behind us to engage vigorously in this effort. Each of us can play a role: as students, educators, Jewish community organizations, media and public figures.
To have seen one-third of our people destroyed in a matter of six years, and then see their memory denied and erased, in our time or any time, is just unacceptable.
---