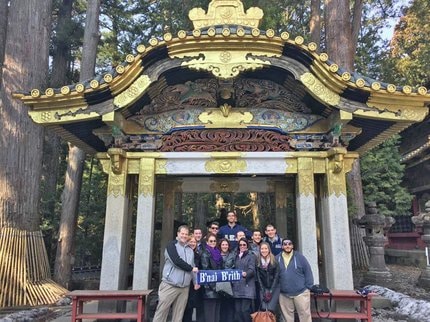 In 2016, 13 young leaders traveled to Japan to participate in the Kakehashi Program, aiming to bridge the gap between Japan and the American Jewish community.
By Gary P. Saltzman
President, B'nai B'rith International
Attracting and cultivating the next generation of Jewish leaders is a challenge for all Jewish institutions, whether it's drawing top-notch staff to work in salaried positions or appealing to volunteers to give their time, attention and monetary support. This is perhaps one of the biggest issues facing us at B'nai B'rith and for the broader Jewish community.
This is a recent phenomenon. When I became active in B'nai B'rith more than 40 years ago, the pool of up-and-coming leaders seemed vast. Today, it's less about numbers and more about commitment.
A Pew Research study has found fewer younger Jews are joining synagogues and established organizations such as ours. They may take part on an event-by-event basis. But, more often than not, they don't want to be pin-wearing, card-carrying members. And that's not just of a Jewish group. The younger generation wants to help but just not from a membership standpoint. They are more willing to hop from one organization to another to meet their personal Tikkun Olam needs.
And we have to respect that if we are to not just sustain ourselves but to grow.
Studies find the younger generations have a very different playbook than from the one from my age group.
So where and how do we connect?
At B'nai B'rith, we are paying close attention to our Young Leadership Network as a vital platform to identify and nurture future leaders, for our own organization and beyond.
Recently, we focused on some amazing up-and-coming leaders with diverse projects and activities. In 2016, 13 young leaders traveled to Japan to participate in the Kakehashi Program, which aims to help bridge the gap between Japan and the American Jewish community. We also hosted a Young Leadership Mission to Cuba. As part of our Cuba Jewish Relief Project, these 20 and 30 year olds traveled on a B'nai B'rith humanitarian mission to Cuba, where they toured the country, met the small Jewish community and delivered much-needed goods.
Our Young Leadership Network also co-hosted Project H.O.P. E. (Help Our People Everywhere) in partnership with other Jewish groups to make Passover food packages for the Jewish elderly and needy. Young Jews joined us to pack and distribute food packages for lower-income older Jews to help them celebrate the holiday. This one-on-one connection seems to be particularly appealing to the younger generations.
Our young leaders also tell us they care about the wider world. Our Conversations Around the World Series continued with young professionals meeting with diplomats from various countries to learn about a particular country's Jewish population, as well as its relationship with the United States and Israel. This is in addition to the myriad happy hours, hikes and Shabbat dinners that we arranged across the country.
At the same time, we also must welcome these young leaders into the broader Jewish community and make sure they know they have a voice.
Disaster relief has proven of particular interest to young leaders. From volunteering to clean up in the wake of tornadoes and hurricanes to raising funds at a soccer match for local flood victims, this age group is interested in helping others and helping their communities. In my hometown of Denver, young leaders are an integral part of our annual Leadville Jewish Cemetery cleanup efforts.
Programs and events such as these introduce younger Jews to other civic minded Jews, and also serve as an introduction to all that B'nai B'rith does to make a difference in the world.
We find that in many cases, young professionals want to help, to give back; they just need an outlet. We can be that outlet.
But we must also recognize the unique hardships of this generation. It's less common now than in my day to find a two-parent, one-income-earning home. Today, young families rely on two incomes to make ends meet. And that's without even considering synagogue memberships or day school tuition. There are also more single parent homes today. We must consider these challenges if we are to successfully engage this generation in the areas of Jewish identity and continuity.
At B'nai B'rith, we are mindful of the great impact of partnerships. We join with the international Jewish fraternity Alpha Epsilon Pi (AEPi) on disaster relief and human rights. We have hosted AEPi brothers on our annual meetings in conjunction with the anti-Israel leanings of the United Nations Human Rights Council in Geneva. AEPi brothers also joined us on the Japan Young Professional trip mentioned above.
We also must be inclusive. According to a survey by Leading Edge, some two-thirds of Jewish professional staffers are women, but at the same time, women can be found in only about 30 percent of top posts in those same organizations. And each year, the Forward newspaper surveys who holds the top slots in Jewish organizations. In 2014, the most recent data year, only 12 out of the 71 major Jewish organizations surveyed have women at the helm.
We are working to identify and cultivate young professional women who may not realize the leadership possibilities and opportunities open to them. This is an area that resonates personally with me. I am proud to say that my daughter, Rebecca, has chosen to be a leader within B'nai B'rith. Her efforts chairing our Young Leadership Network earned her the prestigious Label A. Katz award, named in honor of the youngest person to become international president of B'nai B'rith. As we note in conferring the honor: "The award goes to individuals under 45 who have demonstrated outstanding service to the totality of B'nai B'rith and have worked to achieve the goals of the B'nai B'rith Young Leadership program." As a recipient myself some time ago, I know first hand how such recognition of effort can have an impact on future engagement. Connecting with the leaders of tomorrow is a long process. But the baby boomers who are leading today's organizations, as both staff and volunteers, are likely already looking at the exits. Now is the time to recognize, engage and cultivate tomorrow's leaders. We have started the process. Our vigilance is required. The meaning and depth of purpose so many younger folks seek is right here. We just have to share it with them.
The responsibility is with the older generations to welcome, encourage and listen. I encourage lodges and units to reach out in their communities to invest in their own future by supporting young leadership development. Through sports teams or professional mentoring programs or disaster assistance, we can develop and cultivate the personal relationships now that lead to a more permanent commitment to B'nai B'rith and the Jewish community at large.
---