Sometimes things in Washington, D.C. move at a glacial pace. It can take years for Congress to pass legislation, and significant time after that for the law's provisions to be implemented, making the day when people feel the benefits of legislation a momentous one. Consequently, the Food and Drug Administration's (FDA) recent announcement that hearing aids will soon be available for purchase "over the counter" (OTC) is a cause for celebration.
The FDA's decision was made possible by the Over-the-Counter (OTC) Hearing Aid Act, which became a law in 2017. That year I wrote a blog saying, "The purpose of this bill is to assist seniors with low-to-moderate hearing loss access hearing aids by making them available over the counter. If seniors are allowed to get hearing aids over the counter, it would eliminate the onerous requirement that people get a medical examination or sign a waiver—bypassing the examination prior to receiving a hearing aid." This legislation instructed the FDA to write regulations to make this a reality, thus expanding the market for hearing aids, with the hope it will drive down prices.
The administration projects this regulation could save consumers about $2,800. Affordability is critical because hearing aids are not covered by Medicare and currently cost around $5,000. In addition, according to Johns Hopkins Medicine, hearing aids, at times, only last five to six years. It's easy to see how expensive hearing devices can be for seniors, especially those on a fixed income. While the House of Representatives passed legislation expanding Medicare coverage to include hearing aids, unfortunately the bill did not pass the Senate. However, despite the lack of Medicare expansion, this new FDA regulation should help make hearing aids more economical for some seniors, where previously costs made these devices out of reach.
This news is badly needed, as only about 20% of people who need hearing assistance, actually use hearing aids. Also, hearing loss has been related with additional problems. According to Dr. Debara Tucci, director of the National Institute of Deafness and Other Communication Disorders, "Hearing loss is associated with dementia, increased risk of falling, reduced mobility, depression, social isolation, and anxiety." Furthermore, according to the Washington Post, in 2019, Social Science and Medicine reported that counties with the highest number of older adults lagged behind in audiologist accessibility compared to those counties that were younger, more urban and affluent.
President Joe Biden said in a statement regarding the FDA's news, "As early as mid-October, Americans will be able to purchase more affordable hearing aids over the counter at pharmacies and stores across the country. This action makes good on my commitment to lower costs for American families, delivering nearly $3,000 in savings to American families for a pair of hearing aids and giving people more choices to improve their health and wellbeing."
This win for older Americans has been a long time coming. In 2015, the President's Council of Advisors on Science and Technology proposed making available certain hearings aids over the counter, allowing people to avoid doctors visits and prescriptions. Fast forward, and the proposal is becoming a reality. Hopefully this will bring needed economic relief to older Americans who too often have to choose between life's necessities like food, health care and nutrition.
---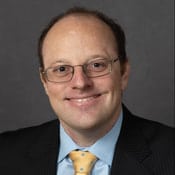 Evan Carmen, Esq. is the Legislative Director for Aging Policy at the B'nai B'rith International Center for Senior Services. Click here to read more from Evan Carmen.