Deconstructing standards of refinement and elegance identified with high fashion in the post-World War II era, "the Mod years", seen retrospectively, seemed to pervade even the smallest aspects of everyday life throughout the Western world. Drug-induced hallucinations, mystic beliefs, transcendental philosophy; late Victorian graphics, the slick and supple sensuousness and capabilities of vinyl and the latest in synthetic fabrics, and even the floral imagery that branded the messages of the Peace Movement—all these sources and probably much more, inspired a style that's perceived as a marriage of beauty and vulgarity. The style of the clothing worn during this era left a radical imprint which continues to echo in our own time. Fashion aside, nostalgia does not enter into the mix when it comes to remembering the 1960s: it's clear that the events of those years altered social mores, thought processes and the essential definition of modern life.
An installation of fine and decorative arts, artifacts, photos, oral histories and more, "Fashion City: How Londoners Shaped Global Style" running through April 14, 2024, at Museum of London Docklands spotlights items from the museum's own Dress and Textile Collection to survey the contributions of Jewish people to British fashion spanning 1880 through the present. At the start of this timeline, nearly half of the 200,000 immigrants who arrived in Britain as victims of Russian persecution likely learned dressmaking, sewing, bead work, cutting, sorting and processing feathers for hat trim and myriad other skills from the time they started as child laborers. This group included men, often tailors, who revolutionized the trade by producing handmade and eventually, manufactured ready-to-wear garments for both men and women. Before the end of the 19th century, customers could purchase clothing off the rack at large retail stores established by Jewish families in several English cities.
In the next century, after the Nazis confiscated Jewish-owned stores and fashion houses in Germany, a small number of men and women who arrived in England during the 1930s overcame their losses and trauma to achieve success and renown making and selling clothes and accessories.
Of course, it's the Mod-era fashions emphasized by curators which steal the show, despite the many delights exhibited from the Edwardian and Deco eras.
With the museum's holdings augmented by loans from private collections or from the original owners, the installation includes custom-made treasures like a bejeweled Renaissance-inspired wedding gown, and other significant pieces including eye-popping jewelry, handbags and high-end hats fabricated from luxurious materials and exotic plumage. Menswear exhibited or portrayed in photographs spans the gamut from bespoke works of art to "anything goes." Not limited to suits, garments by Jewish designers were worn both on and off stage by Mick Jagger, David Bowie and, of course, the Beatles, who wore proper suits in their early years.
"Fashion City" invites visitors to interactively experience the sights and sounds of Carnaby Street via a simulated setting where they can window shop and visit boutiques. Period recordings of classic rock songs provide authenticity and set the mood for browsing through the inventory.
A rundown of Jewish sartorial stars from all decades whose designs can be seen includes:
London-born Mr Fish (Michael Fish), remembered for his wildly patterned neckties, who created unconventional, often androgenous garments for high profile clients like Jimi Hendrix, David Bowie and Muhammad Ali.
David Sassoon of Bellville Sassoon, represented by a striking red coat worn by Princess Diana, displayed with drawings of potential ensembles designed for her.
Internationally known German milliner Otto Lucas, resident in England from 1931, who worked out of premises on London's glamorous Bond Street. His client list boasted many famous names.
Raemonde and Dora Rahvis, South African sisters whose label, Rahvis, specialized in fantasy clothing for London society and for the movies. Created in 1952, an evening gown covered with rhinestone-studded embroidery is a tour de force.
Those who see "Fashion City" will be struck by the contrast between the opulent clothing and the humble possessions of Jewish garment workers which are both on view; they include cutting and sewing tools as well as a sewing machine used by them and others active in the field. The exhibit features a travel case that belonged to a little girl sent to England via the Kindertransport, a program that evacuated children from Germany and Austria in the late 1930s, along with a leather bag owned by a Viennese refugee who arrived in England in 1938.
---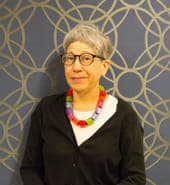 Cheryl Kempler is an art and music specialist who works in the B'nai B'rith International Curatorial Office and writes about history and Jewish culture for B'nai B'rith Magazine. To view some of her additional content, click here.