With B'nai B'rith International's milestone 175th anniversary occurring this year, we are reminded of what an amazing story we have to tell. Below read about member John P. Reeves's most meaningful moments as a B'nai B'rith member.
Please provide three meaningful memorable events that capture the best of B'nai B'rith. The events may be recent or historic.
​
1. Participation of Gilad Shalit (see photo below) at the B'nai B'rith Europe Young Jewish Adult Forum in 2012 in London and awarding honorary membership in B'nai B'rith to Shalit. From 2007 onwards, B'nai B'rith Europe has for some seven years organized Young Jewish Adult Forums in major European cities. In 2012 the organizers of the London forum invited Gilad Shalit, a former MIA soldier of the Israeli Defense Forces (IDF). Gilad was captured by Hamas militants in a cross-border raid and held him captive for over five years. The political lobbying of B'nai B'rith in England in elsewhere to free Gilad bore fruit and in October 2011 he was released as part of a prisoner exchange deal. Gilad was warmly welcomed at the B'nai B'rith Europe Young Jewish Adult Forum 2012 event held at the Britannia Hotel in London whose presence among some 200 young Jews from over twenty European countries and dignitaries was the highlight of the weekend. In the course of the evening, Gilad was awarded honorary membership of B'nai B'rith. The occasion was moving and truly memorable to all participants. In the course of Gilad's stay in London, the organizers have accompanied him to the Foreign and Commonwealth Office, where our group was met and welcomed by the Right Honourable Alistair Burt MP, Minister of State for the Middle East.
2. Centenary dinner of first B'nai B'rith lodge of England on February 11, 2010. The Charter of First Lodge of England was granted by the Constitution Grand Lodge—the ruling body in the USA—on 11th February 2010 and the initial meeting took place on the 19th of February at the Hotel Grand Central, Marylebone Road, London. Throughout its existence the membership included all well- known and influential figures in the Anglo-Jewish community. One hundred years later the Centenary Dinner Committee was set up to celebrate the 100th anniversary of the formation of the Lodge. The leadership of the Lodge could not let such an important occasion pass without making the event in the most memorable way. To this end the Committee has arranged for a Gala Dinner to take place at The Great Hall, Lincoln's Inn on Tuesday, the 11th of February, 2010. This historical venue was opened by Queen Victoria in 1845 displaying magnificent frescos showing the world's law-givers from Moses to Edward I. The event was attended by many distinguished guests—among them members of Parliament, dignitaries of both Jewish and non-Jewish civic society. The Chief Rabbi Lord Jonathan Sacks attended and received a special B'nai B'rith First Lodge Award to mark the community's appreciation for his years of dedication and service. The profits generated by the souvenir brochure and sponsorship was donated to the Hillel Foundation. The evening was an unforgettable occasion to all 260 guests present.
3. B'nai B'rith Europe Award of Merit to Dr. Angela Merkel, Chancellor of the Federal Republic of Germany, bestowed at a gala dinner on March 11, 2008 in Berlin. For details about the event, click here.
​
Please name three individuals in your area who made a powerful impression on you for the work they did in B'nai B'rith. They may be living or esteemed leaders from the past. Explain your choices.
Fred Worms was an entrepreneur and philanthropist who supported many causes in Britain and Israel was a role- model of what is best in B'nai B'rith. His earliest qualification was as a chartered accountant but became a successful business man. His car accessory business employed more than 700 people in four factories in Britain and Australia. The wealth that he accrued allowed him to develop his charitable work. He was the founder and driving force of the B'nai B'rith Housing Association providing homes for the elderly. Fred was the founder of the Jewish Educational Development Trust, the Jewish "public school" Immanuel College and one of the developers of Hillel Foundation which provided accommodation
and other services for Jewish students at University Campuses in part parts of Britain. He was one of the organisers of a restructuring of the Joint Israel Appeal (now UJIA) and served on the Board of Governors of the Hebrew University in Jerusalem. He was President of B'nai B'rith First Lodge of England in 1962/63. In 1970 he wrote a book on the "History of the London B'nai B'rith Hillel House". His work and affiliation with B'nai B'rith International and B'nai B'rith World Centre is well documented. Fred was the embodiment of what B'nai B'rith stands for: Benevolence, Brotherly and Sisterly Love
and Harmony.
Dr. Alan Webber was an illustrious member of B'nai B'rith, president of First Lodge of England between 1994/7 and member of the Council for many years before and after his presidency. Alan has at all times been an inspiring member of our organisation. In 1993 he was commissioned to write a book to mark the 150th Anniversary of the foundation of B'nai B'rith.
He worked together to accomplish this task with Jean-Pierre Attali Vice President of the then District 19, Professor Dr. E. Ehrlich Director of District 19,Dr Harris Schoeneberg Director of the International Council's UN Office, Walter Schwab, Avigdor Warsha President of BB Israel and many others. His book "B'nai B'rith 150" is an important contribution to the history and spectrum of work undertaken by our Order throughout its existence. Alan's other book written to mark the centenary of the foundation of the First Lodge of England entitled "First Century—B'nai B'rith First Lodge of England 1910-2010" is a seminal work detailing the numerous humanitarian activities and manifold projects initiated by this distinguished Lodge. Dr. Webber's dedication to B'nai B'rith was a true inspiration not only for me but to all with whom he had contact.
Following his Aliyah to Israel he is continuing his association with local B'nai B'rith lodges.
I have known Rabbi Bent Melchior from the late 1950s when he came from Copenhagen to London to study for his rabbinical diploma at Jews' College where I was also a student. His inspiring, genuine individuality and faith in Judaism, devotion to Israel left an indelible mark on me. The first member of the Melchior family came to Denmark in 1720. Bent's father was the Chief Rabbi of Denmark from 1947-1969 upon whose death he was elected to become the Chief Rabbi of Denmark. Bent became involved in international Jewish and non-Jewish organisations. He was one of the first well known Zionists who had a public debate with an official representative of the Palestine Liberation Organisation in 1988. His humanitarian work was acknowledged by receiving numerous awards and distinctions among them the Knighthood of First Degree in Denmark, honoured by Israel for his services in the War of Independence (Jerusalem Price in 2006); Doctor of Humane Letters from the Trinity College in Hertford, Connecticut in 1997. In January 1964 he became a member of B'nai B'rith in Copenhagen in the Lodge which his Grandfather had funded. Following the family tradition Bent became Vice-President in 1974, President in 1978-80 and again in 1983-84. He organised the Convention of "District 19 European Continent" in Israel where he was elected President of District 19. He was instrumental and part of the organising team when in 1999 District 15 and District 19 joined forces and established B'nai B'rith Europe. Throughout he was very active in BBI as a member of the Board of Governors. Since 1999 he has been an Hon. Life President of B'nai B'rith Europe. Bent has at all times been active via his association with B'nai B'rith in helping Eastern European Jewish communities and especially the old and holocaust survivors. The project in the Ukraine to feed the hungry and assist them with medical help has continued for many years. In my capacity as Vice-President of B'nai B'rith Europe I worked with Bent for many years. I
admired his wise counsel, his dedication and inspiration to the ideals of our Order. His life and work left a powerful impression on me.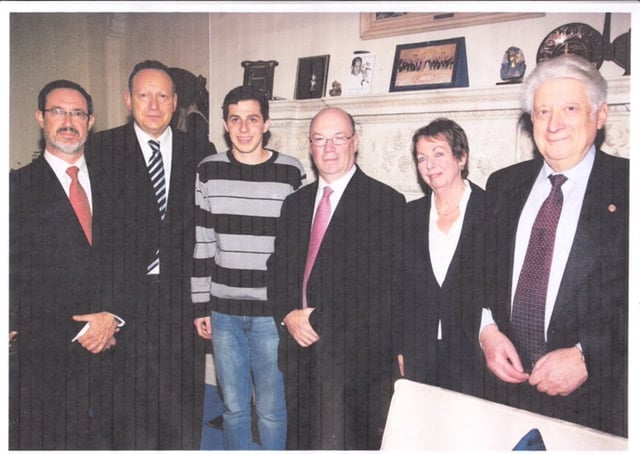 Left to right: Alan Schneider, executive director of the B'nai B'rith World Center-Jerusalem; Ralph Hoffman, president of the B'nai B'rith Frankfurt lodge; Gilad Shalit; Rt. Hon. Alistair Burt, MP; Jean Etherton, president of B'nai B'rith United Kingdom; John Reeves, B'nai B'rith International vice president.
​
If you would like to share your thoughts about memorable B'nai B'rith milestones and influences on your B'nai B'rith experience, please email them to Steve Smiga, 175th anniversary chair, at
drstopdk@gmail.com
or to
B'nai B'rith International President Charles O. Kaufman at
charlesok@cs.com.