Have you ever received a surprise medical bill? I feel like everyone has received a bill from their healthcare provider at some point, that made their eyebrows raise. Before my daughter was born my wife and I called our insurance company to find out our out-of-pocket responsibilities. Obviously, there is no way to know the exact cost but after a few months we received a surprise bill for $750. We called our insurance company and asked them to explain the bill. Upon further investigation, the insurance company realized the bill was sent in error and dismissed the charge.
Last December, my son was unfortunately hospitalized. Thankfully, everything turned out okay. However, I got a call in the spring from the hospital notifying me that we owed about $30,000. To say I was taken aback would be an understatement. Evidently, our insurance company never received a preauthorization letter from the hospital, a problem that was ultimately fixed when I coordinated communication between the hospital and our insurance provider to make sure the appropriate documents were received.
Recently, I read a report from the Consumer Financial Protection Bureau (CFPB) called, "Medical Billing and Collections Among Older Americans" which had troubling findings. Working at the B'nai B'rith International Center for Senior Services (CSS), the report really hit home on a professional and personal level. First, between 2019 and 2020, medical debt for older adults went from $44.8 billion to $53.8 billion, a twenty percent jump. Secondly, of the about four million seniors (65 and up) who had unpaid medical bills, 98 percent had health insurance. In addition, millions of people receive both Medicare and Medicaid benefits, reducing financial liability for out-of-pocket costs. All this really should force people to ask, what's going on?
There are several reasons why seniors have been burdened by medical debt. According to the CFPB, out-of-network charges, deductibles and other cost sharing has contributed to medical debt. Furthermore, seniors more often have multiple chronic health conditions precipitating a visit to the doctor.  Seniors' medical debt is also attributable to complex billing systems that have led to errors and inaccurate billing, particularly in older adults with multiple insurance carriers. CFPB reported that 53 percent of complaints regarding Medicare were regarding inaccurate medical bills. One CFPB complaint states,
"All of these charges were brought about during my [cancer] treatment. [The hospital] neglected to use my Medicaid insurance along with my Medicare insurance which they have copies of both. I did not receive mailed statements for services rendered and also had no copays for these amounts. As of this writing they still do not do proper insurance billing as it is faster for them to send to [the debt collection company]."
Obviously once the debt collection company enters the process, even when the bills are inaccurate, that brings additional problems. CFPB reports that debt on consumer credit reports can negatively impact the finances of older adults relating to employers, lenders, landlords and insurers. In addition, CFPB states, "Older adults with medical debt are more likely to forgo medications, skip doctor's visits, or learn that healthcare providers refuse to treat them. For instance, according to the Federal Reserve Board Survey of Household Economic and Decision-making, 19 percent of older adults with medical debt responded by skipping doctor visits and 17 percent chose not to fill physician-prescribed medication. This reduced access to medical care can have devastating consequences if health conditions worsen or fail to improve due to lack of treatment." Clearly, things need to change if medical debt is preventing older Americans from getting healthcare.
The report further outlines how challenging it can be for seniors fighting medical debt. Seniors are more likely to have hearing, mobility, or vision impairments, making it more difficult to address inaccurate medical bills.
Fortunately, various states around the country have begun to enact laws to try and address the problem. Colorado was the first state to pass a law prohibiting medical debt in credit reports by consumer reporting agencies. Oregon enacted a law restricting the interest that can be charged on medical debt and forcing hospitals to screen certain patients for financial aid. In addition, the White House and Congress have taken steps to ease the burden of medical debt on seniors. Through the Inflation Reduction Act (IRA) the cost of insulin has been capped at $35 a month, providing real savings for older Americans. Also, the administration projects that future provisions of the IRA could save some seniors thousands of dollars a year on prescription drugs.
Everyone deserves quality healthcare. For too many seniors, medical debt has made healthcare too burdensome and has negatively impacted other facets of their life. Based on my own experiences, fighting with insurance companies or healthcare providers can feel like a slog. Nobody should have to feel like they are walking through mud to correct inaccurate medical bills or not visit a health care provider because they can't afford the cost. Hopefully, our elected officials can build off legislation like the IRA to ensure that affordable quality healthcare is available to everyone.
---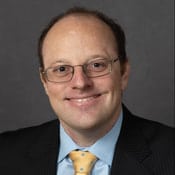 Evan Carmen, Esq. is the Legislative Director for Aging Policy at the B'nai B'rith International Center for Senior Services. Click here to read more from Evan Carmen.