Die tote Stadt
Many essays have been written regarding the myriad definitions and re-definitions of "Jewish music." But in the end, like Jewish art, language, cuisine, and even history, what is meant by it defies categorization: the more attempts are made, the more it remains elusive, expanding and contracting outside of boundaries set by those who believe they have can set parameters. This winter, the performance of two fascinating pieces of the past and the present reveal the wide range of themes, cultural sources and experience that continue to inspire both Jews and non-Jews in both hemispheres to compose Jewish music.
This season, in February and March, Denver's Opera Colorado will mount Erich Wolfgang Korngold's "Die tote Stadt" (The
Dead City), composed long before its 23-year-old composer went on to win acclaim for his film scores in the United States. Its successful 1920 premiere followed a number of well-received compositions he had penned while still a teenager.
Korngold and his father, an influential music critic, co-authored the opera's libretto, adapted from "Bruges-la-Morte" (Bruges, the Dead City), a 19th century Belgian novel whose protagonist believes that this "dead city," known for its eerie, silent canals and looming gothic architecture, is inhabited by the spirit of his dead wife. During the next decade, the opera was staged in both Europe and the United States.
Although the post-World War I era is associated with radical change in the visual and performing arts, the earlier aesthetic of the Vienna Secession, and of the Symbolist literature and poetry which inspired the book and the opera, still resonated, if only as an escape from the harsh reality of contemporary life. A musical equivalent to the iconic portrait "Woman in Gold," the lush melodic lines of "Die tote Stadt," its arias and orchestral interludes, shimmer and glow, evoking the ambiance of fin de siècle Vienna. Although Wiener Werkstatte leaders like painter Gustav Klimt and architect Josef Hoffman were not Jewish, patrons and dealers who furthered and supported its revolutionary aims, as well as the majority of composers, performers, essayists and writers who contributed to Viennese culture, were.
Adhering to a very straightforward definition of Jewish music, the Nazis suppressed all of it after 1933, depriving musicians of their living and making it necessary for them to immigrate. In Hollywood, Korngold's career skyrocketed, while he continued to compose for the concert stage. By the end of the 1940s, however, his works were rarely heard in any venue.
Many conductors and academics have pioneered the revival of Korngold's music over the last 40 years; his violin concerto is now a repertory standard. It's certain that many who love this opera will be traveling to Colorado to experience this memorable piece.
Shāhīn-nāmeh
Every year since 2014, the Azrieli Foundation in Canada has organized an international competition and commission, open to all composers, intended to encourage "creative and critical engagement with the question 'What is Jewish Music?'" The commission was awarded to Iman Habibi, an Iranian (Persian)-Canadian composer, and received its premiere by Montreal's Orchestre Métropolitain in late 2022. Approximately 30 minutes in length, "Shāhīn-nāmeh," (referring to the medieval Jewish Persian poet Shahin Shirazi, whose writings served as the composition's inspiration) is a celebration of Judeo-Persian cross cultural literary traditions that flourished through the ages. Scored for western and non-western instruments, the music is highlighted by chanted and sung passages, whose lyrics include poetry based on the story of Queen Esther. The performance featured soprano Sepideh Raissadat, an Iranian music specialist who also played an extended solo on the setar, a string instrument akin to the lute.
Habibi, who is not Jewish, has underscored his objective in writing the piece:
"I wanted to highlight the rich shared cultural heritage that has existed between the Persians and the Jews. I also chose the story of Queen Esther, as it further highlights the interconnectedness of our cultures."
Praising Raissadt's artistry, Habibi said: "There are many classically trained sopranos, but not many female vocalists trained in the Persian style. Technically, the piece can be performed by any voice type, but my hope was that this piece, being the story of Esther, would be sung by a woman. Women aren't allowed to sing publicly in Iran, and it gives even more meaning to Sepideh's participation. She is one of the greatest masters of this art!…
I hope listeners approach the music with an open mind and with open ears and be ready to discover something new and different."
---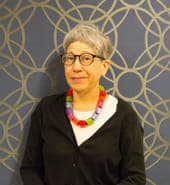 Cheryl Kempler is an art and music specialist who works in the B'nai B'rith International Curatorial Office and writes about history and Jewish culture for B'nai B'rith Magazine. To view some of her additional content, click here.