---
B'NAI B'RITH TODAY

B'nai B'rith Europe Marks European Days of Jewish Culture

By Katherine Dolgenos
---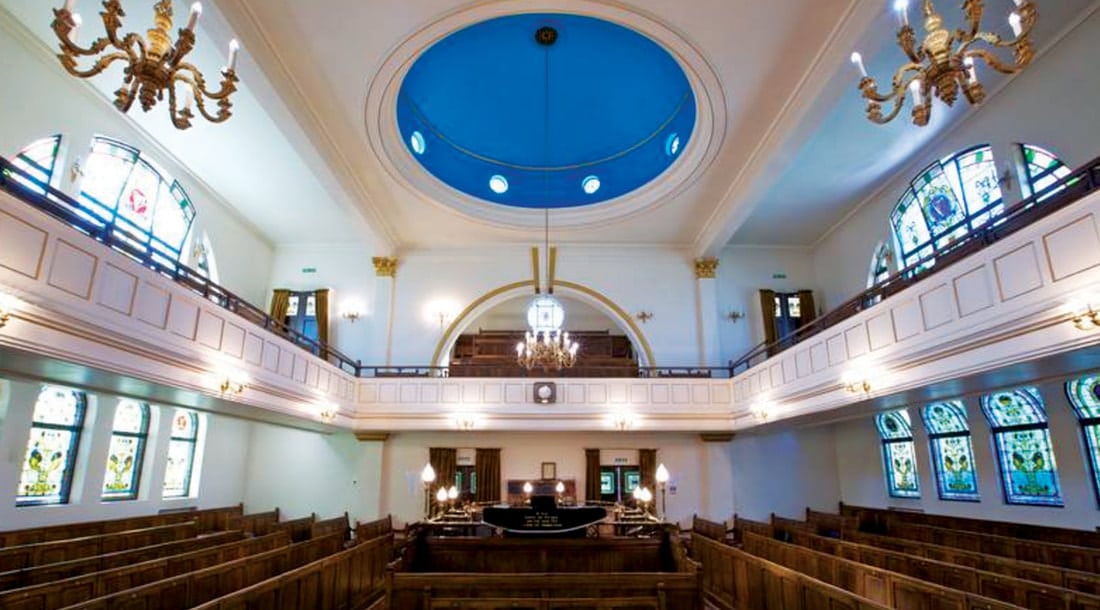 Lyn Julius, author and co-founder of Harif (the United Kingdom Association of Jews from the Middle East and North Africa), spoke in London at Yad B'yad Lodge and at the historic Spanish and Portuguese Holland Park Synagogue (above) during B'nai B'rith's 20th annual European Days of Jewish Culture celebrated in England, Scotland and Wales in September 2019. Photo credit: Jono David/HaChayim HaYehudim Jewish Photo Library
B'nai B'rith's European lodges held numerous events as part of the 2019 European Days of Jewish Culture. This year marks the 20th anniversary of the event, which celebrates the richness and diversity of Jewish life and history on the continent. In 2018, nearly 180,000 people participated in events across 420 cities in 28 European countries. Non-Jews as well as Jews are invited to participate.
The event's founder is B'nai B'rith leader Claude Bloch, who also serves as honorary president of the European Association for the Preservation and Promotion of Jewish Culture and Heritage (AEPJ). Her late husband Georges Bloch was the chairman of the International Council of B'nai B'rith.
This year, B'nai B'rith's European lodges hosted two exciting programs, one in France and one in Denmark. B'nai B'rith United Kingdom also hosted three with the theme of "Heritage."
The event in Denmark, held on Sept. 1, focused on innovation in the Jewish community. Speakers and their topics included journalist Samuel Rachlin on innovation in the media and on social media; Henri Goldstein, the head of the Jewish community in Denmark, on plans and strategies to help Jewish life thrive in the capital city of Copenhagen; Jacob Zylber on the immigration of Polish Jews to Denmark between 1969 and 1970 during a period of resurgent anti-Semitism in Poland, and its impact on the Danish Jewish community; Uri Krivaa, the head of the Jewish school in Copenhagen, on educational innovations and visions for his school; pianist Poul Rosenbaum on innovations in music and musical education; and successful businessman Lennart Lajboschitz on innovative business strategies. B'nai B'rith Denmark's hosting of programs began during European Days of Jewish Culture in 2001.
"We wanted to illustrate how aspects of innovation are an important part of our life, not only in the Jewish community, but also in the communities in which we live," said Gunnar Bjørk, mentor, B'nai B'rith Denmark. "We feel that innovation is an important driver getting us where we are and not the least … for where we are heading. Without innovation there will be no progress."

B'nai B'rith France's program had a similar theme: "Innovate and Transmit." The group hosted its own event in Marseille on Sept. 15. Coordinated by Francine Coen, a member of the B'nai B'rith International Board of Governors, it featured Marie Telling, a food editor at Buzzfeed; Renée Dray-Bensoussan, a historian and member of the Academie of Marseille; historian Gerald Attali; Ella Marciano, a student; and Valérie Perthuis-Portheret, an author and historian.
Telling focused on two American startups, Moishe House and OneTable, which aim to promote Jewish life among young people. Recognizing that many do not host Shabbat dinners because of cost, OneTable gives $15 to guests ages 22 to 39 to use at participating grocery stores and restaurants. Moishe Houses are living spaces for young Jews who build community by holding Jewish events for invited guests. The houses provide rent subsidies and programming budgets. Though Moishe House began in the United States, it is now in more than 25 countries, and in European cities from Odessa to London.
Attali discussed the role of memory in French education that is especially important due to the country's standardized national curriculum. Marciano's spoke about Eva Heyman, a teenage diarist who died in the Holocaust. Recently, her diary was adapted onto Instagram to explore what it would be like if she had had access to today's technology. The project was posted over 24 hours to commemorate Yom HaShoah. Dray-Bensoussan talked about the phenomenon of long-term transmission in cultural meaning, as defined by French philosopher Régis Debray, and its relevance to the Jewish European experience, using the tragic example of lost synagogues in Slovakia.
Coen, whose role in B'nai B'rith France includes promoting collective memory that contributes to a group's identity, sees the European Days of Jewish Culture as a way to share Jewish culture with all of Europe. "So many communities have disappeared after the Shoah and communism. In a Europe in which we now see a resurgence of nationalism and anti-Semitism, we want to promote dialogue and exchange," she said. "We want to show our presence in Europe."
B'nai B'rith United Kingdom screened "Why the Jews?" on Sept. 15 in North London. The film attempts to explain why Jews are such a successful people without falling back on anti-Semitic tropes. Ultimately, it draws a link between a people's collective achievements and the darkest times in its history. Following the showing, there were questions and answers with John Curtin, its Canadian producer, and historian and journalist Jeremy Havardi, director of the B'nai B'rith London Bureau of International Affairs.
| | |
| --- | --- |
| | B'nai B'rith First Lodge of England hosted a talk and film presentation by Martin Aaron on "The World's Jewish War Heroes." Lyn Julius, author of "Uprooted: How 3000 Years of Jewish Civilization in the Arab World Vanished Overnight," spoke at London's Yad B'yad Lodge on Sept. 10. |