---
FEATURES

Jacob Sonderling: A Musical Visionary, From Hamburg to LA

By Cheryl Kempler

---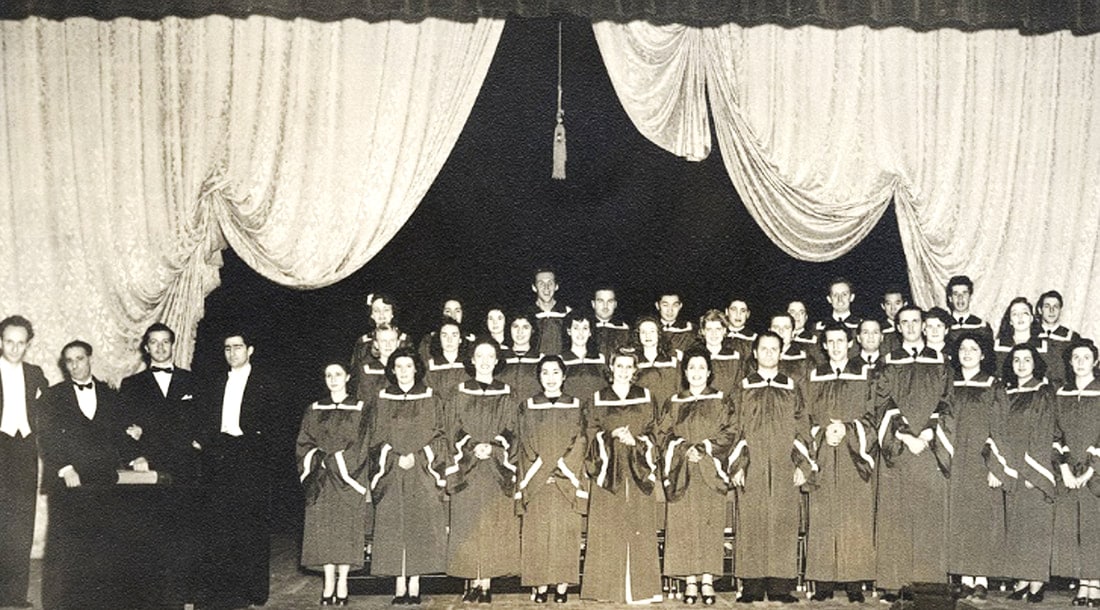 The official world premiere of Cantata of the Bitter Herbs, at City College, Los Angeles, in 1941, with music composed by Ernst Toch; Rabbi Sonderling contributed to the lyrics. The choir is pictured with conductor Hugo Strelitzer (far left) and movie star Dana Andrews (same group, second from right), who performed the narration. Photo credit: Ernst Toch Papers (Collection PASC 1-M). Library Special Collections, Charles E. Young Research Library, UCLA
A visionary dedicated to expanding Judaism's horizons through music and art, Rabbi Jacob Sonderling (1878-1964) was a man whose appearance conjured, one of his congregants said, "the way I thought God would look."
A member of Hamburg's B'nai B'rith Steinthal Lodge as well as an early, ardent Zionist with ties to Theodor Herzl, he was born into an important Chasidic family but eventually found his sympathies lay with the Reform movement. As the erudite leader of a Hamburg synagogue, he kept current with modern art and is believed to have convinced the important Art Nouveau silversmith Friedrich Adler to design his first Judaica pieces in 1914. During World War I, Sonderling was appointed chief Jewish chaplain to German soldiers at the Eastern Front by Kaiser Wilhelm, who later awarded him the Iron Cross.
In 1923, Sonderling immigrated to America, where he hoped to introduce his congregations to a revised liturgy that blended Chasidism's fervent, mystical exuberance with Reform's rational philosophy. In 1935, he founded Los Angeles' Reform Fairfax Temple, known as the Society for Jewish Culture, where its German and English language services attracted recently arrived European refugees.
Three years later, Sonderling would commission the first of a series of choral works from four important musicians. He hoped that this music would eventually be incorporated into the liturgies of synagogues nationwide.




The son of Vienna's most influential music critic, prodigy Erich Wolfgang Korngold was photographed in his youth, when his music had already made him famous. A highly successful composer of American 1930s film scores, he wrote settings of Jewish prayers for Rabbi Sonderling. Photo credit: Prints and Photography Division, Library of Congress, Washington, D.C.

A modern genius, Arnold Schoenberg (1874-1951) is cited for the groundbreaking innovations that influenced an entire generation of European and American composers, some of whom he taught. Converting to Christianity in his 20s, he returned to his faith before emigrating from Europe in 1933, when he began to develop a complex and highly personal belief system. He had been composing works with spiritual content for years.

Although he did not attend synagogue, Schoenberg wrote an English version of Kol Nidre at the behest of Sonderling, who educated the composer about the chant's history and traditions and who would perform the difficult, rhythmically spoken role of the cantor/narrator at its 1938 premiere in Los Angeles' Ambassador Hotel ballroom. Unlike the Fairfax sanctuary, it was large enough to accommodate worshippers, chorus and orchestra. Schoenberg pared Kol Nidre's traditional melody and altered its text to address one plea, absolution for false vows. It could be suggested that Schoenberg, feeling guilty about the conversion that he had renounced, conformed its words and meaning so that it would reflect his desire for forgiveness; he believed that this revised text conveyed "the original meaning of this prayer."

Kol Nidre's first section, the cantor's spoken introduction, describes the Kabbalistic belief that the world would be improved through the consolidation of errant sparks of light — a task consigned to the worshipper — unknown to most people, including Jews, at that time. Musicologist Neil Levin noted that the entire work resonated greatly with this first audience, Yom Kippur observers in a new land who had left their co-religionists, families and friends to experience great peril and suffering in Germany.
Collaborating again with Schoenberg in 1948, Sonderling adapted the Shema Yisrael prayer that the composer incorporated into his cantata "A Survivor from Warsaw."
Writing music in a style that contains both classical and modern elements, Ernst Toch (1887-1964), born in Austria, enjoyed fame and prestige during his years in Europe but would struggle for recognition in the United States. Although several of his movie scores were nominated for Oscars, his often-delightful vocal and instrumental works remain largely unknown here. His children's opera "The Princess and the Pea" is performed at colleges and music schools; other short pieces are occasionally heard in concert.
Visiting Fairfax Temple to recite Kaddish (the mourner's prayer) for his mother in 1937, Toch met Sonderling, who invited him to compose a piece for Passover, commemorating the liberation of the Israelites from bondage. In the United States, this narrative often took on the nature of a universal celebration of freedom, as it did during the American Civil War. Yet "Cantata of the Bitter Herbs" is very specific, focusing on the holiday, and the book of Exodus in the Torah. The originality of his score met its match in the English and Hebrew script, the product of a team effort by Sonderling and two emigrés, theater director Leopold Jessner and Paramount Studio Music Director Boris Morros. Premiered at Fairfax's 1941 on-site Seder, the cantata was later given a full-scale treatment, performed by members of Paramount's own orchestra, and narrated by movie star Dana Andrews. The recording featured on the Milken Jewish Music Archive stars Theodore Bikel.
Like his namesake — Wolfgang Amadeus Mozart — Erich Wolfgang Korngold (1897-1957) was a prodigy at age eight, composing ballets, vocal and instrumental music celebrated by Viennese audiences. Known for robust, witty American movie scores like "Robin Hood" and "The Prince and the Pauper" dating from the mid-1930s, he and his family left Europe permanently in 1939. One of the highest-paid film composers, he also wrote for the concert hall: Korngold's violin concerto is still popular, and his opera "Die Tote Stadt" (The Dead City) is staged worldwide. Many more pieces are being rediscovered. Inspired by the lush romanticism of late 19th-century music, Korngold's only religious works were commissioned by Sonderling. The rabbi himself compiled excerpts from the Haggadah for "Passover Psalm" sung in Hebrew by soprano soloist and chorus. "Prayer," a setting of a poem by another immigrant, then-famed novelist and playwright Franz Werfel, was written for tenor, women's choir, harp and organ. Both were premiered in Los Angeles in 1941, under Korngold's baton.




Composed during 1944-45 and dedicated to the memory of his father who was murdered by the Nazis, the gifted musician and educator Eric Zeisl's Requiem Ebraico is a setting of the 92nd Psalm. One of the first musical responses to the tragedy of the Holocaust, its power is evidenced in performances worldwide. Photo credit: Courtesy of Barbara Zeisl Schoenberg

A gifted composer of orchestral and vocal music, Eric Zeisl (1905-1959) left Austria in 1938 and lived in Paris before fleeing to the United States in September 1939. Continuing his career in New York, Zeisl and his wife relocated to California, where he wrote uncredited filler music for movies. In 1945, the year that he learned that his parents and many family members had been murdered in Nazi concentration camps, he composed what has been deemed the first serious musical response to the Holocaust, the richly textured "Requiem Ebraico" for Sonderling. Soloists and chorus sing from the 92nd Psalm, an offering of prayer and music to God, and proclaim the deity's power to destroy all evildoers. There is no spoken reference to the Shoah, yet the grief it inspires is revealed through the contrast of the triumphant words of praise and solemn musical setting. The score's harmonies seem familiar, evoking the memories of an old Sephardic chant.

Still persevering, Zeisl began a new life as a teacher at institutions including the Brandeis Summer Camp, earning the respect and affection of many students prior to his premature death at age 55 without getting the recognition that his music merited.

Sonderling was the author of several books on Jewish philosophy and art. At his death, he was a professor of Jewish thought and homiletics at the California School of the Hebrew Union College.